Dental care that's actually affordable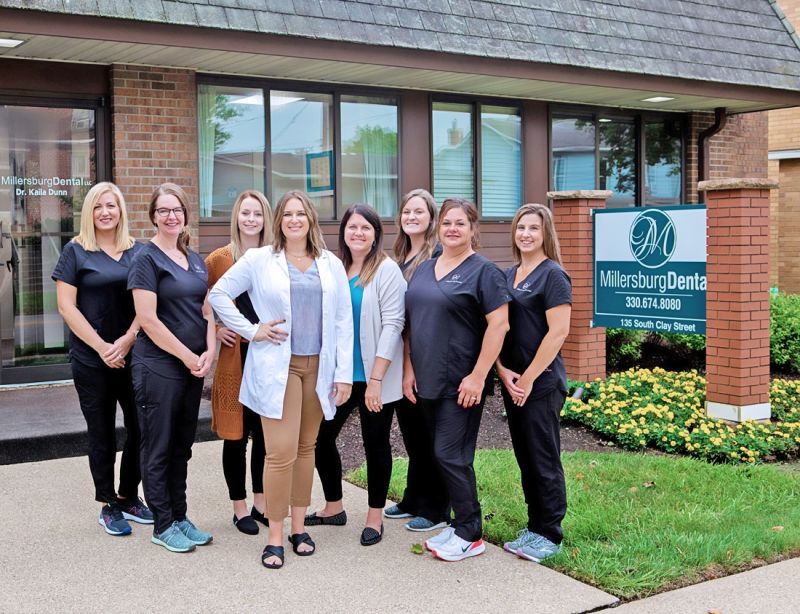 Kaila Dunn, DDS, owner of Millersburg Dental, returned to Millersburg to practice dentistry because she wanted to come home. Growing up here and attending West Holmes High School, Dr. Dunn developed a passion for this community and loves being close to family again. She appreciates the close-knit atmosphere of this town and understands the need for professionals to settle here and serve this community.
"Holmes County is a great place to live," Dr. Dunn said. "It can be difficult to keep young professionals in the area or entice the Holmes County natives to return home, so there is a great need for all kinds of services here. I'm proud to be caring for the oral health needs of the people of this community."
Dr. Dunn has been practicing dentistry since 2016 and purchased Millersburg Dental in the fall of 2020. Her services include all general dentistry procedures like cleaning, X-rays, fillings, extractions, crowns, root canals, dentures and partials. Specialty services include implants, Invisalign, whitening, and veneers. Dr. Dunn was finding that many patients were foregoing even the most basic oral procedures due to limited dental insurance coverage or no coverage at all.
"According to a 2016 study, close to 50 percent of Ohioans do not have any level of dental insurance coverage," Dr. Dunn said. "And for those who do, the coverage they have often doesn't support the patient's needs."
Dr. Dunn wanted to help the uninsured and the under insured, so she created the Millersburg Dental VIP (Very Important Patient) program to help patients get the care they need without the worry of overwhelming expense.
Invented in 1954, the original intention of "dental insurance" or a "dental plan" was to pay a portion of the costs associated with dental care. The problem is that the amounts paid haven't changed in order to keep up with the rise in the cost of dental procedures.
"As a result of dental insurance coverage being so outdated, many people, even those with some coverage, end up skipping checkups and routine visits altogether due to the cost," Dr. Dunn said. "My goal is to change the dental insurance narrative and provide patients with the dental care they need for a cost they can afford."
Millersburg Dental VIP program involves an annual fee for an individual or family with up to four members. This fee covers two exams and cleanings per year and X-rays for each member, along with a significant percentage off any procedure required throughout the year without limitations.
"There are many proven links between oral health and overall health," Dr. Dunn said. "Conditions like heart disease, stroke and some cancers have been connected to poor oral health. My goal with the VIP program is to make oral maintenance and care a part of my patients' routine and not something that causes undo stress and financial burden."
As part of Millersburg Dental's commitment to the oral health of the community, along with the VIP loyalty program, Dr. Dunn has added an intraoral scanner and the availability of Botox and facial filler injections to her practice.
"The intraoral scanner does away with the traditional oral impressions that can be uncomfortable and messy," Dr. Dunn said. "It's a welcome addition for my patients as is our ability to now offer Botox and filler injections for those interested."
The Millersburg Dental VIP program now gives care options to patients without insurance coverage and also to many with limited and outdated plans.
"We're offering patients a better way to help them evaluate their own needs and not base all of their choices on a substandard insurance policy or no dental insurance at all," Dr. Dunn said. "We are excited to bridge that gap in coverage and put patients and their families on a path to superior oral care and better overall health."
Millersburg Dental is located at 135 South Clay St. in Millersburg. For more information about the VIP program and to schedule an appointment, call 330-674-8080. Check out Millersburg Dental on Facebook and Instagram or the website, MillersburgDental.com.This story has been underwritten by Millersburg Dental.