German Village will show Gratitude to Community during Appreciation Days September 21-22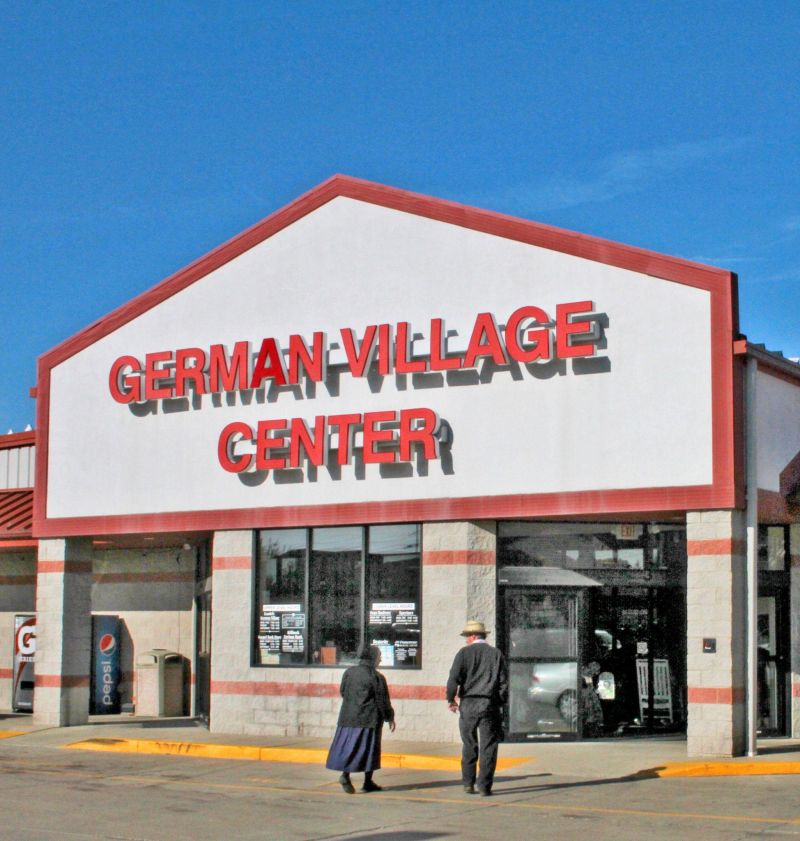 Family and friends are an important part of any close-knit community, and for the businesses that make up German Village in Berlin, creating a home-away-from-home atmosphere and building relationships have been synonymous with German Village since its inception decades ago as a gathering spot for the community in and around Berlin.
For decades German Village in Berlin was the gathering place throughout the East Holmes community. Not only could people come and shop for almost anything their hearts desired, but also they could relax and chat amongst friends. To many, German Village was almost like home.
From the new ownership that has come into the building, a heartbreaking fire that destroyed the old building and the rise from the ashes that ensued, German Village has clung to the idea that it is a gathering spot of family and friends, a true one-stop-shopping experience where everyone is welcome.
In January 2003 German Village tragically burned to the ground. An effort to resurrect the community gathering place blossomed as several local businessmen put their heads together as investors and began to calculate a plan to reinvent German Village.
The community rallied behind the store, contributing funds to build a bigger, better German Village, and a new 60,000-square-foot, two-story, $1.7-million store reopened 18 months after the fire.
Since then German Village has returned to its roots of being the gathering place in East Holmes, where folks come to sit and chat the day away in the rocking chairs and tables that adorn the lobby area, eat in the dining area and more importantly shop at the eight businesses currently calling German Village home.
The center of activity has once again become the one-stop-shopping experience that it was and has always been.
Perhaps investor Rod Mast, who stepped in to revive German Village after the fire along with Bruce Hummel and Dave Schlabach, summed it up best, talking about how their effort was as much about redefining an old tried and true gathering place for the community rather than making money.
"Not having this center of activity here would have been devastating to the Berlin community," Mast said. "What we have been able to rebuild is something for the entire community."
Hummel said the sense of community is why they continue to present Appreciation Days, something they have done for nearly a decade.
"We felt that providing a community center where people could find almost everything they need under one roof was crucial," Hummel said. "If this is gone, the Amish community would have had to travel much farther to get the things they need."
German Village has since continued to be that beloved community-based gathering place and one-stop shopping experience for people in and around the Berlin community.
John and Jerry Kandel had taken over ownership of Kandel Hardware, a company their father Homer had started decades earlier. When the fire destroyed the old building, they chose to rebuild but struggled to make it work.
That was a trying time for them, but when the group of investors stepped in, it helped turn around the fortunes of the center.
This year German Village is again celebrating its sense of family and community with its Appreciation Days Sept. 21-22, but it does so with a heavy heart after the passing of a staple of the German Village community this past year. In November John Kandel, former owner of German Village, passed away, having left an incredible mark on the community.
"John was the glue around here, and he was like a father to all of us here in the hardware store," said Abby Carter, manager of Orme Hardware, which resides in the lower tier of German Village. "John's legacy and caring for community is something that we will carry on."
One way they carry on that giving and caring aura is through the Appreciation Days.
Appreciation Days will include pulled pork sandwiches from Byler's BBQ, ice cream and a soda for $1 on Friday evening. Each dollar will be donated to the Berlin Lions Club.
"Last year we had more than 900 people come through, and the lines were a mile long," said Eli Hochstetler, owner of Gospel Book Store.
In addition there will be live music from local Amish group Small Town, and stores will remain open with some nice savings until 8 p.m.
Tickets are being given away at each location with purchases, and there will be a drawing for $250, $150 and $100 worth of German Village bucks that may be spent anywhere in the center. Service will begin at 5 p.m. and go until the food is gone or everyone has dined.
Businesses also will have prize drawings on their own, and Saturday have more fun as the savings continue along with plenty of entertainment.
"Homer Kandel built something special here in 1973, and German Village has been a big part of this community ever since, and we want to make sure we continue that relationship," Hochstetler said.
A true one-stop-shopping experience is at the heart of German Village, its eight businesses having just about anything someone from the local community could want.
Killbuck Savings Bank was one of the initial businesses to jump on board because the investors felt it was absolutely crucial to have a bank presence. The longtime community bank has its roots steeped in serving the community and has done so for more than a century.
Paula Aurand remembers the early days when German Village reopened after the fire and shared one humorous memory.
"We have this picture of people in the bank with a shopping cart with them, and it always makes me smile," Aurand said. "But being located in German Village offers people that one-stop-shopping experience, and that includes banking. We also have Ameriprise Financial, the investment part of our company, located there to offer as much variety as possible."
Jamie Krownapple is the branch manager and assistant cashier and invites everyone who visits to stop in and say hello.
The investors knew one absolute necessity was a grocery store, and they did not want a chain. They were looking for a local hometown grocer. That became German Village Market owned by Randy and Irene Kandel and their daughter Melissa Yoder along with her husband Mike, who brought in a grocery store that provides fresh food, home health and household goods that serves the community well.
"As we continue to grow our goals and focus remains the same, to continue to serve our customers with quality products at competitive prices , build relationships and maintain the small town family owned atmosphere," said Mike Yoder, managing partner at German Village Market. "I asked our employees recently, 'why do you enjoy working here' and serving our customers was the overwhelming answer. Each day affords us the opportunity to give back to the community. We are family-owned and family-operated, and that is something that we believe fits this community so well. We are very appreciative to have the opportunity to be a part of this community and the German Village family because of the values we all share."
Much like its predecessor, Mast Pharmacy, which it purchased in 2014, Ritzman Pharmacy is focused on family values, thus fitting in quite well to the small-town community feel of German Village.
"We are excited to be part of a community center like this that is able to serve the community in so many ways, and Ritzman is working hard to continue to promote the family values and sense of community that is everywhere around us. We continue to focus on customer service, and it is special to be a part of this community. We are continuing to focus our efforts on building relationships and offering the very best in whatever pharmaceutical needs people might have," said Deb Dages, managing pharmacist.
Several years ago Pomerene Express Care became part of the German Village family, and it has been a crucial element of the fabric of the community since. It provides prompt, convenient care for basic illnesses and other nonlife-threatening medical concerns, and more importantly it is often open after normal business hours. Ear infections, bronchitis, flu, sprains, strains and many more ailments can find relief at this extension of Pomerene Hospital.
"It has been wonderful to be a part of that community," said Rachel Kandel, manager of strategy and business development. "It is an excellent access point for patients to visit our express care, internal medicine care and midwifery office. We really felt it was important to become a part of German Village because it is such a hub in the community. We have really heard a lot of positive feedback for that location because it does provide the very best in care for the community and they don't have to travel far, but one thing we truly enjoy is that sense of community with both the people in the community and the other members of German Village."
Orme Do-It-Best Hardware has been a tremendous addition to German Village that has continued the hardware tradition set by John Kandel of Kandel Hardware and his father Homer Kandel before him.
"Orme has always been a family-first, family values store," said Abby Carter, Orme manager. "Customer service and community mean a lot to all of the Orme family stores, and we try to fulfill our sense of serving the community every single day."
Carter said each of the stores in German Village works hard to promote that sense of family and community, and they meet together regularly to promote the center as well as simply relax and commune together to build those relationships.
Berlin Fabrics moved into the space previously occupied by Spector's on July 1 of last year. One year later co-owner and manager Marion Yoder said the move into German Village has been a blessing.
"We want to be the community's complete Amish clothing and fabric store, and German Village has provided us with a perfect place to do that," Yoder said. Berlin Fabrics specializes in every kind of Amish clothing and fabric, and Yoder said they are a one-stop-shopping experience like German Village for the Amish community looking for clothing and accessories.
"We weren't super-sure with the move here at first, but the people here have been incredible," Yoder said. "It is a very family-oriented atmosphere, and we want the people who stop and visit to feel that same sense of family."
Gospel Book Store was instrumental in the return of German Village, and their involvement continues to be a lynchpin in the success of the center. Hochstetler said creating and maintaining the family atmosphere continues to be of vital importance to all of the businesses.
"This is a celebration of community," Hochstetler said. "We are all here to provide a valuable service, but at the heart of all of it is building relationships. We want people to feel a sense of welcome and belonging here, whether they are shopping or just stopping in to enjoy the atmosphere. That has been what we have been about here at the book store since we started decades ago, and it will continue to be what we strive to be about."
Visit German Village Center at 4900 Oak St., Berlin. The phone number is 330-893-1800. Hours are Monday from 7 a.m. to 7 p.m., Tuesday through Friday from 7 a.m. to 6 p.m. and Sat­urday from 7 a.m. to 4 p.m.