Haven Shala offers wellness for mind, body and spirit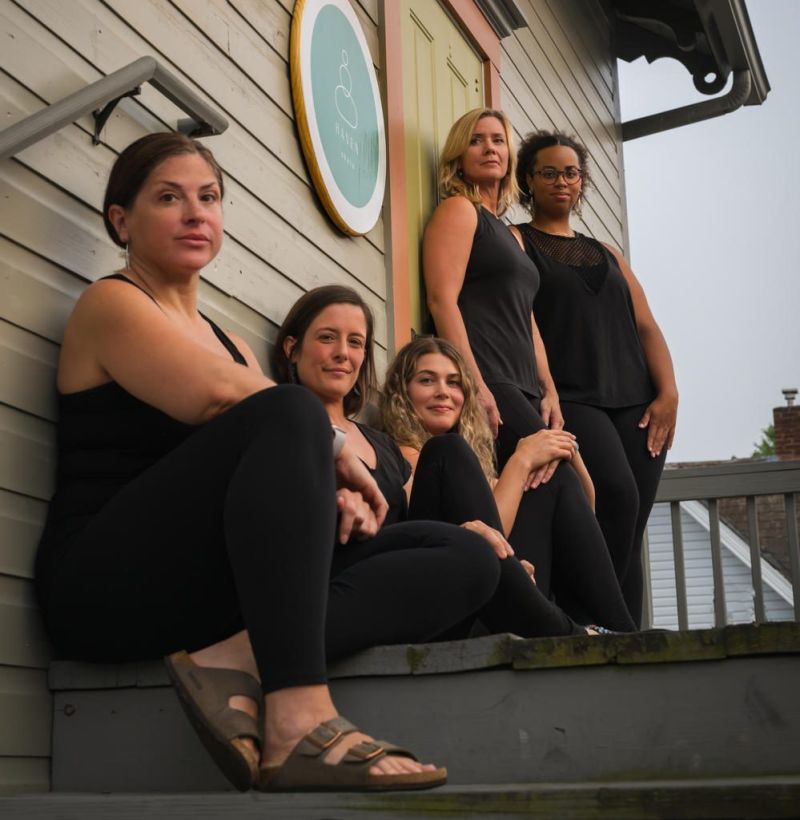 In yoga a shala is a sacred and nurturing space where yoga is shared and experienced and where people gather to learn and grow. The recently opened Haven Shala in Bolivar seeks to be just that.
Haven Shala is the realization of a dream for owner Tara Risner, who has been practicing yoga for 10 years and teaching for six years.
"My dream has always been to have a yoga studio," she said.
The former co-owner of Sixth Street Yoga in Canton, Risner said she was looking for the right place to open her own studio when the space above Sublime Smoke on Water Street became available.
"I feel like there is a need for this in Bolivar and the surrounding area. I love the accessibility. It's right off the highway, it's in this little thriving downtown area and I like the idea of bringing more people down this way to see how special this town really is. There's a lot happening, and I'm excited to be a part of it."
Risner is a 200 ERYT, which means she is an experienced registered yoga teacher. To become an RYT requires completing a minimum of 200 hours of teacher training at a registered yoga school with Yoga Alliance. The E in ERYT stands for experienced, meaning Risner has racked up at least 1,000 hours of teaching experience since completing her training and has taught for at least two years post-training.
Risner said anyone and everyone can practice and benefit from doing yoga.
"Yoga really helps your whole self, your mind and your body," she said. "It helps with mobility, and it helps with strength and mental focus. You may be moving your body in ways that you never thought you could. You're really challenged to just focus on the moment and not on the things that are going on around you."
Classes offered at Haven Shala range from deep stretching and relaxing to restorative or Yin Yoga and more vigorous Power Yoga.
Three additional instructors will conduct sessions at Haven Shala, all of whom are ERYTs.
Register for classes online through the website at www.havenyogashala.com. Morning and evening classes are offered every day but Sunday, and both monthly and annual memberships are available.
Risner said she plans to hold periodic workshops as well in holistic nutrition and other wellness topics. "For instance, one of our instructors, Karen Phillips, is a physical therapist, so she's going to be doing a yoga and massage class where you do restoring poses and receive some massage throughout."
More than just yoga
Risner said she is bringing in other services and products so people will use Haven Shala as a hub of health and wellness. One of those services is life coaching from Lynzie Troyer, a certified life coach.
Troyer said life coaching is quite different from the types of therapy people may be used to.
"Unlike therapy, which tends to deal more with past trauma, life coaching takes you where you are today and helps you move forward, instead of looking back in time," she said.
Unsure about what she wanted to do with her life, Troyer said it was in seeing a life coach herself that she became interested in the profession. "College isn't for everybody, and it wasn't for me. I ended up dropping out and kind of bouncing from job to job until I met with a life coach."
Troyer believes the results speak for themselves. "I've been coached myself this past year, and I ended up starting my own business, Live Large, and creating my own business cards and website," she said. "It was very life-changing for me."
Troyer is offering a free 40-minute introductory session that can be scheduled at www.livelargelifecoaching.com.
Haven Shala is located at 110 Water St. SE in Bolivar on the top level of the Sublime Smoke building. Visit www.havenyogashala.com or call 330-949-3736.