Horse Progress Days Returns to Ohio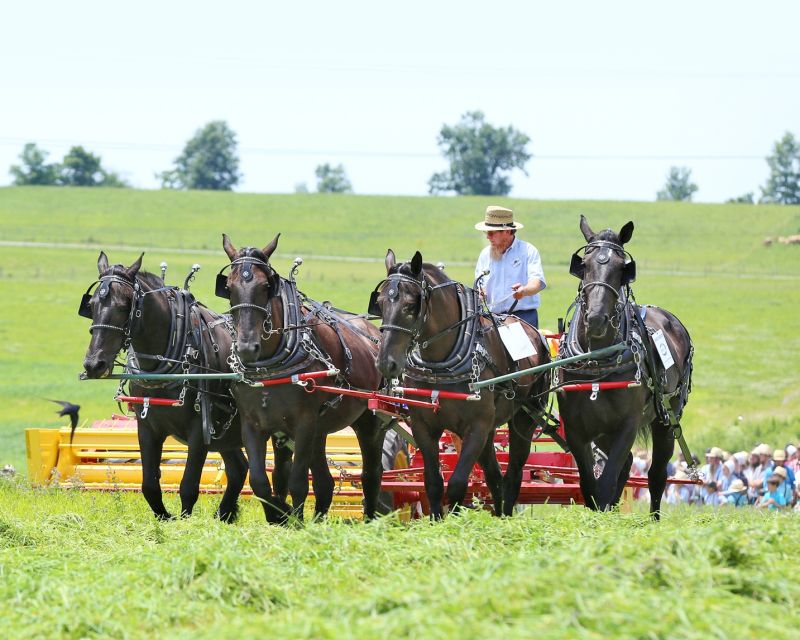 It isn't uncommon for an inspired farmer to give up his tractor and transition to horsepower after attending the annual Horse Progress Days, revealed Joseph Wengerd, treasurer of the event that is expected to draw about 30,000 people to Mt. Hope over the Independence Day weekend.
"There is something for everyone at Horse Progress Days," Wengerd said, citing the event's longtime tag line.
The 27th Annual Horse Progress Days will celebrate the newest practices and innovations of farming with horses. The two-day event will be held at the Mt. Hope Auction, Friday and Saturday, July 2-3.
"Horse Progress Days was started back in the 1990s to provide an opportunity for people to come and see how we farm with horses in a place where they feel comfortable and welcome," Wengerd said. "The event demonstrates what is possible with horses and inspires people to do it on their own. All are welcome to come in, look around, ask questions and take photos."
Horse Progress Days rotates to Ohio every six years, making other stops in Amish communities in Indi-ana, Pennsylvania, Illinois and Michigan. Last year's event, which was scheduled for Mt. Hope, was canceled due to the pandemic.
The event features field demonstrations of equipment, including manure spreaders, plow and tillage equipment, produce demonstrations and haying demonstrations. An abundant schedule of seminars will include topics that deal with homesteading, homemaking and other areas of interest.
"Horse Progress Days has a family atmosphere with something interesting to do for everybody in the family," Wengerd said. "For children, we will have a petting zoo, a rope making demonstration, swing sets and things of that nature to play on."
The homesteading area will be new to the event this year, Wengerd said. "It will be for people who live on a homestead of five to 10 acres and are looking to do things like growing their own food and being self-sustaining," he said. "People can hear about what to plant, what yields to expect and how and where to keep animals."
The homesteading program also will feature presentations about welding, beekeeping, soil conditioning, curing and smoking meat and other practical skills.
The homemakers' area will feature seminars and vendor booths brimming with kitchen, health and other items. Among the many seminars will be talks about essential oils, medicinal herbs and midwifery.
"We will have a logging area that is specifically about timber," Wengerd said. "We have a variety of people in the community who are logging with horses instead of going into the woods with larger equipment. We will actually have a horse powered sawmill in action to show what was used in the past, before engine power was available."
Following the morning field demonstrations, an hour lunch break normally features presentations by guests from around the world.
"Due to the pandemic, we may not have any international attendees, but we will have visitors share stories about how they have benefited by attending Horse Progress Days and what they have learned from the Plain community," Wengerd said.
Farming with horses, he said, helps to maintain a family culture. "After our morning chores we have breakfast as a family," he said. "Around noon, the horses need a break, and so do we, and we have a family lunch. When it gets dark, horses don't have lights, so it's time to quit working.
Traveling by buggy tends to make families go together, rather than everybody having their own vehicles and going separately."
Horse Progress Days is organized by a national non-profit organization with a six-man board of directors, including Wengerd, who represents Ohio. "We have a 10-man board that coordinates the event with about 25 people who do the hard work and make the show possible along with many volunteers and staff members who help with labor and whatever needs to be done to make it happen," he said.
Admission to Horse Progress Days is $10 per day for adult. Children 12 and under are free when they attend with an adult. No parking will be avail-able on the event site, but shuttles will transport attendees to and from nearby parking areas. Mt. Hope Auction is located at 8076 State Route 241, in Mount Hope. You can learn more, and view the program guide, at HorseProgressDays.com. This story has been underwritten by Horse Progress Days.