Mast Trucking still truckin' after 50 years in business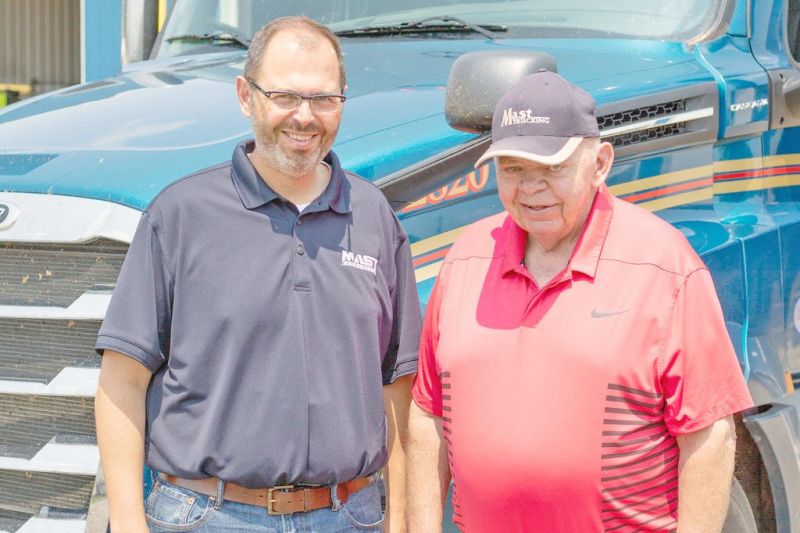 Fifty years ago Willis Mast had a dream of owning his own trucking company. His initial foray into the world of trucking was nothing to brag about. He boasted all of one truck, hardly a full-fledged fleet.
Now 50 years later, Mast has handed the reins to his son Kevin, and they have a fleet of 115 trucks and travel the nation. Many companies have put the shipment of their goods into the hands of Mast Trucking.
Fifty years of driving all over the United States calls for a big celebration, and the company plans to do just that on Friday, Sept. 13 from 4-8 p.m. at the Mast Trucking facility at 6471 County Road 625 between Millersburg and Berlin.
"You only get to celebrate your 50th once, so we are trying to do it as big as we can," said marketing manager Codi Mast, who is in charge of the upcoming bash. "We really wanted to get the community involved because the community has been such a big part of our success over the past 50 years. This isn't to sell or recruit, but it is to celebrate our history and our community, and we invite everyone to come and enjoy the day."
Willis Mast began his career in trucking in 1969 with his one truck, a red Ford Louisville straight truck, doing the hauling. The following year longtime employee Nelson Miller joined Mast, and the company began expanding quickly. By 1983 Mast Trucking added refrigerated hauling to its agenda, and they stopped hauling cattle and focused on the refrigeration market in 2000.
In the 1990s Willis Mast's son Kevin Mast joined the team, and in 2011 Kevin Mast became the president of the company as the family business continued to grow. It grew in leaps and bounds in 2011 when it purchased Stutzman Trucking, and the company has continued to serve the nation and the local community.
Which brings it to 50 years and to what should be a huge celebration.
Perhaps the highlight of the event will be a truck rodeo, where any card-carrying, CDL-holding member of the trucking community can come in and compete in some trucking maneuvers and challenges. That event will begin at 4 p.m. and will take place on two courses that will be set up in the large parking lot across the road from the main office.
"They will use our truck and trailer, and we will have a series of obstacles and maneuvers, and they will be scored by judges," Codi Mast said.
The champion, runner-up and third-place finishers in the rodeo will receive $300, $200 and $100, respectively. There also will be an opportunity for truckers to shine up their rigs and show them off in the truck show, which is open to any truckers.
"Truckers like to show off their rigs," Mast said.
In addition there will be live music from performer Rocky Carpenter early on. Then at 6 p.m. the Akron-based band, Whisky Loco, will take the stage with its brand of country.
In addition to activities for the adults, there will be activities for kids including a bungee run, an inflatable slide, carnival games, face painting, a truck for kids to climb in and more.
As far as dining options go, there will be four food trucks including The Beach Bum, which is a taco truck; Crazy Nate's Barbecue; Schloneger's Ice Cream; and Local Motion.
The event will even have some political visitors. In addition to the local politicians who will attend, U.S. Rep. Bob Gibbs and president of the Ohio Senate Larry Obhoff are slated to attend.
"Looking back over our timeline is pretty interesting," Codi Mast said. "One of Dad's themes over the years to mom (Elsie) has always been 'just one more truck.' I guess that has led to our fleet of 115 trucks today. We have our own training program now, and it is a whole lot different than when Dad first started 50 years ago. It has been an exciting 50 years, and we just want to share our joy with the many people around here who have made it possible."