Mavin is focused and ready for the future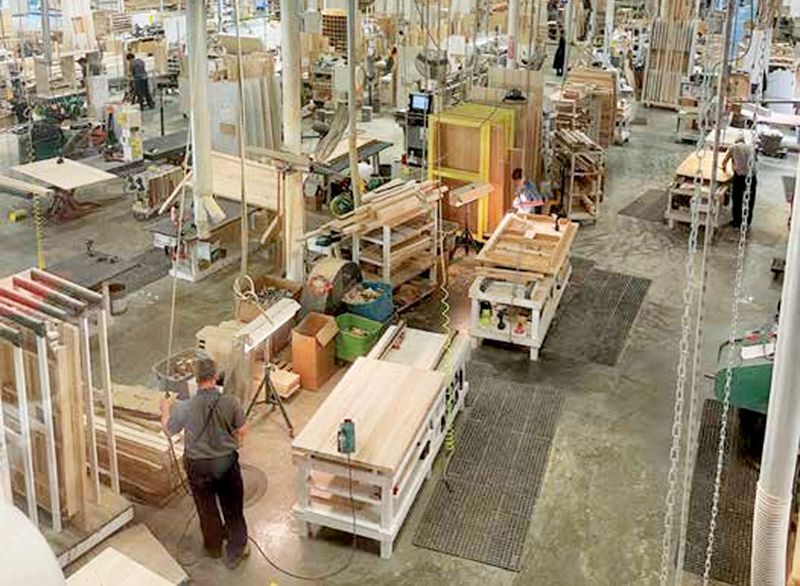 Palettes by Winesburg in Dundee is one company known by many names. In addition to Palettes by Winesburg, there's Winesburg Hardwood, Winesburg Pallet and Wood Street Creations. After struggling with a bit of an identity crisis, the family-run business decided it was time to unite all facets of the company under one brand and one new name that expressed who they are now, and who they aim to be in the future.
"At our core, we are a group of people that are passionate about what we do and the resources we feel blessed to steward," Director of Sales and Marketing Kyle Schlabach said. "After much deliberation, we chose the name MAVIN because it not only represents our past experience, but it also challenges us for the future – to lead by example, set a standard for performance and to positively impact our people and our community."
For the Coblentz family, the name change symbolizes a reinvestment in their employees and in the community. Three generations ago, Palettes by Winesburg began as Winesburg Lumber, a two-man logging operation that purchased the best cherry, oak, maple, walnut and hickory trees, processed them in their own sawmill, and sold to furniture makers. From there they began building wood pallets in the 1970s. When the younger Coblentz generation got involved around 2010, they initiated a shift and the company began building chairs for hotels and casinos. Soon after came tables, case goods and even more furniture.
"Today, the growing company continues to diversify and now also produces bedroom and dining room furniture and hardwood flooring," Schlabach said. "Robert Coblentz and his five sons have grown this business while maintaining the highest level of quality in a 100% vertical process that is unlike other wood furniture sold in America today."
MAVIN has a deeply rooted story to tell about how they process their own timber from seedling to the final product while remaining faithful to their ultimate goal of being an innovative, integrity-driven, forest-to-final manufacturer.
"It's very unusual to be this vertically integrated," MAVIN President Bryan Coblentz said. "Where other timber companies are selling the lumber to be made into wood products, we take it all the way to that final product ourselves. We don't have to source from others because we are the source."
The name MAVIN is defined as one who is experienced or knowledgeable in a certain field. Because of the values the Coblentz family operates their business under, they recognized the challenge the name extended to them – to lead with honor and integrity. It was important for the Coblentz family to express the values under which they operate their business in the new name.
"We conduct all of our business, from start to finish, to honor God and enrich the lives we touch through the products we build and the relationships we inspire," Coblentz said. "We are extremely grateful for the team we've assembled here, and we are committed to passing on our knowledge and expertise to new employees and embrace that mentor/apprentice relationship."
MAVIN is committed to respecting the natural process of what they do. They understand that timbering can be controversial but want to educate the public about their philosophy, their principles and their mission.
"There's actually more forest land now than there was 50 years ago," Schlabach said. "Trees are a crop just like anything else. You have to harvest mature trees to give the young trees sunlight and allow them to grow. We use every part of the tree in our business, from furniture, industrial pallets, wood chips and mulch and even our wood shavings are shipped to paper companies. We are committed to handcrafting the highest quality products on earth and leaving it a better place."
One of MAVIN's goals is to educate people on raw wood and wood furniture.
"We educate our retail sellers on how to market and sell our furniture line and teach consumers how to care for the products," Schlabach said. "It's another role we take very seriously. We want to set the standard so our employees, customers and our community hold us accountable. We're now called MAVIN, and we continue to bring our best every day."
For more information visit the website mavinwoods.com.