Medical care for the plain community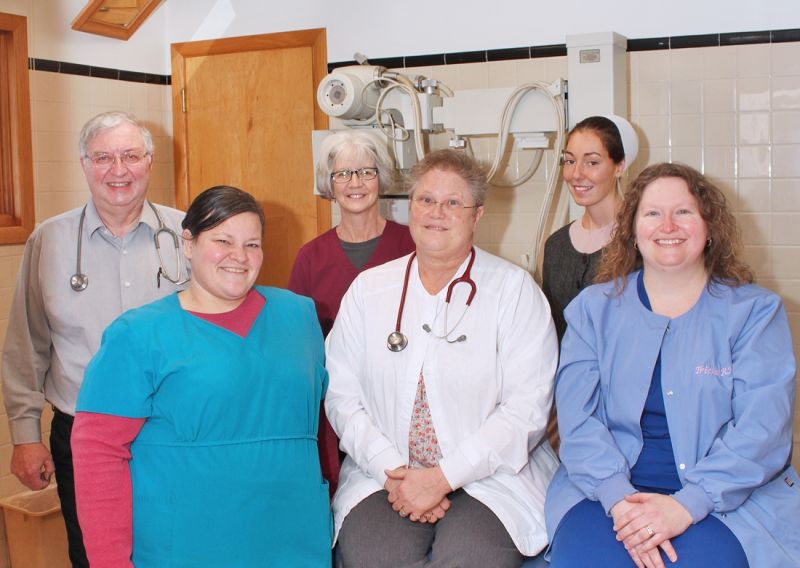 Having served patients for nearly three decades in a renowned hospital system, Jodi Rohrer, a certified family nurse practitioner (CFNP), had a longing to work more intimately with the plain population in small communities.
"When I was offered last year the position with Mt. Eaton Medical Group, I went home and told my husband that my dreams had come true," Rohrer said.
For more than 40 years, the people of Mt. Eaton and surrounding areas counted heavily on trusted physician Dr. Nolan Byler for their healthcare. During those years, Byler delivered more than 5,000 babies while providing family healthcare to patients ranging from infants to the elderly in his modest office on East Chestnut Street.
Last year, Byler decided it was time to reduce his workload to three days per week and to stop doing obstetrics. Looking to ensure the community continued to have access to quality, affordable healthcare, the not-for-profit Mt. Eaton Medical Group was created in June 2020 to assume Byler's practice.
A young doctor in Kansas who was married to a local resident interviewed to fill Byler's role as full-time family physician, but she ultimately decided not to move to Ohio.
Mt. Eaton's board of directors then decided on a different direction.
Rohrer, a CFNP, had done two internships under Byler's tutelage and worked for three years in a general surgery practice at the Cleveland Clinic's hospital in Medina. After interviewing at Mt. Eaton, Rohrer eagerly accepted the position. She started her new role last September.
CFNPs are trained to do most of what physicians do — including physical exams, prescribing medication and performing or ordering diagnostic tests.
With Rohrer in place, the Mt. Eaton Medical Group is able to provide the continuity of care Byler has offered for 40 years, according to the board of trustees. The clinic continues to treat many medical conditions and injuries, like lacerations and casting broken limbs onsite, while offering preventative healthcare such as routine blood work. A new digital X-ray machine allows for better X-ray services and digital transmission to other providers.
Rohrer, a resident of Medina County, had long wanted to work with the plain community.
"I have Amish friends who would often ask me about medical issues," Rohrer said. "I realized how under served the community was, and I wanted to help."
As she worked toward her Family Nurse Practitioner certification, she was inspired by a book written by Dr. Elton Lehman, a former Mt. Eaton physician, and arranged an internship with Byler.
"Dr. Byler took me on, not once, but twice, for two different rotations here," she said. "I loved it here, and I always offered that if Dr. Byler ever needed coverage for a vacation to let me know. When I was offered this position, I knew my dream had come true."
Byler, she said, has been a great mentor. "He's always willing to talk through things with me and help me to understand the cultural difference in how people see medicine."
Rohrer said her work in Mt. Eaton allows her to view medicine from a perspective that can be vastly different compared to the large system where she had previously worked.
"I enjoy working with patients within their own belief system," she said. "We respect their culture and understand that people may have different objectives in their healthcare than others do. Some people here are more inclined to prefer natural treatments for many conditions because traditionally they have worked. For example, instead of writing a prescription for a woman with mastitis (inflammation of the breast during breast feeding), ladies here might put cabbage leaves on their breasts — and it really does help."
The Mount Eaton Medical Group provides culturally appropriate care on a self-pay model and doesn't accept insurance. That helps to keep its prices lower, according to the board of directors, which represents a variety of Amish and Mennonite sects in the area. As a tax-exempt not-for-profit, the group accepts financial contributions to support its work in the community.
You can learn more by calling 330-359-5489. The clinic is open Monday through Friday from 9 a.m. to 5 p.m., with morning hours every other second and fourth Saturday. The clinic is located at 15988 E. Chestnut St. in Mt. Eaton. This story has been underwritten by Mt. Eaton Medical Group