Miniature golf course coming to Wilkshire Hills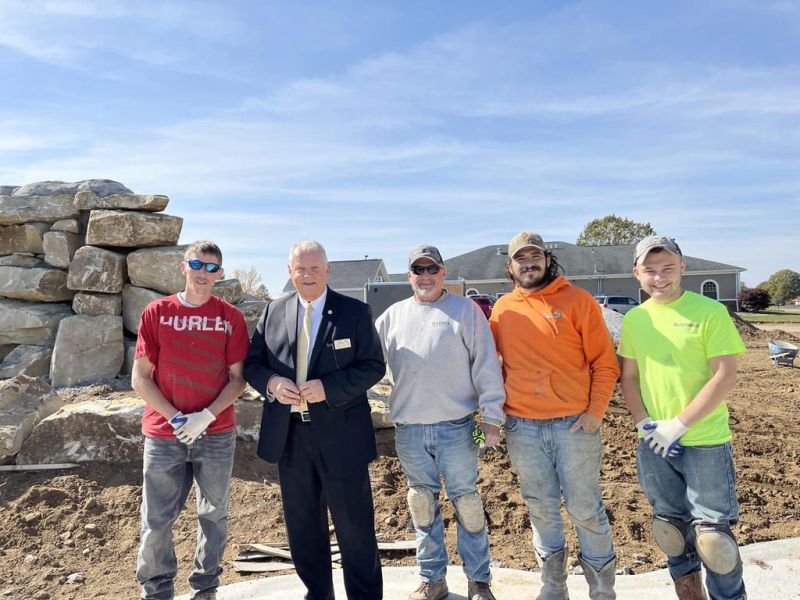 The days of windmills and clown heads are over, according to the company designing a new miniature golf course in Wilkshire Hills. The 18-hole course being built behind the Wilkshire Event Center and Lebold-Smith Family Center is a testament to the modern trend in miniature golf.
Bob Smith, the owner of the event center, said he had 2 acres of land near the building and wanted to put something in that would attract families to come spend time together.
"Small towns are like big families, and I see value in doing family things," Smith said. "People suggested putting in batting cages or go karts, and I thought those ideas were too age-specific. So this miniature golf idea kind of hit me. It's something you can play at age 5 or 95."
After researching various companies, Smith settled on Harris Miniature Golf out of Scranton, Pennsylvania to design and build the course. Jim Horwath, the foreman of the crew, said the company has built courses all over the world.
"The farthest I've been is Denmark," Horwath said. "But we've had crews build in London, South Korea, Saudi Arabia, Ireland and many other countries."
Not just par for the course
The course in the works will include a waterfall over boulders trucked in from Michigan, fountains that shoot 7 feet into the air, a stream with bridges over it, a pond and professional landscaping.
Plans also include a snack shack and patio area. "It's been fascinating to watch this being built," Smith said. "The artistry and craftsmanship is something to see. It's not just carpentry. It's not just masonry. It's artwork in those stones and waterfalls."
The stones Smith is referring to are not the boulders that will house the waterfall, but stones encircling some of the other water features that are made with something the crew calls "plop."
"Plop is a mortar," Horwath said. "It's a sand and cement mixture with a retarder we put in it so we can form the rocks by hand, give them cracks and chips and splits, then add a dye so they look as much like real river rocks as possible."
High-tech design
The design of this modern mini course relies a good deal on technology. According to Smith, Harris developed a GPS map of the layout of the course. They use GPS to show the exact locations of all the holes, walkways and other features. It also tells the excavator the height, grade and level of everything and where they need to add fill or need a cut-out.
Local pride
Smith said it was important to him to use local companies when building the course. "Malavite Excavating out of East Sparta did a great job using the GPS to get everything just right," Smith said. "The foreman of the crew here told me what Malavite did is probably the best excavation they've ever seen, so kudos to our local tradesmen."
Other local companies handling important aspects of the project include Ackerman Landscaping in Bolivar and Wood Electric, Smith Concrete, Marner Plumbing, and Bair, Goody and Associates, all in New Philadelphia.
Family fun or business break
Smith said he thinks the miniature golf will draw families and companies alike looking for a fun activity. "I just thought it was a great extension of the event center. Because if you have a company picnic, you can include golf. If you have a family reunion, everyone can come over and play miniature golf."
In addition, Smith said the course offers just one more recreational activity people can add to their itineraries when visiting. "We have meeting places here in town, great restaurants, antique stores, and Zoar village is just 2 miles up the road. People camping or boating at Atwood and looking for something to do can easily stop in and play."
Smith expects to open the miniature golf course on Jeanne Anne Lane in the spring.
"There are so many nice things going on in the Bolivar area, and this is just one more," Smith said.