More fun on the farm: Expanded petting zoo and animal farm offered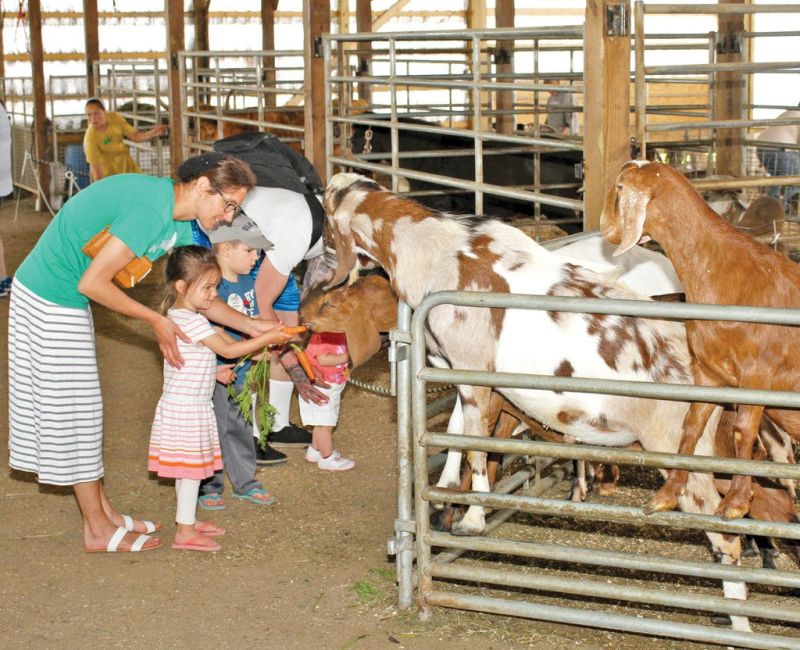 When it comes to mouth-watering pastries, fresh baked goods and home-grown seasonal produce, few can match the quality, flavor and taste of Hershberger's Farm & Bakery.
Known for its expansive bakery and aisles of fresh produce, from seasonal fruits and vegetables to mountains of fresh fry pies, savory bread and doughnuts, Hershberger's is a destination for many who travel to Amish Country for the atmosphere and the edible pleasures. However, Hershberger's is much more than just food.
The growing business located just west of Berlin is truly a family affair, and according to manager Stephen Hershberger, this family business is expanding again to provide even more quality entertainment for the
entire family.
"We have worked hard to make this a family-friendly destination," Hershberger said.
Over the years the farm has added plenty of family-friendly fun, much of it geared toward providing a glimpse into Amish Country living that many visitors may have never experienced, even visitors who live in the area.
The newest addition is a beautiful expansion on their petting zoo and animal farm, where families can get up close and personal with a whole host of farm animals.
Rather than deal with exotic animals, Hershberger's has opted to focus on presenting farm animals, and the list is extensive. The family raises its own goats, including pygmy, Nigerian and Nubian, along with Vietnamese pot belly pigs. There are four-horned Jacob sheep, long-horned Barbados sheep, Texas Longhorn steer, miniature Hereford cows, mini Dexter milking cows and Scottish Highland cows with stunning long hair. While it may not be Noah's Ark, it does allow the public to see some unique animals.
Of course, no farm would be complete without a farmer's best friend, the horse, and Hershberger's Farm features horses galore, including Belgian, Percheron, Clydesdales and more.
The pony rides are a child-friendly favorite, and patrons can feed carrots to King, the massive 2,900-pound draft horse that towers over pretty much everyone who visits.
"King is one of our biggest attractions," Hershberger said, referring to both the sheer size of the horse as well as to the number of people who enjoy seeing King up close and in person.
It seems only appropriate that a horse the magnitude of King would get a new, much larger petting zoo to go with him.
The expansive new petting zoo and animal farm was nearly doubled in size to provide even greater opportunities for visitors to have a wonderful Amish farm experience with authentic farm animals.
"A lot of people who visit have never sat on a horse or seen or petted many of these animals, and it is a fun, unique experience," said Hershberger, a third-generation member of the family that has owned and operated this amazing farm since 1986. "We have almost doubled the space devoted to the petting area, and that includes our pony merry-go-round. We have also made a walk-through area where families can take their time in a more peaceful setting and see the animals up close. We have geared it toward comfort and created plenty of space so families can take their time and take it all in."
The expanded petting zoo includes a new 84-by-120-foot building that enhances the large 50-by-150-foot building already devoted to the animals.
With so much to do and experience, visitors can now make a day of it at the farm, where they can go shop in the Farm Store which features an always-changing inventory of antiques and leather goods, or they can pick out some fresh baked goods made from scratch right on site and load up on seasonal fresh produce before taking the kids to see the animals, where photos will make great scrapbook memories.
"We have worked hard to make our farm and bakery as accessible and enjoyable as possible," Hershberger said.
The nice thing about Hershberger's Farm & Bakery is just because you've seen it once doesn't mean you've seen it all, and with new product in the leather store coming in weekly and the chance visit that sees one of the goats or sheep giving birth or caring for a newborn, the experience is ever-changing.
Hershberger's Farm & Bakery continues to be a must-see destination in Amish Country for the entire family. It is located at 5452 state Route 557, Millersburg. The phone number is 330-674-6096.