More medication options from Swiss Village Pharmacy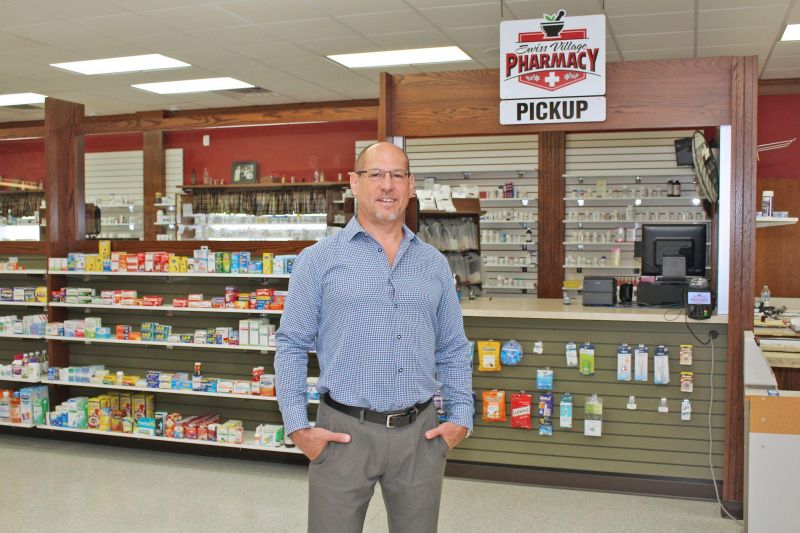 The last name Shell has been synonymous with the pharmacy business in Sugarcreek for the last 30 years.
Randy Shell followed closely in his father, Ron's, footsteps who was the pharmacist and owner of Village Drug in Sugarcreek for many years.
Today, Randy Shell carries on the family's name with his newly renovated Swiss Village Pharmacy. Shell is considered the most easily accessible medical professional for the community and takes great pride in that opportunity.
"Between my dad and myself, we've been keeping this community medicated for nearly three decades," he said. "In all seriousness, I take a great deal of pride in the fact that the people of this community trust me to not only fill their prescriptions, but also offer sound guidance."
Since opening the pharmacy, Shell has completely remodeled the space to allow for expanded inventory and a more fluid customer experience. "It's so much bigger," he said. "And we expanded the check-out area so that it's much more customer-friendly. The expansion also means we now offer a greater variety of medications, so people don't have to travel out of the area for specialty meds. That's a huge convenience."
Swiss Village Pharmacy offers prescription home delivery every Monday, Wednesday and Friday for a modest $5 fee. "A lot of our Amish and senior customers really appreciate this option," Shell said.
A drive-thru also provides convenience. "It's a nice option for busy parents," Shell said. "They can call the prescription in advance, and we'll have it ready for them to pick up at the drive-thru."
As the only pharmacist in town, Shell offers personable service. "We're proud to offer a hometown experience to our friends and neighbors while still providing a top-tier service environment," he said.
Shell resides in the community in which he grew up with his wife, Shauna, and their two kids, Ian and Olivia. Stop in to say hello during the Shop Local event. While you're there, grab a coupon for a free ice cream cone—Thursday, Aug. 8 through Saturday, Aug. 10—in celebration of customer appreciation.
Swiss Village Pharmacy is located at 309 S. Broadway St. in Sugarcreek, inside Swiss Village Bulk Foods. The phone number is 330-852-6033, and the web address is SwissVillagePharmacy.com. Hours are Monday through Friday from 9 a.m. to 6 p.m. and Saturday from 9 a.m. to noon.