New Critchfield law partners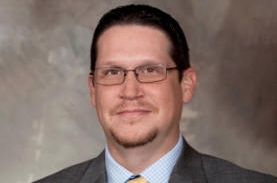 Critchfield, Critchfield & Johnston Ltd. recently announced five lawyers have been elected to the firm's membership. The new partners represent a cross-section of firm practice areas including business and corporate, employment, litigation, and elder law.
"Each of these attorneys has played a significant role in the firm's delivery of high-quality legal services to our clients," managing member Amy L. Demlow said. "We are truly pleased to welcome them as owners and look forward to their ongoing contributions."
New partners in the firm's Medina office are Daniel P. Calvin and Ann E. Salek.
Calvin focuses his practice on mergers and acquisitions, real estate, entity formation, dissolution, succession planning, and other transactional matters. He also is an integral part of the firm's wholly owned subsidiary, Heartland Title Agency. He earned his J.D. at the Ohio State University Moritz College of Law. He also acquired his bachelor's degree in business administration from the Ohio State University.
Salek is certified as a specialist in estate planning, trust and probate law by the Ohio State Bar Association and is one of only 30 attorneys in Ohio to have attained certification as an elder-law attorney through the National Elder Law Foundation and the Ohio State Bar Association. She earned her bachelor's degree at Allegheny College and her J.D. at the Cleveland-Marshall College of Law.
A new partner in the firm's Millersburg office is Chad B. Yoder.
Yoder is a member of the firm's business, real-estate and estate-planning practice groups. He assists clients in the acquisition and sale of business interests and advises clients in the smooth transition of their businesses to the next generation. He also is a licensed title agent and handles many real-estate matters including residential and commercial title transactions, mortgages, construction financing, land use, land development, and mechanic's lien issues. He earned his J.D. at the University of Akron School of Law and undergraduate degrees at both Malone University and Kent State University Tuscarawas.
New partners in the firm's Wooster office are Kimberly L. Hall and Eric T. Michener.
Hall is a member of the firm's employment-law and litigation practice groups. She focuses her practice on counseling employers in employment-law matters and regularly assists her clients in complying with the Fair Labor Standards Act, the Family and Medical Leave Act, the Americans with Disabilities Act, and the Age Discrimination in Employment Act. She earned her J.D. from the Ohio State University Moritz College of Law and her bachelor's degree from the College of Wooster.
Michener is an attorney in the firm's litigation practice group, as well as a member of the employment-law practice group and the chair of the construction-law practice group. He has conducted over 40 jury trials in the course of his career and litigated cases that have included everything from breach-of-contract claims to the defense of OSHA citations. He is a graduate of the University of Virginia College of Law and Brigham Young University.
Critchfield, Critchfield & Johnston serves as legal advisors to thousands of businesses and individuals and has offices in Ashland, Medina, Millersburg, Mount Vernon and Wooster.