New owners bring their own magic to Magic Mugs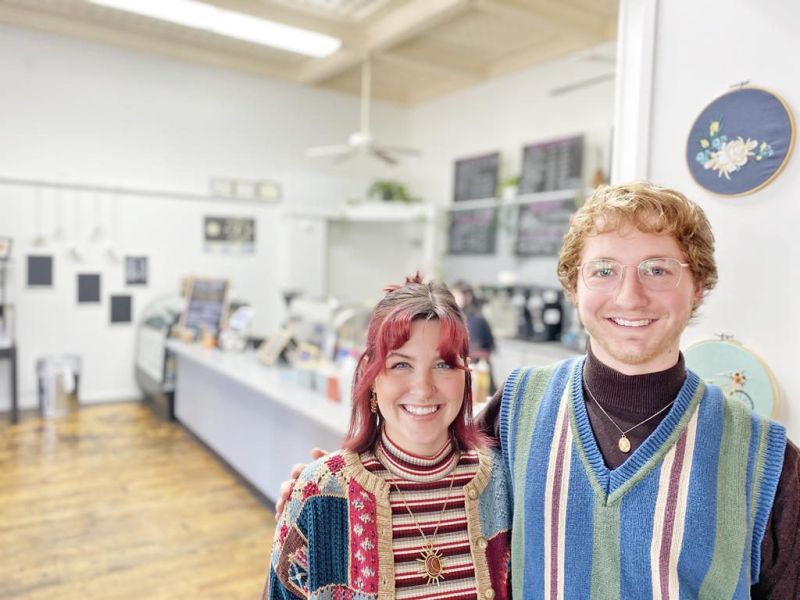 When Lee and Shelly Beitzel opened Magic Mugs in downtown Dover just three years ago, they couldn't have realized they would face so many unexpected challenges, not least of which was a global pandemic.
The coffee shop was successful nonetheless and has now been passed to a new pair of owners, Chloe Hanenkrat and Derek Morgan. They bring plenty of experience to their new business, and Magic Mugs has continued the steady traffic that has been the norm since the beginning.
"We started Oct. 1 with a sort of soft opening, then opened fully the following Monday," Hanenkrat said. "Lee and Shelly really set us up for infinite success. They made sure things were fully stocked. They made sure their regular customers knew about the transition and were excited, so it was really seamless."
"We've both worked in coffee shops for years," Morgan said. "I have to say there have been no real surprises. It's gone very smoothly."
The couple met three years ago and have lived in several cities since.
"Having a coffee shop has been the plan since the beginning after we met," Hanenkrat said. "I worked here when Magic Mugs first opened 3 1/2 years ago, and when Lee posted that the business was for sale, my mom sent us a message and asked if we would like to move back home if they helped us buy the coffee shop, and we were excited about that right away. I really didn't want to see it go to a new owner who would get rid of the magic of the place."
The pair have been planning to bring their own magic to Magic Mugs, with lots of plans for additions and expansions. "We are in brainstorming and training mode of course, but we plan to add a lot more food to the menu and bring some live performers in," Hanenkrat said.
"Yes, we'll definitely want to add music. That is one of my own main focuses is to bring live music to Magic Mugs, and that can be shows with touring bands and local musicians," Morgan said, "but also do live sessions which would go to a YouTube channel. We definitely want to be a place for artists to come."
"We love the specialty drinks that have been here all along, and we are keeping those," Hanenkrat said, "and we are also starting to work on our own specialty offerings. We want to add a panini menu, and we're looking into getting a license so we can have special events with beer and wine a couple times a month. We want to create a brunch menu and add that. We both served as bartenders for brunch offerings so that's something we're excited about doing. We're starting slow with soups and sandwiches, but we have capacity to add more."
"We'll start small and build from there. We're here to stay and want to get things running to their full potential," Morgan said.
The couple met in Akron when Morgan was playing with a band there while living in Philadelphia, Pennsylvania. Hanenkrat is a Dover native while Morgan grew up in the Toledo area. Finding each other on social media after a brief introduction, they began dating.
"I asked after the concert if there was anything I could help carry. He answered, 'Well, you can carry me.' So I did, all the way up the stairs. Of course, he had to come right back down to get the equipment and carry it himself," Hanenkrat said.
Meanwhile, the interior space at Magic Mugs is getting a little tweaking. "We spotted a couple of couches, one of which we are having reupholstered. It's straight out of the '60s," Hanenkrat said. "We want to add more comfy seating and have a bookshelf in one corner. We definitely want it to be a place where you want to come and hang out and relax a little."
Magic Mugs is at 237 W. Third St. in Dover and on Facebook.