New Wooster business is on mission to help women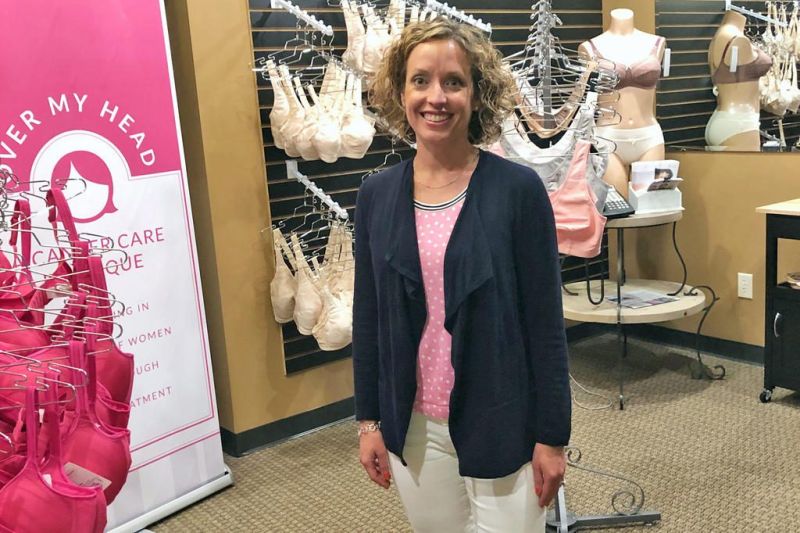 One in eight women will develop breast cancer at some point in their lifetime, according to breastcancerawareness.org.
A new Wooster business is making its mission to help women going through this struggle.
Over My Head, a cancer care boutique owned by Bethany Golden of Columbus, provides prosthetics, bras, post-surgical garments, wigs and hairpieces as well as head wraps and scarves for women living with breast cancer.
The boutique operates within Wayne Holmes Health, which relocated to 720 Winkler Drive after Aultman Hospital closed down their store on Cleveland Road.
The Nicolozakes, owners of Wayne Health, have known Golden since their days in the Ohio State University marching band.
"Heather Nicolozakes is a cancer survivor, and she wanted to bring this kind of service to Wooster," Golden said.
Golden, who is a certified mastectomy fitter and wig fitter, has operated Over My Head in Columbus since 2007 and has a boutique located in the Ohio Health Bing Cancer Care Center.
Golden, whose mother passed away from breast cancer at the age of 39 in 1991, realized her life's mission early on.
"From the time I was 13 I knew I wanted to somehow be able to help people battling breast cancer," Golden said.
Golden said the world of breast cancer care has changed enormously since 1998.
"The Women's Health and Cancer Care Act said any result of cancer surgery was covered by Medicare and private insurance," she said. "When my mom faced her fight, she was limited in purchasing what she needed. I knew this [lack of specific care] wasn't OK and that this is what I wanted to do."
Golden's mother passed away on the day Golden graduated from the Ohio State University with a degree in fashion merchandising and product development.
Having done a retail internship in New York City, upon her graduation Golden worked in retail for a while, but she became more convinced about her idea of the cancer care boutique.
"When I opened in 2007, I was convinced I knew a lot about retail, but I quickly learned I didn't really. But I did all the buying and fittings and just loved it," she said.
When her business moved into the Ohio Health Bing Cancer Center in Columbus in 2012, it was close in proximity to her previous shop, and she already had a relationship with many of the patients.
Golden is now beginning to form some of those same kinds of relationships with doctors and patients in Wooster.
"We opened in mid-April, and I'm just learning what are some of the needs in this community," she said.
Golden said her boutique is certified and accredited with Medicare and major insurances to provide the best services to its customers.
"We are certified mastectomy fitters and have gone through many hours of training," Golden said.
Golden said they are experienced at assessing patients' needs.
"Patients might have needs that they didn't even know could be helped," she said. "After surgery women will be asymmetrical and uncomfortable. Following radiation the skin will be tight and burnt. And the results of the surgery have to settle."
But women don't have to accept an unpleasant aesthetic, according to Golden.
"Lots of times women are concerned about cost," she said, "but we are very knowledgeable in those areas and work closely with doctors' offices and insurances so the patient doesn't need to."
Golden said she finds her work tremendously rewarding.
"Just yesterday we had a woman who had recently missed her granddaughter's birthday celebration because she was so self-conscious about her appearance. When we were able to help her, she cried because she didn't think it was ever going to be that way again. On days when I get wrapped up in the day-to-day business operations, things like this remind me this is why we do it," Golden said.