Ohio Hardwood Furniture Market now takes 2 venues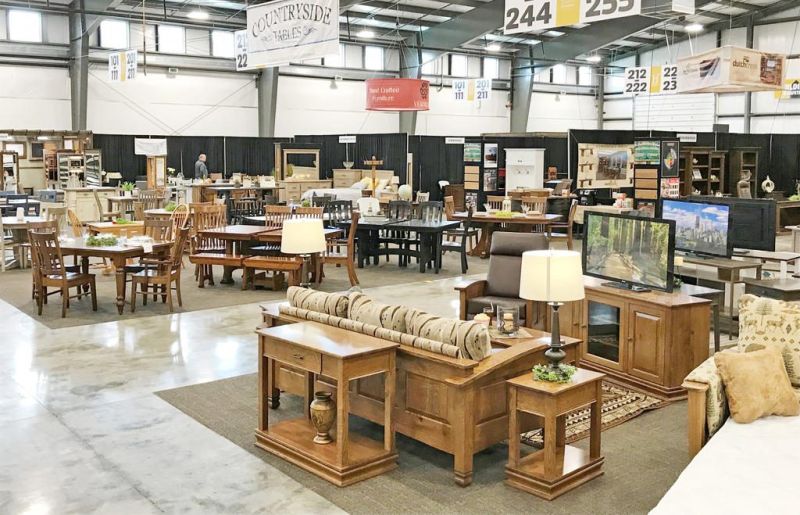 Having a facility to help generate tourism into a county is a blessing. Having two of them is exponentially better. But having those two entities team up to create a show? That is the best of all worlds.
For Shasta Mast, Holmes County Chamber of Commerce and Tourism executive director, seeing the Mt. Hope Auction Event Center and Harvest Ridge Expo Center join the Ohio Hardwood Furniture Guild members to present the Spring Ohio Hardwood Furniture Market extended well beyond anything they could have imagined just two short years ago when both facilities were not yet in place.
Because of the growth of the show, which took place at Harvest Ridge last year, the county's two large venue centers shared the load and showed Holmes County can work together to create something spectacular.
"We actually had our first combined show utilizing both locations this fall, but this spring show is the bigger of the two shows, and we have really seen some amazing furniture being placed in our facilities," Mast said. "This show is just blowing things out of the water in terms of size."
On Wednesday and Thursday, March 20-21, the Spring 2019 Ohio Hardwood Furniture Market brought a large number of wholesalers to Holmes County to showcase what is new and trending in the world of hardwood and outdoor furniture. In doing that, it also brought in many retailers who came to peruse the floors of Harvest Ridge's Expo Center and animal barn as well as the Mt. Hope Event Center.
Mast said the spring show had 155 vendors and sold 20 percent more floor space than had previously ever sold. She said preregistration was up compared to years past.
"We are so excited about the possibilities that continue to come from the facilities we now have in Holmes County," Mast said.
Vendors and retailers from all over the United States and Canada came in for this growing show, where vendors got to display new products to retailers.
"We typically get representation from about 35 states and from a couple of Canadian provinces," Mast said.
While it was a wholesale show, the public was allowed to walk through each facility to explore the furniture on preview night Tuesday night before the show.
"If people haven't seen what these guys are now building, they would be amazed. These guys are really pushing the envelope with creativity and making some cutting-edge designs. Our people here are setting trends every day. This is not the old Amish oak that we began with years ago," Mast said.
Mast said the most exciting part of this show is that a large number of the vendors reside within a 50-mile radius around Holmes County, as Amish Country continues to be a leader in the furniture industry.
Seeing Harvest Ridge and the Mt. Hope Event Center work together to create larger shows is something that excited Mast. She said being able to unite forces like that is critical to the growth of larger shows like the hardwood show.
"These venues are giving visitors new reasons to come to Holmes County," Mast said. "Having this venue at Harvest Ridge and the Mt. Hope Event Center continuously introducing new events is really a great thing from a local perspective and a visiting perspective, and having the ability to work together is exciting to see as we continue to create opportunities to bring people to Holmes County."
Mast said receiving quality feedback from visitors and locals as to how they can best utilize these facilities is important. While most shows are not as large as this one, the smaller venues are every bit as important in the ongoing effort of entities like both of these centers to entice people to visit Holmes County.
"The feedback we have received from this show last fall and from a lot of other shows we have put on has been really positive and encouraging because it helps us learn where and how we can improve," Mast said.
When Holmes County's Hardwood Furniture Guild was created, its main mission was to provide a platform for Amish Country builders to promote and market their furniture. In a region well known for its high-quality hardwood furniture, builders have helped create a growing market that continues to be a lynchpin for growing shows like the Ohio Hardwood Furniture Market.