Old-fashioned banking with big technology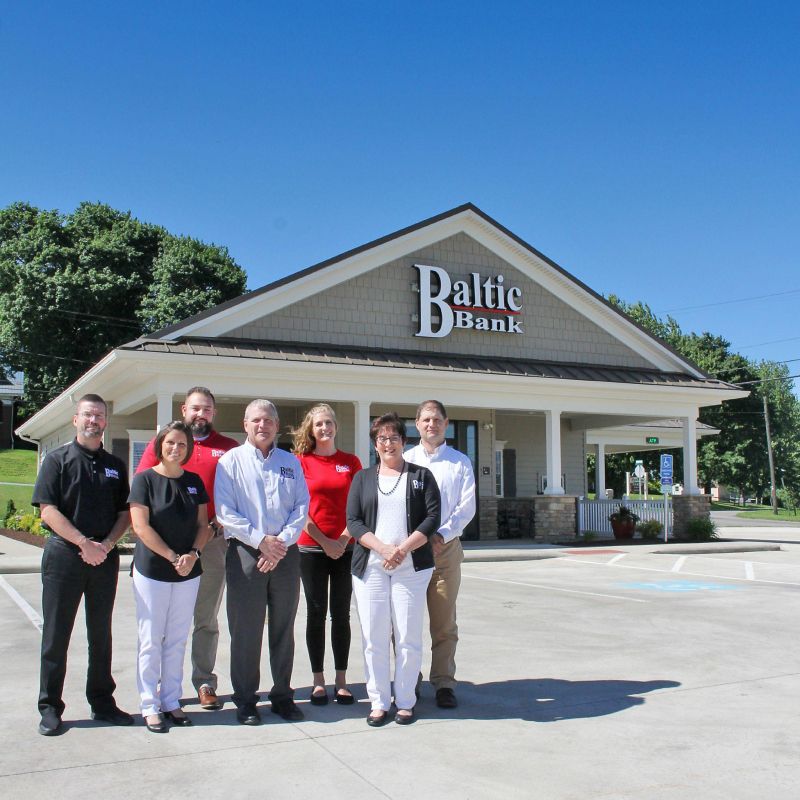 There's something comforting about hearing a human voice answer your phone call. It's also comforting to have all your banking information instantly available to you 24/7 on your mobile phone.
"We offer our customers the most advanced mobile technologies available without sacrificing what really counts in banking — a caring, personal relationship," said Jason Starcher, senior vice president of operations for Baltic Bank, which has locations in Baltic, Sugarcreek and New Bedford. "When you call us for help, you're not going to have to navigate an automated phone menu and hope you pressed the right button. When you call us, our president is as likely to answer the phone as one of our front-line folks. That's one of the advantages of banking with a small, community-oriented company."
Despite its intimate size and atmosphere, Starcher emphasized that Baltic Bank offers the same safe and convenient mobile and online banking services that big banks provide.
"In June, we upgraded all of our technology to provide the latest conveniences," he said. "One feature that a lot of our customers have been asking about shows your actual account balance in real time, whether you're at the teller's window or on your iPhone. When you make a transaction, whether it's a deposit or a debit card purchase, it will be displayed almost immediately. There will never be any confusion about how much money is available in your account."
Baltic Bank's new mobile banking options include a loaded menu of alerts and reminders that can be sent to customers' phones as text messages. Customers can be alerted when a deposit or payment above a specified amount is made on their account, helping them to monitor suspicious activity.
"There are a ton of options, and our customers can use our mobile app to choose as few or as many as they want to receive," Starcher said.
Using the mobile app, customers can "lock" their debit card from being used and "unlock" it when they want to make a purchase.
Checks can be deposited via the mobile app simply by taking a picture of the front and back with a mobile device and sending it to the bank for instant credit. Depending on the abilities of your specific mobile device, customers can log into their Baltic Bank account using a fingerprint or facial recognition.
"We have all the same latest and greatest features that the big banks brag about," Starcher said. "Our convenient technology comes in addition to, not instead of, our face-to-face relationships. Many people in the small communities we serve still like to bank in person at our branches. Those first-name relationships have been an important part of our culture since we opened in 1902, and that isn't going away."
That's why Baltic Bank recently has remodeled its offices that offer spacious, open layouts to facilitate interaction with customers.
"We encourage our customers to come in, have a cup of coffee and sit down with our knowledgeable associates who can offer financial advice or help them learn how to use our mobile app and online banking," Starcher said.
Being customer-friendly, Starcher said, means not looking for opportunities to charge service fees — like a fee for using another bank's ATM.
"We can't control what the other bank charges, but we're not looking to fee people to death," he said. "That's not where we make our money."
Baltic Bank offers a full range of services, from checking and savings accounts to loans and lines of credit, for individuals and business customers.
"One of our exciting products is a checking account that pays 1 percent on your entire balance — without a bunch of conditions to meet and hoops to jump through," Starcher said.
You can learn more about Baltic Bank by visiting BalticStateBank.com. Baltic Bank has locations at 101 E. Main St. in Baltic (330-897-6401), 401 E. Main St. in Sugarcreek (330-852-3680) and 33919 SR 643 in Baltic (New Bedford branch, 330-897-6380). Baltic State Bank is an Equal Housing Lender and Member FDIC.