ProVia collects second Chamber Large Business of the Year honor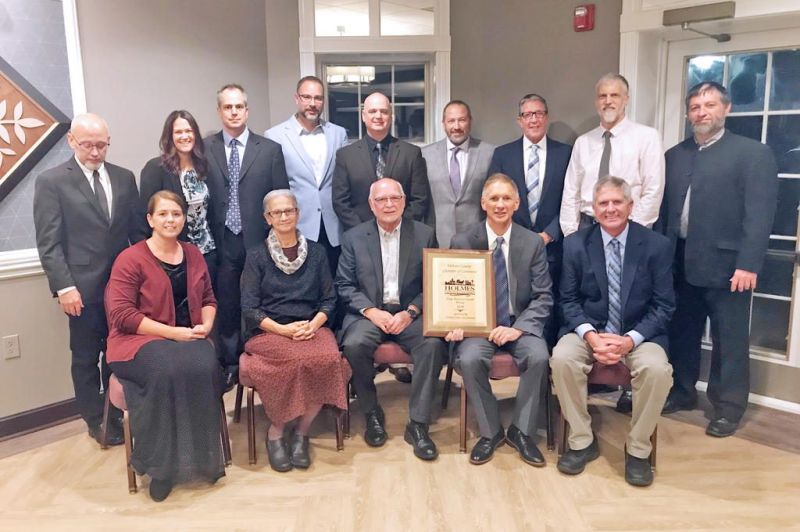 On Thursday, Nov. 7 at Carlisle Inn at Walnut Creek, ProVia picked up its second Large Business of the Year award from the Holmes County Chamber of Commerce and Tourism Bureau as the chamber celebrated all of its 2019 award-winning businesses of the year.
Presenter Rob Hovis shared the story of how founder Bill Mullet took a huge risk in moving from his home builder/contractor role to purchasing Hochstetler Door and Window Manufacturing Company of Walnut Creek in 1977, along with his brother Andrew Mullet.
The company made aluminum storm doors and windows, and one of Bill Mullet's initial acts was to contact Sears & Roebuck to inquire about any needs they might have. The company told Mullet it was in dire need of prefinished entry doors, to which Mullet promptly responded he could provide.
"Being a considerate man, he didn't want to bother his new customer with a lot of details, so he did not tell them that he had never built any prefinished entry doors," Hovis said. "But he went home and built the doors."
Needless to say, the doors were a big success at Sears. The prefabricated door production took off, and for the past 42 years, ProVia has been creating some of the finest quality doors and windows in the nation.
The company continued adding products to its line including manufactured stone, metal roofing, storm doors, insulated glass and vinyl siding.
Throughout the changes one thing has remained the same: a dedication to great service with the highest quality products.
Remodeling Magazine recently took a poll of national professionals who tabbed ProVia as the number-one window they trusted to build their homes. The company's windows and doors are respected from coast to coast, and Bill Mullet's vision to create something built on quality has never wavered.
While his company was operating under three separate entities in Precision Entry, Sugarcreek Industries and Monarch Insulated Glass, in 2008 the firm felt it wanted to create a new image with one team working under one name.
That name was ProVia, meaning "professional" and "the way."
"They wanted to convey three concepts: professional quality, Christian principles, and the fact that doors and windows open a pathway before us," Hovis said.
Today ProVia has more than 1,000 employees working in their five different facilities including one in Booneville, Mississippi.
In 2010 Brian Miller stepped in as president and CEO of ProVia, carrying on the same commitment to those three principles upon which his mentor had built the company. Mullet officially retired in 2015 but remains as board president.
"ProVia has been healthy and successful for many years, and I could point to many reasons for that," Miller said, addressing the attendees at the annual banquet. "There is something special about being recognized by your community because you are the folks we go to church with, and meet at the gas station or sit with at ball games. You are who we do life with, and many of our employees have been nurtured by people right here in this room. If you think we are doing things right and we are doing the right things, that is enough for us."
Miller then zeroed in on two of what he believes to be the main reasons, the first one being the purpose of ProVia.
"The essence of our purpose goes back to the principles that Bill founded our company on more than 40 years ago," Miller said. "We have captured and formalized it with these words: 'To let our light shine before others so that they may see our good works and give glory to our Father in heaven.' Daily we strive to live out that purpose. What a pleasure to have a board of directors and shareholders who encourage us to lead the company with this in the forefront."
Miller said the second big factor was the company's 1,000 employees. He gave them credit as being the very best at what they do, noting it all starts with the basics and formulates from there.
"A lot is asked of them, and they come through all the time," Miller said of the employees.
Miller said it begins with attitude, attendance and teamwork and evolves into more complex attributes like creativity, accountability and recovering together.
"That is what makes a team great," Miller said. "We live in a very special place. The work ethic, the values, the focus on family and faith, these aren't common things in this day and age. Let's pass these virtues on to the next generation, and that is something near and dear to ProVia."