ProVia safety staff receives certification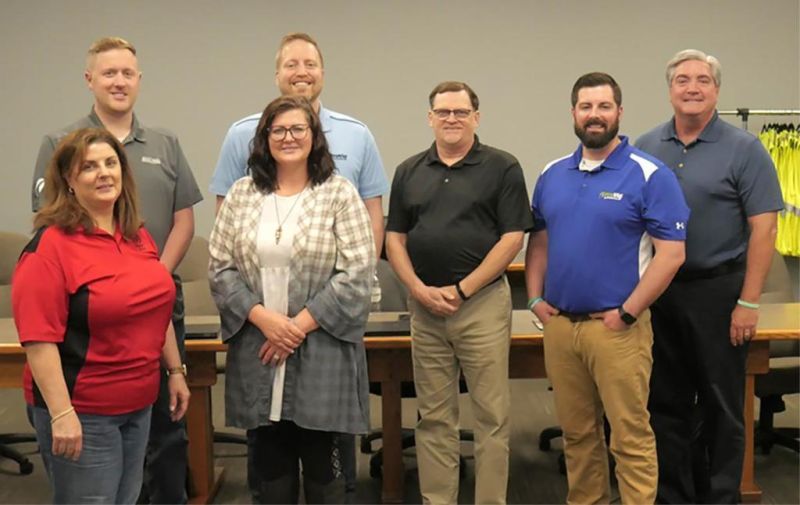 Five ProVia employees were sworn in Thursday, May 5 as special government employees for the Occupational Safety and Health Administration Voluntary Protection Program.
OSHA ensures safe and healthful working conditions by setting and enforcing standards and by providing training, outreach and education. The Voluntary Protection Program is a cooperative relationship between management, labor and OSHA whereby the work place has implemented a comprehensive safety and health management system.
In 2007 ProVia underwent onsite evaluations by OSHA professionals and designated a VPP work site. Through inclusion in the VPP, OSHA recognizes the efforts of ProVia and its employees, who have achieved an exemplary occupational safety and health record.
The Special Government Employee program offers additional resources to maintain OSHA protocols and VPP sites. The SGE candidates receive free training and earn credits for their certified safety professional status. Upon certification, the trained ProVia employees can assist OSHA in conducting onsite investigations, perform annual self-evaluation reviews, and provide outreach and mentoring.
Nancy Mugavero, VPP manager of OSHA Region V, along with the assistance of Keven Sell, CEO of Untied Group Services, provided training and instruction at ProVia's Walnut Creek facility.
Employees sworn in as special government employees are as follows: Marie King, safety coordinator, Strasburg; Jeffrey Orr, safety coordinator, Cherry Ridge; Scott Bane, safety coordinator, Booneville; Brad Yoder, safety coordinator, Walnut Creek; and Zak Burch, safety assistant, Strasburg.
Mike Yoder, ProVia's director of environmental and safety, said, "This program is beneficial because it allows our safety coordinators to collaborate with other professionals in the industry. It also gives us opportunities to directly engage with OSHA's VPP directors and allows our special government employees to receive information to keep our workforce safe. Safety should never be a proprietary issue. Exchanging ideas and information with other companies and keeping employees safe is the goal. ProVia employees benefit from having trained SGEs onsite as we continue to evaluate our safety-site plans to reach our goal of all ProVia facilities becoming VPP sites."
King, safety coordinator at the Strasburg facility, said, "Attaining this certification has sharpened my skills in the safety field so that I can provide a safer work environment here at ProVia, as well as serving others in the VPP's Region V."