Rise Up Café open in Navarre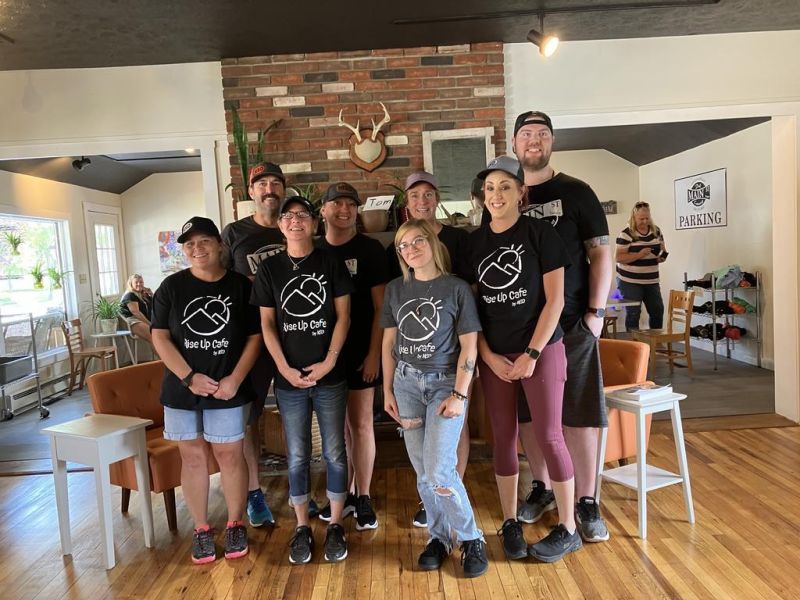 Rise Up Café by Main Street Deli, located at 97 Canal St. W. in Navarre, had its soft opening on Aug. 1 with a limited menu. Plans are to hold a grand opening in October with the date to be announced. At the grand opening, they will roll out a full menu with soups and daily specials.
Owners Keith Hancock and Renee Veselenak purchased the former Anderson building from Claudia Anderson, who retired May 1, 2023, after a fire put the couple out of business at the Main Street Deli, located at 531 Main St. N. in Navarre. The couple has owned that site for the past 15 years.
"The fire started about 5 p.m. June 30, 2022. We had an antique glass cookie jar sitting on a shelf, close to a window, and the sunlight hit it. The unthinkable happened: A fire started," Veselenak said. "It caught the dry stock in the deli on fire. During the pandemic we had erected an outdoor all-weather pavilion so we could offer carryouts. We lost 99% of our business, and with the heavy smoke damage, nothing was saved.
"In January 2023 I was attending a coffee session with the Bethlehem Township trustees and Navarre Village Council when Claudia Anderson approached me about purchasing the building on Canal Street. We secured a loan through Rich Hoy of Consumers National Bank. Once the building was available, during May to July we painted and cleaned up the equipment.
"It was a challenge leaving our spot on Ohio 21. The community gave us 15 years of support. Our new location has less traffic, and people can come, enjoy and sit on the patio. We want to utilize the nature around us and pull our outdoor community, whether they are walking on the Towpath Trail or kayaking on the Tuscarawas River.
"Some of the very favorites of our customers are the Italian sub, chicken salad croissant and our salads with homemade dressing. We offer a full espresso bar, bakery items made in house, breakfast sandwiches, muffins and coffee. We prepare all the food in house. We use local companies: Walnut Creek Foods, Ferris Produce, Nickles Bakery and Mid's Pasta Sauce."
This fall they plan to establish a bed and breakfast in the basement. It will feature a full kitchen and bedroom and bathroom on one level. Veselenak said future events include Cookies for Kids, when they can come in on a Saturday and decorate cookies, hold a monsters and meatball party for children, an adult sip and paint, and offer outdoor yoga.
Veselenak's husband Keith Hancock worked in corporate sales. He was a chef and worked at restaurants in the area prior to purchasing Main Street Deli. Both are University of Akron graduates, and their dream was to own a business. Veselenak also worked at Terry's Pizza Shoppe in Newcomerstown, owned since 1979 by her dad Terry Veselenak.
"I want to thank our moms for all their support during this time of change, Diane Hancock and Nevada Leggett," Veselenak said. "We love working with people. We chose Navarre as our home. This is us, and we wanted to stay in this community.
"Why did we change the name? We had to rise up from the ashes. It is no longer a deli but Main Street Deli food in a café atmosphere."
There are 11 employees: two full-time and nine part-time. The café's current hours are Monday through Friday from 7 a.m. to 4 p.m. and closed Saturday and Sunday. Plans are to open on Saturday in the fall.
Call 330-879-9959, email keith@mainstreetdeli.net or visit their Facebook page.