Selling romance and celebrating life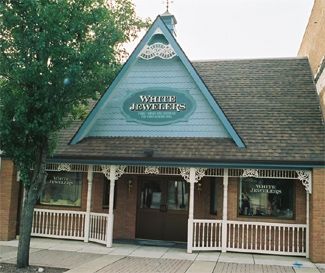 Heather Kobilarcsik said she feels blessed to be in a business that is almost always happy.  
"Our customers are here to celebrate a wedding, a birthday, an anniversary or some other special happy occasion," said Kobilarcsik, the third-generation owner of White Jewelers in Wooster. "We get to share memorable moments with people, and we really go out of our way to help them to pick the perfect item for their celebration."  
The shop has helped to create many fond memories since Kobilarcsik's grandparents, Orelin and Nellie White, established the family business 90 years ago in 1928. A watchmaker who grew up in the coal mines, Orelin White met his future bride — who was visiting from England — at a tea party. A long-distance romance ensued and became a marriage when Nellie returned to Ohio a year later.  
"We sell romance," Kobilarcsik said. "We sell things that are a part of the celebration of life."
Kobilarcsik bought the store from her mom, the White's daughter, in 1992. Her husband Andy later joined the shop as inventory management specialist.  
"Customers love our fun, comfortable atmosphere," Kobilarcsik said. "We love to laugh and have a great time getting to know our customers. We're in our third generation of family ownership, and we also have served generations of customers. Many of the people who were buying engagement rings and wedding bands when I bought the shop now have their kids coming in."  
The 2,800-square-foot store is loaded with spectacular diamonds and other jewelry on display, but Kobilarcsik said a large portion of her sales come from custom-designed pieces.  
"People have a lot of interesting ideas, and they come in with pictures on their phones and ask, 'Do you have something like this?'" she said. "If we don't, we can order it, or we can custom design it. We go out of our way to find pieces for people who are looking for a particular item, and we carry a lot of unique items that are not mass produced, like you'll find in the big box stores. We also can take diamonds, colored stones and gold and recreate them into something completely new and different."  
To commemorate its 90th anniversary, White Jewelers will hold a special sale from Monday, Oct. 8 to Saturday, Oct. 27. Every item in the store will be discounted. And from Thursday, Oct. 11 to Saturday, Oct. 13, visitors will be able to enjoy cake, refreshments and door prizes.  

White Jewelers is located at 211 E. Liberty St. in Wooster. You can call the store at 330-264-3324 or find more information at WhiteJewelers.net.