Sensational frames, Superior service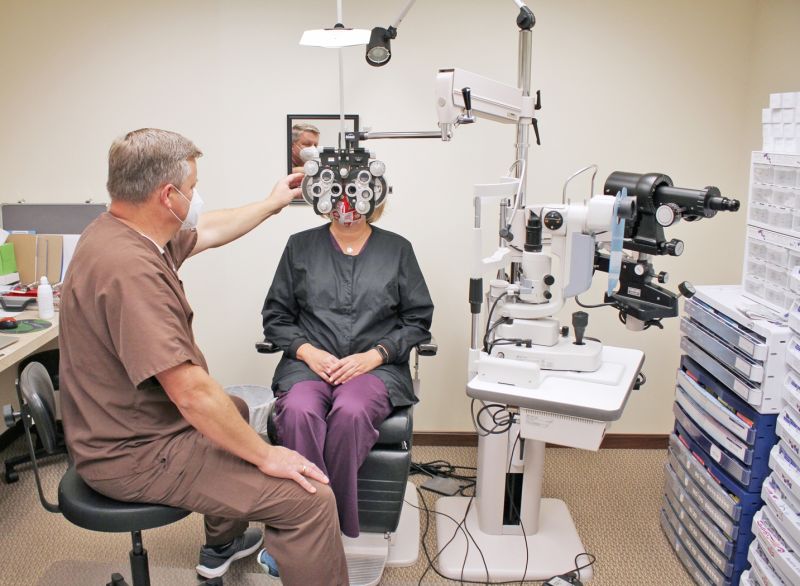 With frames made of such materials as leaves, marble and vinyl records, the selection of unique eye wear at Vision Trends might even impress Elton John.
"We have frames made from flowers, peacock feathers, mushrooms, pine cones, seashells, buffalo horn, snake and wood, among other very unusual materials," said Dr. Scott Keating, the licensed therapeutic optometrist who owns Vision Trends in Dover. "But we carry more than just specialty frames. With more than 2,000 frames on display starting as low as $65, we have something for everybody and every budget."
On Friday and Saturday, Sept. 11-12, Dr. Keating will offer the opportunity to save 30% on frames and lenses — contingent upon the specifics of a buyer's eye care plan — at Vision Trends' annual two-day sale. Due to the COVID-19 pandemic, the popular event this year will be by appointment only.
"We're going to let in six people per hour this year," he said. "In past years, it's been a madhouse in here."
Part of the attraction is the chance to view some of the most unique frames in the area — if not the world, Dr. Keating said. The eclectic collection, which Dr. Keating procures from around the globe, recently earned Vision Trends recognition as one of the top-12 optical shops in the country by Invision Magazine, an industry trade publication.
"It was quite an honor," said Dr. Keating, who frequently lectures at national conferences. "This isn't Chicago or New York. We're just a local eye care center here in Dover, Ohio."
A particular marble frame on display is the only one like it in the country. "The frame was made from a marble called Blue Jean, mined from a Turkish quarry," he said. "The colors range from light blue to deep indigo, and, interestingly, the frame only weighs 1.4 ounces."
Another line of frames is made from vinyl albums — only from the 1970s.
"The quality of vinyl was better in the '70s," Dr. Keating said. "The frames are handmade in Budapest."
For the sunglass lover, we carry over 250 styles of sunglasses from Oakley, Ray Ban, Maui Jim and Costa.
After 30 years in practice — including nine years in Dover — Dr. Keating is in the process of expanding his office.
"We've grown so much over the past nine years that we're adding new exam rooms and pretesting areas," Dr. Keating said. "We also bought the lot beside us and made a huge parking lot, which my patients will be super happy about. We've never seemed to have enough parking."
The expansion also will make room for a new optometrist, who will join Vision Trends next spring. In two years, Dr. Keating said, his son also plans to join Vision Trends as an optometrist.
"Expanding our staff and office will make it faster for our patients to get their eye exams done," he said. "It will make it a better customer experience."
Vision Trends, he said, emphasizes a fun patient experience.
"We present new glasses to patients on a velvet tray, and we love giving every patient a gift bag with solutions, cleaning cloths, chocolates and other things," he said. "We have four opticians who take ample time with each customer to be sure they get exactly the right pair of glasses to accentuate their appearance and personality. We don't pressure people to overpay for frames. The most expensive frames may not be the best looking fit, and we're always honest about helping our customers make the best choice. We believe that eye wear should enhance your personality, not hide it."
Vision Trends also specializes in bifocal contact lenses, and Dr. Keating treats all types of eye-related problems, including glaucoma, pink eye, viral conjunctivitis, ulcers of the cornea, eye inflammation, shingles, styes and dry eye.
"There are some really neat, new contacts out in the market, and we're always trying to be leaders in offering the latest technology that comes out," he said.
You can call 330-365-2020 for more information or to schedule your appointment for Vision Trends' two-day 30-percent-off event. Vision Trends is located at 707 N. Wooster Ave. in Dover. You can learn more by visiting the Facebook page @visiontrends.
Annual Fall Sale
30% Off Frames & Lenses*
Friday & Saturday, Sept. 11-12
By Appointment Only
*Contingent upon buyer's eye care plan.