Spring sale at United Fencing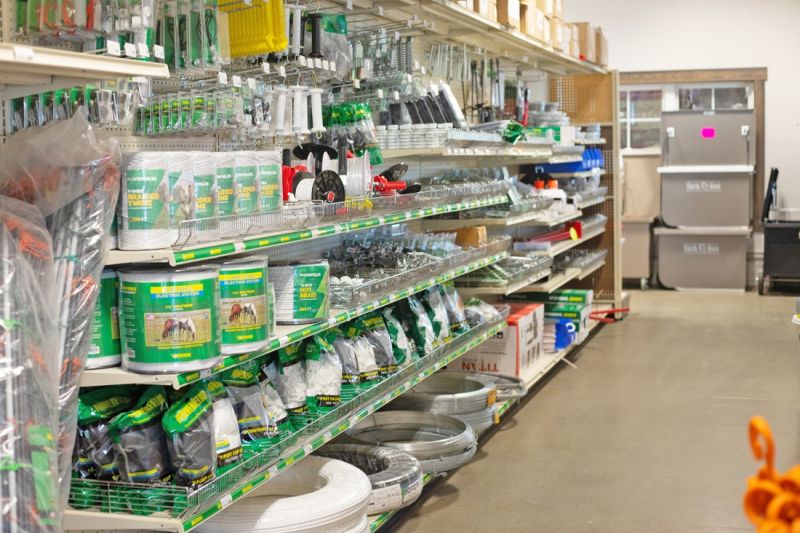 To celebrate four years of community support, United Fencing Ltd. will host its fifth annual spring sale on Friday and Saturday, April 8 and 9 at the company's Apple Creek store.
The event will include storewide discounts, tasty food and generous cash prizes, said Brenda Hershberger, marketing manager.
Guests will have a chance to get a good look at all of the store's fencing, pet products, equestrian goods, lawn and garden supplies, and other merchandise, Hershberger said.
"We're going to have sales throughout the whole store," she explained. "This fun event started four years ago as our grand opening sale. It was such a success that we've decided to do it every year to show our appreciation for all the support we've received from our community. We're looking forward to seeing everybody as we move into springtime."
Residents of Apple Creek and surrounding towns have come to rely on United Fencing for agricultural and other types of fencing products since the store opened in 2018. Now, said owner Nelson Yoder, United Fencing also has become the area's go-to destination for dog supplies and other pet needs.
"We didn't carry dog supplies when we first opened, but the dog industry has been growing dramatically in recent years and we wanted to be able to provide all of the necessities to our customers," Yoder said. "Dog supplies have become our fastest growing product line."
The spring sale is perfectly timed to the season when people begin to buy most of their fence supplies, Hershberger said. United Fencing offers a wide range of fencing products including all the hardware, gates and tools you need to build your own fence, she said.
"We sell fencing to customers who do the installation and the repairs on their own, but we also have professional fence crews who can do the job for those who don't want to do it themselves," she said, noting the company has two post-pounding crews, two wire fence crews and a repair crew. "We also sell a lot of animal feed and shavings."
Yoder's experience in the fencing business preceded the establishment of the United Fencing retail store. After working for a fence company for three years during the 1990s, he switched into the carpentry field.
"But I just couldn't stay away from fencing," Yoder said. "In 2005 I started to install fences as a side job in the evenings and on weekends. By 2009 I had so much work that I made the decision to stop doing carpentry and concentrate on fencing. That's what I've done ever since."
In 2016 Yoder and his brother-in-law, Allen Troyer, bought a parcel of land on Route 250 and opened the store two years later.
"Nobody was selling fencing in this area, and we saw a need," Yoder said.
"We're more than just a fence and farm store," Hershberger said. "We also have dog, cat and equine supplies and supplies for other animals, like birds."
Pet supplies include:
• Beaverdam pet food
• Flea and tick treatments
• Dog vaccinations and wormers
• Collars and leashes
• Grooming supplies
• Toys
• Kennel supplies
• Dog houses
• Carriers
• Whelping boxes
• Cedar wood shavings
United Fencing stocks a variety of lawn and gardening tools and supplies including grass seeds, herbicides and pesticides.
"Customers can call in and order any of our products from the convenience of their homes, and we will deliver them to their door or get them ready for pickup," Hershberger said.
Friday's spring sale event will include free refreshments. On Saturday, RC Farms of Apple Creek will bring in its food truck to feed hot lunches to hungry patrons between 10 a.m. and 2 p.m. Drawings will be held for cash prizes of $1,000, $500 and $250.
United Fencing Ltd.'s fifth annual spring sale will take place Friday, April 8 from 7:30 a.m. to 5 p.m. and Saturday, April 9 from 7:30 a.m. to 2 p.m. at 13379 Dover Road (Route 250), east of Kidron Road, Apple Creek. You can get more information about United Fencing by visiting UnitedFencingLtd.com or by calling 330-857-1543. You can keep up with the latest news at Facebook: @unitedfencingltd.