Stronger every day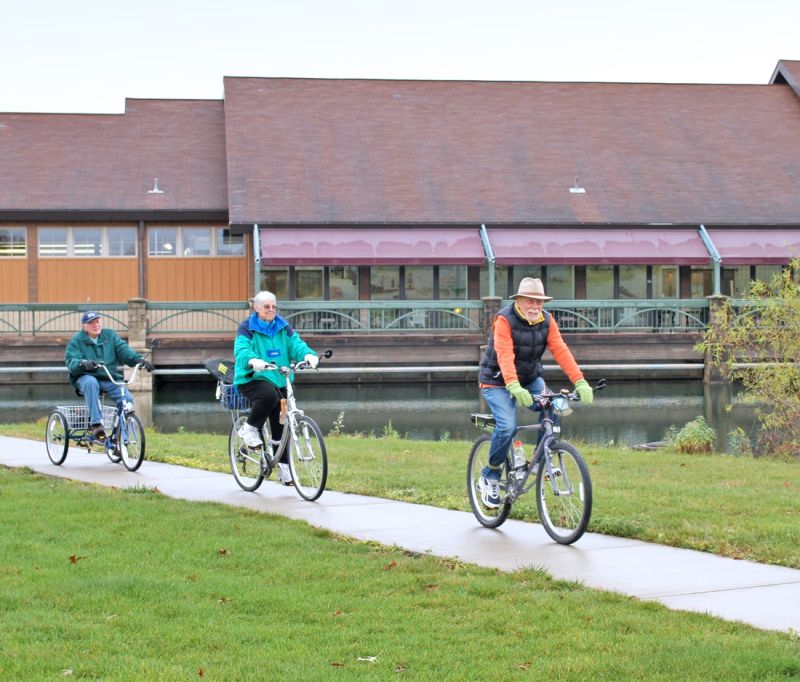 Beautifully spread out over 250 acres in Sebring exists one of the country's most popular retirement communities. That's right, Copeland Oaks Retirement Community isn't in Palm Springs, Palm Beach, or anyplace that actually has palm trees. It's right here in Northeast Ohio. And while so many things are remarkable about this well-appointed haven for seniors, two important facts immediately jump out.
The first is that Copeland Oaks is a non-profit venture, the second is that there is no entrance fee to move here. "As a transitional 55-and-over community, we have people of all ages and different stages of life who come to live—and love it—here," says Lisa Gentile, Chief Development Officer and Senior Campus Director.
The Villas
The 140 fully independent ranch-style villas are regularly updated and remodeled. "We offer a choice of eight different villa styles that people can pick from," Gentile noted.
The campus boasts social events galore, and residents have access to over 65 resident-lead groups within walking distance of their homes. There's an onsite library, barbershop, beauty salon, creativity center, wellness center, personal training, a fitness center, an Olympic-sized pool, an aerobics studio, and free membership to the local golf course with country club—all included with the monthly rent. The zero-maintenance lifestyle at Copeland Oaks means all landscaping and maintenance is taken care of. You can even schedule housekeeping, for a truly worry-free living experience.
The Apartments
Residents who choose to live in one of Copeland Oaks' beautiful apartments or condos enjoy a glorious view of the lake. The 54 units that comprise this section afford seniors the opportunity to remain independent while but on smaller scale than the villas.
All of the same amenities enjoyed by residents in the villas are afforded to residents in the apartments.
Rehab, Therapy and Memory Care
Crandall Medical Center is a five-star rated skilled nursing facility ranked third in Ohio. Boasting 190 beds, all rooms are private and feature person-centered care.
Conveniently located inside the medical center is Copeland's state-of-the-art rehab and therapy area. "What's so wonderful about having these services right on campus is that if a person needs 24/7 skilled nursing care, they can do that right here and their spouse can come to visit them from another part of campus," Gentile smiled. Because Copeland Oaks offers a continuum of care, seniors have a place here no matter where they are in the aging process. There are 107 all-inclusive assisted living units, 19 units for those with early onset dementia, and there are four apartments with double occupancy, so couples don't have to live apart if one needs more support.
The Campus
The 250-acre, pet-friendly campus that encompasses Copeland Oaks includes a 5K trail that meanders through the woods, a five-acre stocked lake, outdoor patios with fireplaces and firepits, secured community entry and exit, and a 500-strong team of employees that delights in catering to every person living here. Every precaution is taken daily to ensure the safety of residents and employees during this challenging time, which includes restricting campus access to outsiders, negative airflow systems in buildings, regular screening of employees and residents and more.

"We're always focused on the health, safety, security, happiness and well-being of our residents," Gentile assured. "That didn't start with Covid and it doesn't end with Covid. We're a strong community and we intend to keep it that way for many more years to come."
Find out why people locally and from across the country are choosing to live at Copeland Oaks, located at 800 S. 15th Street in Sebring. Tours are by appointment with evenings and weekends available. To schedule your personal tour, call 330-938-6126. Visit CopelandOaks.com. This story was underwritten by Copeland Oaks.
Two Months Free!
Set a move-in date by June 30, 2021 and Copleland Oaks Retirement Community will waive your first two months of rent. They'll also pay your moving costs up to $1,500. Call 330-938-6126 to find out more.

The fully independent ranch-style villas at Copeland Oaks are regularly updated and remodeled. In fact, when a new resident or couple decides to call Copeland Oaks home, their villa of choice is often remodeled and at times will include full kitchen updates, lighting, flooring and more.