Personal and Family Counseling Services host Masquerade Ball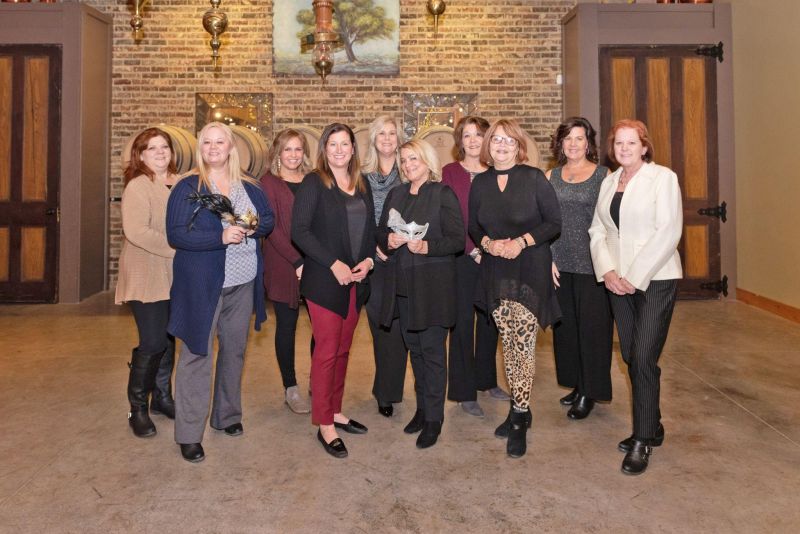 One exciting evening of fun for you can provide many nights of safe shelter for victims of domestic violence, said Jamie Smith, assistant director of Personal and Family Counseling Services.
The evening of fun is PFCS' 11th Annual Masquerade Ball — with dinner, dancing and raffles — to be held on Saturday, Jan. 18, 2020 at the Tool Shed at Breitenbach Wine Cellars and Vineyards.
"Over the last 10 years, our Masquerade Ball has raised more than $136,000 to support our vital services," Smith said. "With two domestic violence shelters in Tuscarawas and Carroll Counties, Masquerade Ball proceeds from the 2019 event alone provided almost 7,000 nights of safe shelter to victims of domestic violence and gave 62 women the opportunity to receive treatment for substance abuse in our residential facility."
The 2020 ball — the first to be held at Breitenbach — will feature an elaborate buffet dinner with a prime rib carving station by Benson's Market & Catering, of Dover. Buffet highlights will include herb buttered salmon, chicken Marsala and a vegetarian pasta dish, along with sides, salad, bread and dessert.
"The Tool Shed is a wonderful new venue and we're excited to bring in Benson's to provide a fabulous dinner," Smith said. "Our popular champagne bubbly bar is always a highlight of the event. This year we're going to feature Breitenbach's peach and red raspberry sparkling champagnes."
The champagne bubbly bar invites guests to create their own libations with fruits, juices and purees.
Masks, which can be purchased at the ball or brought from home, create a fun element of mystery throughout the evening, Smith said.
Dinner will be followed by raffles, auction baskets, a 50/50 drawing and dancing to music provided by Hitchcock's Sound Company.
"The Masquerade Ball is unlike any other fundraiser you're likely to attend," Smith said. "It's a wonderful night out with dancing, an incredible meal and a festive atmosphere. You really get a little bit of everything. It's a way to break up the post-holiday winter blahs."
It's also a way to learn more about — and contribute to — the many highly needed services provided by PFCS.
"We'll have a presentation about our Harbor House domestic violence shelter in New Philadelphia and Harbor Point domestic violence shelter in Carrollton," Smith said. "We'll talk about what our community would be like if we didn't have these shelters, which not only provide emergency safe shelter, but also a caring, loving atmosphere where survivors can find help and learn to heal. Our services provide basic living needs as well as education, resource development and relationship building. A 24-hour hotline is also available to allow victims to access the shelter and additional resources."
In addition to the shelters, PFCS, a part of Ohio Guidestone, provides programs like:
• Women's residential treatment;
• Recovery Point - men's sober living;
• Substance abuse counseling;
• Children and adult mental health counseling.
Cocktail and hors d'oeuvre hour will begin at 5:30 p.m., with dinner at 6:30 and the live auction, featuring professional auctioneer Jason Bamback, starts at 7:30.
Bamback will auction off about six items, and about 30 items will be up for bid in the silent auction.
During the evening, local caricature artist Greg Scott will visit tables and draw portraits. Dress for the ball is semi-casual.
For the first time, PFCS is offering sponsorship opportunities beginning at $250. The highest sponsorship level — the Masquerade Sponsorship — costs $1,500 and includes a complimentary table for eight and recognition in all event marketing and advertising and media opportunities, banners, signs and the event program.
Purple Sponsors, for $250, receive recognition in the event program. In between are $800 and $500 sponsorships, which include complimentary admission and recognition in the event program.
Individual tickets for the Masquerade Ball cost $65 each, or $120 for two.
Tickets must be purchased in advance and can be ordered online at Personal-Family-Counseling.com, or by sending a check to Ohio Guidestone, Ball Committee, 1433 Fifth Street NW, New Philadelphia, OH 44663. You can call PFCS at 330-343-8171. The Tool Shed at Breitenbach Wine Cellars and Vineyard is located at 5773 Old Route 39 NW, in Dover. The phone number is 330-343-3603.