The Gospel Shop delivers on gifts with soul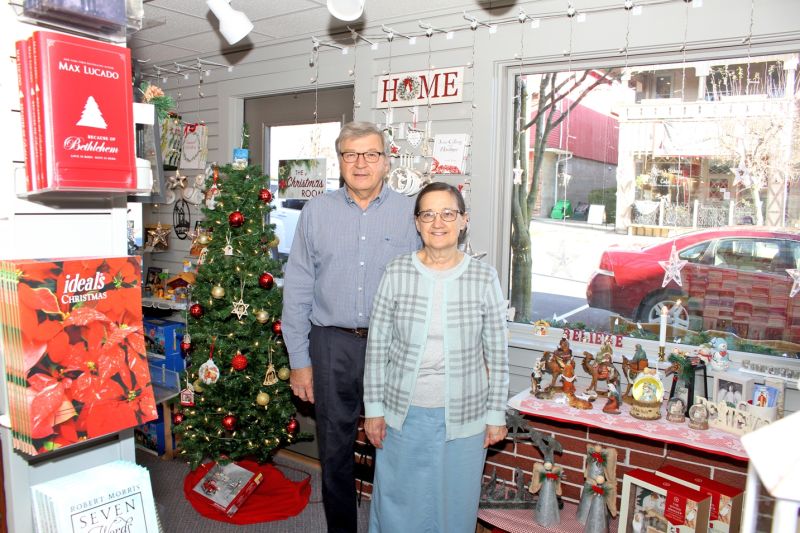 In September, David Stutzman celebrated his 100th birthday at The Gospel Shop, an inspirational Bible, music and gift store he established more than 53 years ago, in Sugarcreek.
"We held a special sale in Dad's honor, and he enjoyed coming in and talking with people," said Rhoda Mullet, Stutzman's daughter, who, with her husband, Freeman, now operates the shop …that carries a variety of merchandise, like Kerusso T-shirts, puzzles, jewelry, cards and boxed cards for all occasions, along with books for all ages, Bibles, CDs, DVDs, toys and other items.
Stutzman, who also has served the community as a pastor, started the business in his family home in 1966.
"Dad put a sign in front of the house that said 'Stutzman's Gospel Records,'" Mullet recalled. "We would sell some records, some boxed cards and a few books out of a little corner."
Among Stutzman's first products were vinyl recordings of a cappella songs recorded by his brother and his family.
In 1967, Stutzman decided to open a shop outside of his home, establishing The Gospel Shop in the location of an abandoned bakery. The shop was later moved to its present location, where locals and tourists alike enjoy browsing in a peaceful atmosphere.
"Many tourists tell us that they don't have any bookstores where they live because so many people are buying online," Mullet said. "We offer the experience of seeing and touching what you're buying. People spend a lot of time browsing through our books and our large room full of very nice, top-quality greeting cards."
In recent months, she said, demand for Bibles, puzzles and word search books has risen.
"Believe it or not, we actually had a puzzle shortage," Mullet laughed. "People need things to do while they're sitting in their homes. We've also been selling a lot of children's items, like toys and some really nice books."
The Gospel Shop, she said, is an ideal place to find gifts for the Christmas season. But a post-holiday visit may fetch some compelling discounts.
"Between December 26 and December 30, we have 20 percent off almost everything in the store," Mullet said. "On New Year's Eve, the discount increases to 30 percent."
You can visit The Gospel Shop at 112 East Main Street, in Sugarcreek. You can learn more at GospelShopSugarcreek.com, or by calling 330-852-4223.