Time to eat the donuts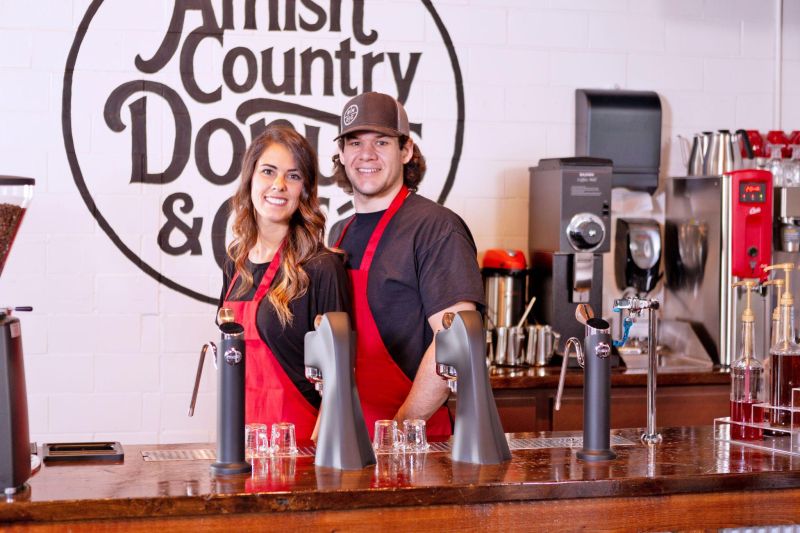 Aaron and Kristina Yoder's humongous maple-glazed donuts have garnered a cult-like following over the nearly five years the couple have sold the fried confections from their trusty food truck. Now, donut devotees can enjoy a freshly brewed cup of joe, a smoothie or a full meal with their sweet treats at the couple's new brick-and-mortar location, Amish Country Donuts & Café.
Nostalgia meets novelty in the eatery, housed in the extensively renovated former Jim's Sunoco building in Sugarcreek. In addition to the brand's original-style — the Yoders know better than to mess with a fan favorite — guests find more conventionally sized donuts in innovative flavor variations. And is there a better accompaniment to the indulgence than freshly brewed coffee? Here, baristas prepare standard and specialty coffee drinks from beans roasted by locally operated Red Mug Coffee.
"Our espresso system is a unique setup from Modbar, which works closely with La Marzocco," Aaron Yoder said. "It's one of only three like this in all of Ohio. Customers have an interactive experience with the barista, who prepares the drink right in front of them on the countertop. It's a sleek-looking system that's worth the drive just to see it function."
Noncoffee drinkers can sip milkshakes, malts or fruit smoothies blended from whole fruit with optional add-ins such as protein or spinach. Those wishing for a nonsugar sweetener may choose maple syrup or other alternatives.
But there is more than dough and joe at the new café.
"We're expanding into food with good-quality breakfast, lunch and dinner items made from fresh ingredients," Yoder said, also highlighting the eatery's weekend brunch. "I hope it becomes a tradition for people to say, 'Hey, it's Saturday morning. Let's go to Amish Country Donuts & Café for brunch.'"
Among the café's offerings are sandwiches, wraps and bowls. Brunch includes an expanded version of weekday breakfast fare, with items such as omelets and pancakes.
The Yoders began peddling donuts in the summer of 2014 after purchasing the mobile business and its accompanying trailer. Frying sweet circles of dough was a new endeavor for Aaron, whose background is in trim carpentry, and Kristina, a secretary for her family's business who worked as a seamstress on the side. Fortunately, an employee of the former owner agreed to stay on to school the couple on proper technique.
"Since then, we've changed a few things, added a few things and tried our best to improve it a bit, but the original recipe has pretty much stayed the same since we purchased the business," Yoder explained.
The Yoders, who began at festivals and other locations, vowed from the onset to open a permanent location. They admit it was a lofty and perhaps naïve goal. Nonetheless, it came to fruition four years and 10 months after purchasing the business. Along the way, they met a diverse group of people who have become friends as well as loyal customers.
The couple will continue to operate the mobile end of the business at local functions throughout most of the year, as well as in Texas during the winter. They fell in love with the Lone Star State several years ago after driving there to purchase the truck they use to pull the trailer that houses the mobile donut business. In subsequent years, they returned for brief periods of selling donuts at festivals and events, where they amassed a following along the way.
"We have this wonderful opportunity to have a business in Ohio and begin to establish one in Texas," said Yoder, who likes to escape cold northern winters.
But do not despair. While the Yoders are in Texas, their local eatery will be in the capable hands of two of Kristina's sisters, who serve as managers, and a sister-in-law, who works part-time.
Amish Country Donuts & Café is located at 522 Dover Road NE in Sugarcreek. Hours are Tuesday through Thursday from 7 a.m. to 9 p.m. and Saturday from 7 a.m. to 10 p.m. The phone number is 330-852-5214, and the website is AmishCountryDonuts.com.