Tip to toe, Barbell Beach and Beauty has you covered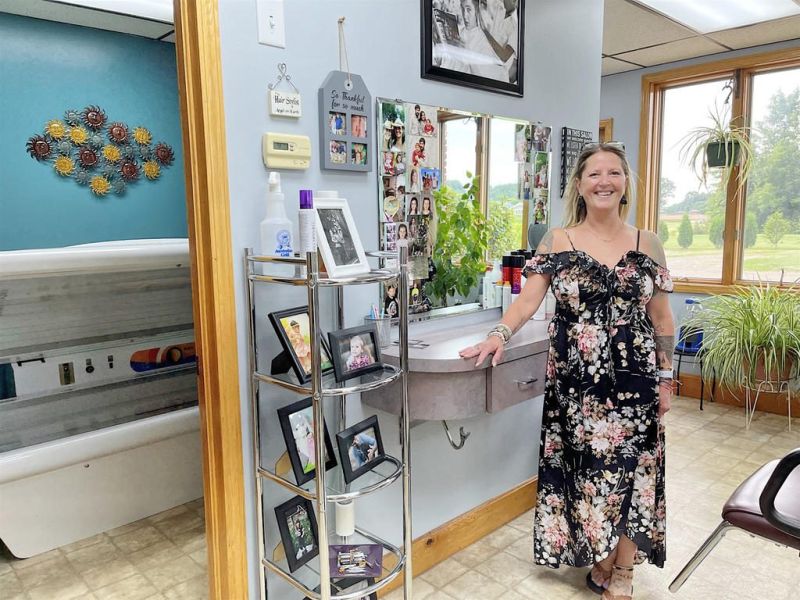 Lawrence Township has been experiencing quite a growth spurt recently, with the opening of several new businesses. Barbell Beach and Beauty in Wilkshire Hills is among them.
Barbell Beach, previously in operation for many years as a gym and tanning and hair salon owned by Lanette Lundenberger, had to close its door when the pandemic hit. New owner Tracey Terry has had a cosmetology chair inside the building for the past 20 years.
When Lundenberger decided not to reopen, Terry said she considered either retiring or getting a chair in another existing salon. "But I've been my own boss for so long I didn't want to work for someone else," she said.
Instead, she took over the lease of the building and reopened as Barbell Beach and Beauty, offering a fully equipped fitness center, hair care, nail art, tanning and even a travel agent.
"Because what do you want to do before you go on vacation?" Terry said. "Get a tan. I bought two new treadmills, a new Smith machine for weight training, and the tanning bed and booth. I also added new free weights for the gym."
Terry said she has received positive feedback. "People are so happy we are open. They love that they don't have to drive to New Philadelphia or Dover now for fitness and that the gym is open seven days a week from 5 a.m. to 10 p.m," she said.
While an appointment is required before joining, clients may come and go as they wish. People who are unsure whether they want to join the gym or not can try it first with a $5 visit.
"The gym was my biggest concern because it had been closed all through COVID, but it is doing better than I could have ever imagined. Yesterday I got three new members who were just driving by and saw the sign," Terry said.
A dream come true
For Terry, owning the salon is literally a dream come true. "I knew in second grade that I was going to be a hairdresser because my mom gave me such awful haircuts," she said. "I started cutting and styling my own hair at that age."
Terry said she has worked hard to make her salon comfortable and welcoming. "My clients have been with me so long I consider them my friends," she said. "They're like family."
The first client Terry ever had still comes to her. "She lives in Paris Township, and she still comes to me for her hair. And she's in her 80s now," she said.
In addition to haircuts, coloring and styling, Terry offers waxing and eyebrow and eyelash tinting. She recently added a nail tech, who provides manicures and pedicures, along with gel and acrylic nails.
The salon also has a tanning bed and a tanning booth with packages available and visits by appointment only.
People can plan a vacation at Barbell Beach through MAVtravel, which Terry said stands for My Awesome Vacation. Services are available only by appointment and by calling Julie Vaughan at 330-440-2342.
"It's laid back and comfortable here," Terry said. "It's like I tell my husband — this is my happy place. I can be so stressed out, but I come in here and I feel calm. I'm happy here."
Barbell Beach and Beauty is located at 10388 Wilkshire Boulevard. To make an appointment for any services, call 330-874-3337.