Ultimate Chiropractic and 'The 5 Essentials'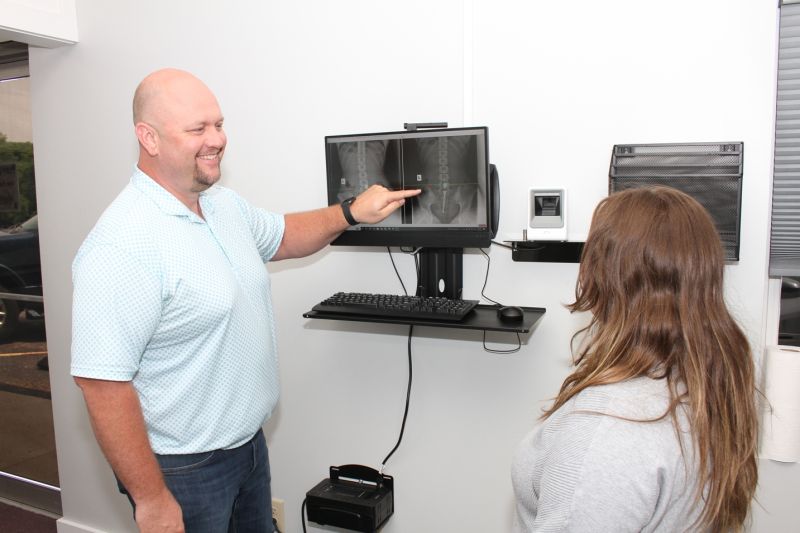 After 11 years working in the construction industry, Dr. Garth Schrock wanted to make a career change. After much soul searching and hard work earning his GED and taking the SAT exam, Schrock made the decision to uproot his family and attend Life University in Marietta, Georgia, where he graduated with Magna Cum Laude honors earning a Doctor of Chiropractic degree. That was seven years ago. Today, Schrock is back home and recently relocated his Apple Valley practice to Millersburg.
"My heart has always wanted to help other people, and I'm blessed to be able to do that in my hometown," Schrock said. "Chiropractic care has been a part of my life since I was 5 years old. My mother heard about it for a problem my brother was experiencing as a child, and it was very helpful. She saw how spinal adjustments can help with overall health at every age and wanted all her children to have this head start to a healthy life."
When Schrock says "healthy life," he's not just talking about less back pain or other aches and pains you might associate with reasons to seek a chiropractor. His goal is to inspire families to honor the wisdom of the body and to live a life free from interference.
"I want to deliver the best in chiropractic care for my patients because I feel they deserve the best," Schrock said. "Seeking adjustments only when you're hurting certainly helps relieve the pain, but if you routinely receive adjustments as part of a healthier lifestyle, you can avoid the pain altogether. Most people don't realize how good the body was designed to feel and function."
For Schrock, chiropractic is the first and most important essential of The 5 Essentials from MaxLiving as a natural and effective way to align your health.
"I was introduced to MaxLiving by my best friend and fellow chiropractor," Schrock said. "Adjustments offer great results on their own, but I was looking for the best results possible. I found that with MaxLiving."
As a MaxLiving doctor, Schrock combines core chiropractic, nutrition, mindset, oxygen and exercise, and minimizing the toxins in the body to provide all the tools needed for good health and longevity. According to Schrock, there is no age limit for adjustments. It's never too early or too late to start your path to a healthy lifestyle.
"Misalignment very often begins at birth," Schrock said. "Realizing my own family never dealt with sickness, disease and early death was a main reason that brought me to chiropractic care. Proper adjustments reduce the chances of things like colds, flu, asthma and the need for antibiotics and other medications. It improves the immune system for a healthier life."
Schrock said the main reason for adjustments at any age is to re-establish the brain/body connection through the spine in order to allow the body to return to its natural ability to function on its own and heal itself.
"The goal is to change the shape of the spine back to normal for long-term results," Schrock said. "the best way to measure those changes is with x-rays before and after corrective chiropractic care. When the spine is out of alignment, there is crushing pressure on the soft nerves, not allowing the nerve to function properly. Depending on where this nerve is going in the body, the pressure interrupts the proper messaging to the brain, manifesting as pain or other symptoms. If patients come in with migraines, I don't treat the symptom; I treat the root cause. This relieves the pressure on the nerve and improves the body's innate ability to heal itself."
Schrock said since only 10% of the nervous system is designed to feel pain and the other 90% is for function, pain is not the only indicator of a problem.
"My parents prioritized our health by introducing spinal alignment to my family as kids," Schrock said. "It put me on the path I am on today to help others achieve the same health, and I couldn't be more grateful."
Ultimate Chiropractic has moved from 21735 Plank Road in Howard to its new location at 163 E. Jackson St., Suite C, Millersburg. For more information and to schedule an appointment, call 740-326-9891. Check the website Ultimate-Chiropractic.com or find them on Facebook.