Wooster Innovation Park moving forward with plans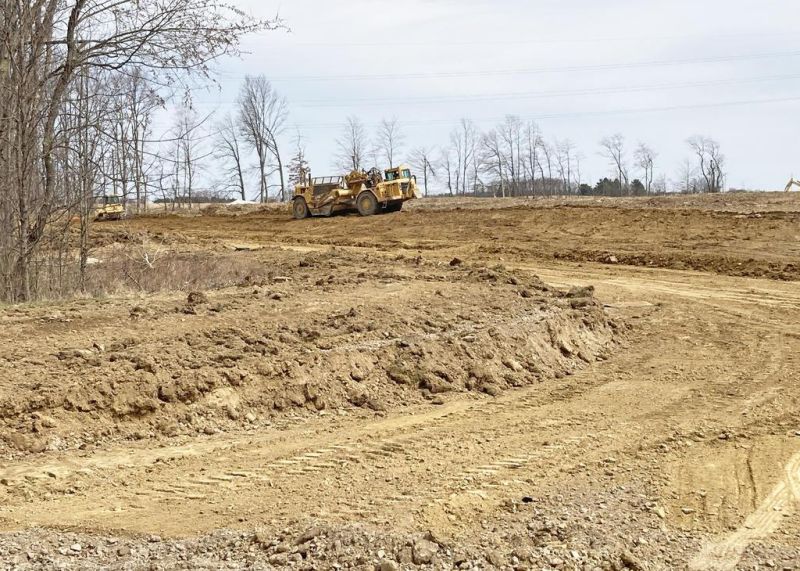 The Wooster Innovation Park did not happen by chance; it is the result of many years of planning. With Wooster Brush recently putting in the first bid to build the park, it may be easy to see the industrial park is a win for business expansion and job retention.
But to appreciate the story, one needs to go back several years to see how this project came to be and why it matters for the community.
Residents may not be aware the discussions around the Wooster Innovation Park go back to 2015 when Wayne Economic Development Council launched a collaboration with the Wayne County commissioners and the cities of Wooster, Orrville, Rittman and West Salem to identify potential future sites for business expansion within Wayne County.
"We were getting inquiries from companies, so that indicated to us that there would be demand. We estimated the rate of growth of industry in Wayne County. We didn't see the private market alone able to meet the demand," said Jonathan Millea, development coordinator for the City of Wooster.
Keeping pace
Many factors were considered during the planning process for the industrial park. One important factor is the speed at which business happens. If a company submits an inquiry for properties available to expand its business in Wayne County, most companies want to be able to move forward fast. They want a site that is shovel-ready, and if there are none available, that business will often move on and find a shovel-ready site in another region.
For a property to be shovel-ready, there is a due-diligence process that must happen. It requires many types of review for the property to be ready for immediate development. Because the City of Wooster purchased the land for the expansion of Wooster Innovation Park, they were able to complete all due diligence needed to make the property ready for construction.
Access to infrastructure
Proximity to infrastructure and utilities was another key factor. The location for the Wooster Innovation Park was carefully selected due to its proximity to existing infrastructure.
"In the city of Wooster, we have worked to construct infrastructure to a level of service that reliably supports industry. This is the largest utilitied site in our area with nearly 80 contiguous acres of land ready for development," Millea said.
If the Wooster Innovation Park did not exist, according to Millea, "It could mean that we would have smaller, fragmented industrial developments scattered about, relying on more expensive infrastructure. And having separate wastewater treatment for each manufacturing facility takes up significantly more land, whereas having shared utilities at the industrial park is a more efficient use of space.
Workforce retention and housing
The third key factor is proximity of the industry to the labor force. Wooster Brush considered workforce retention as part of its decision to select a site within the city of Wooster to expand production.
"We wanted to retain as many jobs as possible in Wooster," said David Spar, controller at Wooster Brush. "Attracting additional talent to The Wooster Brush Company is a challenge, given the very competitive job market in Wayne County. Other areas across Ohio are facing similar challenges."
Tom Pukys, president of Wayne Economic Development Council, has observed similar challenges across the county. Pukys said the key to staying ahead of workforce challenges is to train the next generation of youth so they are more likely to find a job and stay in Wayne County.
But it gets more complicated. As businesses expand, they need new employees. The new workforce often needs training programs. As individuals gain employment, they need housing.
"You need a balance of industrial development and residential development. When I look at this park, Wooster Brush going there is a primary example of business retention and expansion. But also, business growth can lead to more residential development. And we are seeing that — new housing that is in the early stages of planning right now," Pukys said. "You need to see that comprehensive approach, with all pieces happening together."
Moving forward
Millea said there are a couple of rounds of approvals needed to finalize the agreement with Wooster Brush, but the plan is the real-estate agreement will close sometime in May. Wooster Brush is looking forward to moving forward as well.
"There are very few places in Wooster that could facilitate a new building of this size. The Wooster Innovation Park is a critical piece of the puzzle for being able to move forward with this expansion in Wooster," Spar said.
Millea said there are approximately 2,500 employees at the current industrial park, and the park is expected to approach 3,000 before long. The Daisy Way connection project currently underway will facilitate traffic flow as the new land to the north slowly is developed.