Area church promotes awareness, peace through olive oil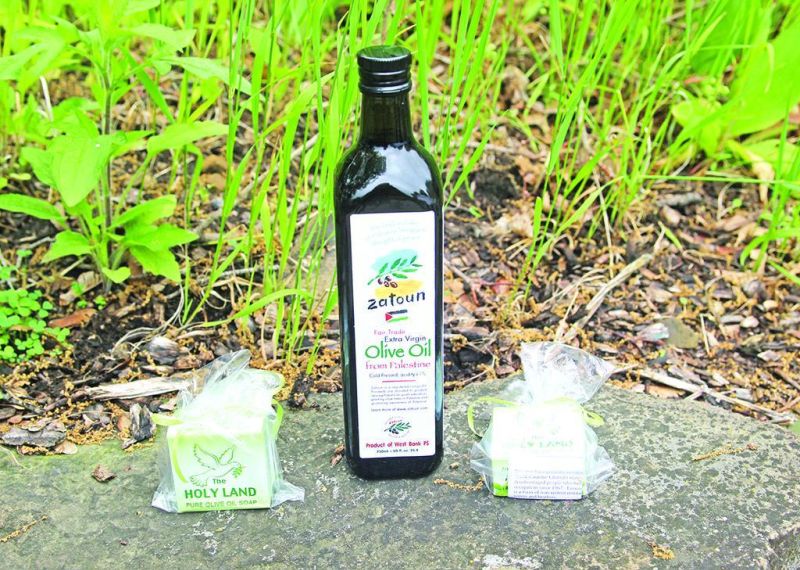 Looking to purchase products that provide income to small, independent producers while raising awareness and promoting peace — without ordering online or leaving Wooster? Look no further than Wooster's Westminster Presbyterian Church.
The church sells olive oil soap and fair trade olive oil at cost.
"There is no markup or profit," said Linda Barbu, a Westminster member who is interested in hands-on projects that help others. "The money goes directly to the producers."
The olive oil soap is handmade and is produced by and purchased from St. George Greek Malkite Church in Zababdeh, Palestine. Zatoun, a Canadian nonprofit, imports the olive oil.
"In both cases the goals are similar: to educate ourselves and others and help find ways to counter the crushing economic impact of a 55-year military occupation," Barbu said.
Currently, Westminster has a focus on several peace-making projects that include Palestinian Peacemaking. This project was chosen "because one congregant as a child experienced the partitioning of Palestine, the loss of the family home, going to a refugee camp and later immigrating to the United States," Barbu said.
The Wooster church has a partnership with the church in the West Bank that provides the soap. This partnership was established in fall 2006.
A church report dated Sunday, June 24, 2007, describes the community of Zababdeh, which, at that time, had a population of approximately 3,600 people.
"The village of Zababdeh resembles the city of Wooster in its ties to both agriculture and education," the report read. "The village lies in a very fertile agricultural plain that provides food and employment for residents of the village. Within the village is the Latin Patriarchate School that offers elementary and high school education for students from Zababdeh and surrounding villages. In addition, there are government schools for boys and girls, respectively. And within walking distance is the Arab-American University with its 6,000 students, many of whom live in Zababdeh during the school year.
"Most residents of Zababdeh are poor with the average family income being less than $170 per month. While residents are educated and literate, many having finished their schooling, a majority is considered unskilled. Because of limited economic opportunity, some Zababdehians have been forced to leave the village to pursue better economic opportunities elsewhere. Many wish to return home."
Since 2010 Westminster has sold about 2,200 bars of soap. Proceeds provide a livelihood for the product producers. Additionally, some profits have been used to pay school fees for village children.
"Human rights has been and continues to be a core value (of our church)," Barbu said.
Both products offer an opportunity for educating others about the challenges facing those in the occupied territories. Barbu said the project also might serve as a catalyst for inspiring others to find opportunities to be involved.
The local members of Westminster have done more than sell the products of the West Bank. They have sponsored three trips to the area so participants could experience conditions first-hand.
"The PC (USA) continues to express concerns about the unjust conditions of the Palestinian people, provide statements of concern, take actions to divest from companies profiting from the military occupation, provides study guides, has sponsored peace-making trips to the West Bank, et cetera," Barbu said.
To purchase handmade bars of olive oil soap for $3.50 each and 750 milliliter bottles of fair trade olive oil for $23 per bottle, email wpcwooster@gmail.com with your request, and arrangements will be made for purchase and pickup. Payment is by cash or check. The soap is gentle and unscented and suitable for sensitive skin.
When asked why this project is such a good fit for Westminster, included in Barbu's comments was a quote from Dr. Martin Luther King: "Injustice anywhere is a threat to justice everywhere."