Birds on a Wire­: New faith-based support group for mothers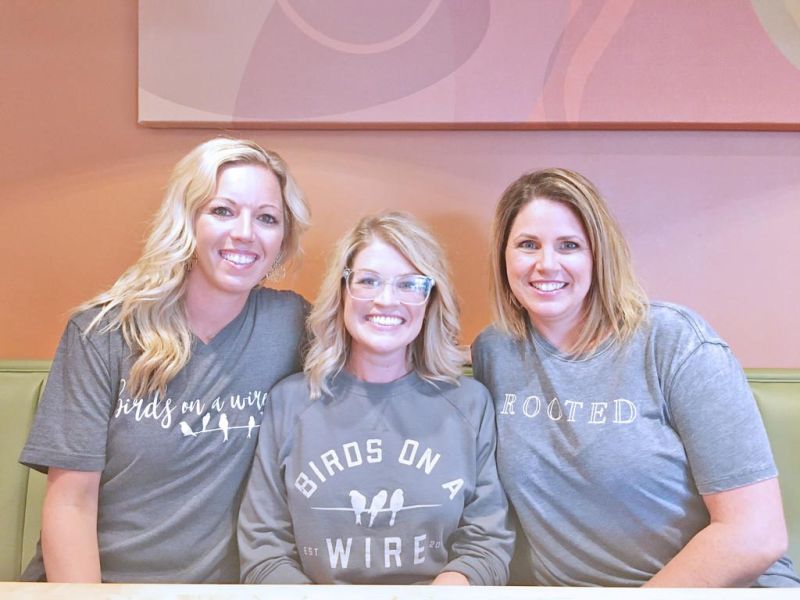 Parents of all ages are invited to attend a special evening meeting of the recently formed Wayne County chapter of Birds on a Wire. Karen Stubbs created the national support organization in 2011.
Birdsonawire.com explains the group "is a ministry that provides godly, practical advice so you'll feel celebrated, encouraged and equipped to parent with confidence."
"Parenting in the digital age" will be the topic of the free gathering on Oct. 11 from 7-8:30 p.m. at West Hill Baptist Church, 2241 Mechanicsburg Road, Wooster. Childcare will be provided with coffee and dessert for parents and pizza for the kids.
The group will resume its regular monthly meeting time in November with moms meeting the second Thursday every month from 9:30-11:30 a.m. at West Hill Baptist Church. Childcare is always provided with snacks for the kids and coffee and a hot breakfast for adults. There is no fee to attend or join.
The group's founding members — Rebecca Von Almen, Lorrain Hershberger and Maria Shanlian — have been friends for years. They discovered the national support group, Birds on a Wire, last year at a time where they were each looking for answers and support surrounding issues of parenting and being a mom.
Between them, the three friends have 11 children, ranging in age from one to 11. When they discovered Stubbs' video, which explains how to start a chapter of Birds on a Wire, it really hit home.
Von Almen said, "We found we needed the support. We hit the start button and went full force."
"We got together and just spilled out this vision for a whole year's worth of ministry, and we chose curriculum," Shanlian said.
The friends weren't sure Hershberger would be interested because her children were a bit older. They discovered every mom from every generation needs support and connection and has something to share with other parents.
"This is perfect for moms at every stage," Hershberger said. "We all need resources, and we realized that if we feel this way, other moms must feel the same. And we wanted a biblical aspect of mom-ing together."
Because the three friends are all members of West Hill Baptist Church, they took their idea for the group to their pastors and received funding as well as support from other church ministries.
The multi-generational nature of the group is supported by members of a church senior group that often either attend meetings or assist with childcare.
Birds on a Wire is open to every mom of any age and faith tradition and has a vision of mentorship taken from the New Testament's Titus, chapter two.
"We didn't want this to be exclusive to a certain age group," Hershberger said. "We're not just a young moms group."
"Karen Stubbs has poured into me," Shanlian said. "Now I want to learn and equip myself to pour into other younger moms."
The need for the support group was clear from the very first meeting. "We had 67 moms and 78 kids at our first session," Shanlian said.
Von Almen said, "That attendance was confirmation that the community agreed with our idea. A common need with moms is having some time for adult interaction. We've lengthened our meeting time so that there's more of a chance to talk."
The group is open to anyone from surrounding counties as well, though the ladies are quick to offer their support to anyone who might be interested in starting another chapter of Birds on a Wire.
"There's no reason someone in another county couldn't start another group," Shanlian said. "It's so easy to start, and we'd be glad to help. As far as we know, we're the only group in Ohio."
A new phone app has recently been released by the national organization. This is another way the group's message is easily accessible to any parent.
"Even if someone can't come to our meetings, they can join the Facebook group and mailing list," Shanlian said.
In these times of social media where we often only see the very best of other people's lives, the support group offers a place where being real is what it's all about. "It's a safe place for moms," Von Almen said. "In a world of social comparisons, we're there to be real with each other."
"We want moms to know, if you're struggling, it's OK. You're not alone," Shanlian said.
Wayne County's Birds on a Wire recently announced an event for this winter on Feb. 22 and 23. Stubbs will be the speaker at a women's retreat in Cleveland. The event, presented by West Hill Baptist Church, is open to anyone. Tickets are available via the church website at www.whbcwooster.com/.
For more information or to contact the group, find them online at www.mywhbc.com/birds-on-a-wire and on Facebook at www.facebook.com/groups/boawwayneco/.