Grace Church sprouts church plant near Brewster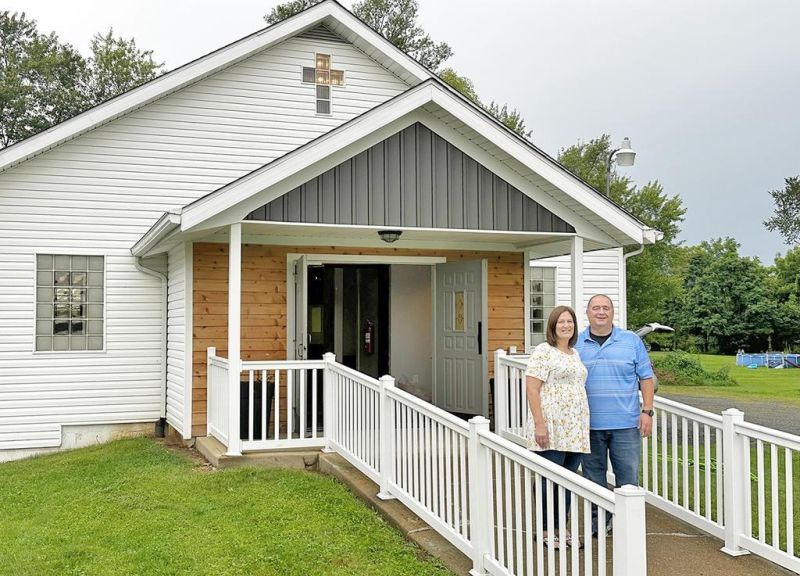 Grace Church began in Berlin when it rebranded itself from a popular Mennonite church into a nondenominational church with a heart for outreach into area communities.
In expanding in its growth, the church had a decision to make. It could become a large single church or branch out and create smaller sister churches that could benefit local communities better.
For Pastor Larry Kaufman, the decision was easy, and Grace continued its mission of developing smaller churches in rural areas recently when it ramped up its new church near Navarre.
"Our vision has been refined, and we have developed a heart for creating multiple rural community churches. That's really been our heartbeat," Kaufman said. "We believe that is the best way to reach people and make an impact in faith communities as we expand our gospel footprint."
In the past four years, Grace Church has launched churches in Millersburg and Sugarcreek and now the newest addition in the Brewster and Navarre area.
"We feel like we need to have a presence in these rural communities where we can love and serve," Kaufman said.
The newest addition will be pastored by Paul Mullet and his wife Cindy. The duo has pastored prior to this and been a member of Grace Church for several years.
Kaufman said the Mullets are a perfect fit for the new church plant.
"I've known them for many years, and I know their hearts and their desire to serve others, and I've been hoping to have Paul come on staff for several years," Kaufman said. "They love people and have such a passion to serve. They love and lead so well."
The Mullets will spend the majority of their time pastoring the new church but also will continue to be a part of Grace's 58:12 Global team. The Mullets also have been providing marital counseling through HopeQuest Ministries the past several years, so their gifts align with what Grace Church envisions in its outreach ministry.
In addition, the Mullets have been heavily involved with mission work in supporting Kenyan pastors and their families and will continue to pour themselves into that area.
Paul Mullet said they are eager to rejoin the pastoral ministry, with it being two decades since they have pastored a church.
"This is a big step for us," Mullet said.
He said experience in ministry through HopeQuest counseling has further prepared them to serve in this capacity and it helped them understand the trials couples are going through today so much better.
"I love pioneering things, and we are excited about getting out into the community to launch this new church and establish something special," Mullet said.
As a seasoned pastor, Mullet said he is hoping the church can reach the community but also is hopeful this plant can entice a younger pastor to rise to the forefront to someday take over the role as lead pastor there.
He said one of his biggest tasks is connecting with area leaders and people in the Navarre and Brewster communities.
"We've already connected with some wonderful people in the community and are excited about expanding that to get to know many more people," Mullet said.
Members of the Grace team have been busy preparing the church building located at 7041 Kalp Ave., just off state Route 62 and east of Fairless High School. The church will emulate Grace Church's model of worship style, with praise and worship music as a central focal point along with the message. Mullet said they also will have plenty of kids activities planned and will be family-oriented.
Church services will begin at 10:30 a.m.
Kaufman said the overriding purpose of the build is to create something that will outlive each member, something with lasting purpose.
"The hope is that these churches will be here long after the current generation is long gone," Kaufman said. "We want to live with a greater vision, and we truly felt led to explore these smaller communities in our growth and vision of doing so. It's been an incredible journey so far, and we're excited about the possibilities ahead of us for this new church plant."