Maple syrup for missions April 30 at Sonnenberg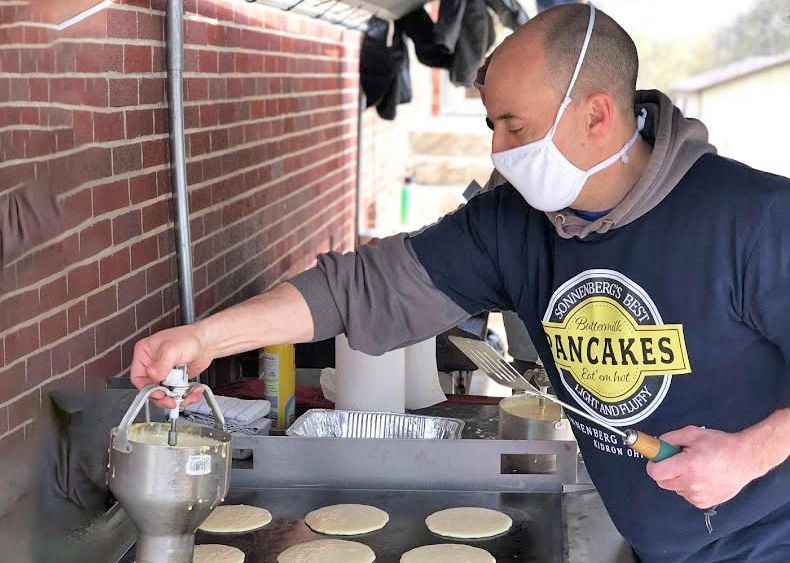 A longstanding tradition that celebrates one of the most loved sweet treats of the season will be held Saturday, April 30, and the community is invited to join in the festivities.
The Sonnenberg Mennonite Church Maple Syrup Festival for Missions will be held at the church at 14367 Hackett Road in Kidron at 7 a.m. with the first flip of a pancake. Serving will last until 10:30 a.m.
For a quarter of a century, the church has been holding this once-a-year event, in an effort to raise funds for missions and missionary work supported by the church.
"Twenty-five years ago, Sonnenberg's missions committee was looking for a way to raise funds to support a member, Linda Horn, who was called to the mission field in Thailand, when (the church) came up with the idea of a Maple Syrup Festival," said Ken Neuenschwander, chairman of the outreach and service ministry at Sonnenberg Mennonite Church. "(Member) Bob Kapper had been collecting and boiling down maple syrup and offered to supply the maple syrup, and others provided the rest of the menu, and the first festival happened primarily as a congregational event."
From that small event, Neuenschwander explained, the festival continued to grow more and more with each year it took place, and it soon became a community-wide event that "regularly draws people from as far away as Cleveland," he said.
"In addition to a great breakfast, attendees have the opportunity to learn about many of the organizations and missionaries Sonnenberg supports in some way throughout the year by visiting the church lobby filled with 18-20 displays," Neuenschwander said. "Included in the displays is a bake sale that is table setup and manned by our children and ministry leaders to raise funds for their own mission project."
This year that is for the children's tutoring ministry, Open Arms Hispanic Ministries of Wayne County.
Although a drive-thru event was held during the pandemic and funds were still able to be raised to benefit Sonnenberg's mission projects, Neuenschwander said it didn't give the same community feel to the church's typical Maple Syrup Festival.
"So we decided to try a drive-thru event, which went very well but was missing the interaction with the people and community building of what a dine-in event provides," he said. "To provide for those who are hesitant to attend in-person dining, and we understand the hesitancy, we are doing a combo dine-in and drive-thru event. If you choose, you can come to the drive-thru, pick up your breakfast just off the grill and take it to go."
Whether visitors choose to eat in or pick up and go, the point is they are choosing to give back to the ministries of Sonnenberg, and that's what Mel Hathaway, pastor of the church, knows the Maple Syrup Festival is really all about.
"What makes me feel good about this particular fundraising event for us is that everything raised is designated for our ministries in the community," Hathaway said. "We have always thought that a church should do more than good things for its members, and we want to reach out to groups for our ministry work and also give the community a chance to be a part of that as well. They are able to do that through fundraising efforts such as the Maple Syrup Festival.
"I know I have never lived in a community where maple syrup was a thing until I came here, but we have a family who has done it for a number of years, and now other members of the congregation have come up with their own way of getting involved as well. The coming together of a number of gifts we have in the congregation is just something we are delighted to be able to do."
The entire community is invited to attend the Maple Syrup Festival at Sonnenberg Mennonite Church. In addition to homemade maple syrup, the menu will include homemade pancakes and sausage and orange juice and coffee. The cost is by donation only.