Browns gave us all a pleasant surprise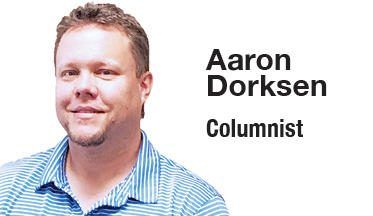 A few thoughts from the week in sports …
Although I enjoy watching a wide variety of sports and rank baseball as my favorite, there's nothing that compares to cheering on the Cleveland Browns when they're playing well.
Whether it's at Cleveland Browns Stadium, watching with a group on TV or even by myself, there's no event that can deliver bigger highs and lows than Browns football. When the Browns make a big play, fans jump out of their seats like they were also on the field.
Of course, diehard Browns fans know those instances to celebrate Browns' highlights have been few and far between since 1999.
When the Browns took a 13-3 lead into the fourth quarter against the visiting Cincinnati Bengals in the season opener Sept. 3, there was still a nervous energy in the room as my family watched on TV at my dad's house.
No one needed to say what we were all thinking: "Will the Browns blow this?"
"Are you nervous?" my brother, Bryan, asked me with a smile.
Almost as a protective reflex, I quickly replied, "No." Then I added, "Because I'm not getting my hopes up too high for this season."
Instead of wilting or doing something stupid like too many past Browns teams, something was different about this squad. Cleveland continued to make plays on offense, defense and special teams and put away the Bengals in the fourth quarter for a 24-3 victory.
The tempered optimism that myself and many Browns fans entered the season with certainly got a boost after seeing a complete performance in which Deshaun Watson outplayed Joe Burrow, Nick Chubb and Myles Garrett showed why they're stars, the Cleveland defense was awesome and kicker Dustin Hopkins was 3 for 3 on field goals. Yes, our kicker actually came through.
When the Browns visit the Pittsburgh Steelers for a Monday Night Football game Sept. 18 they'll have an opportunity to really ramp up the confidence level for the team and fans.
The last time the Browns started a season 2-0 a gallon gas cost $1.11, Bernie Kosar was the quarterback, Bill Belichick was the coach and they played at the old Cleveland Municipal Stadium. The year was 1993.
It's mind-blowing that the Browns haven't been 2-0 for 30 years. That 1993 season completely unraveled following a 5-3 start when Belichick cut Kosar and delivered the now infamous quote about "diminishing skills."
Belichick is winding down a Hall of Fame career with the Patriots, while Kosar is one of Cleveland's most beloved former athletes and still makes lots of local appearances. He was at the Muni lot playing catch with fans before the opener.
The Browns will also have the chance to snap another longtime drought with a regular-season road win at Pittsburgh, something they haven't done since Tim Couch was the QB in 2003.
If the Browns can make it 2-0 look out! Browns Stadium will be absolutely bonkers when the Tennessee Titans come to town in Week 3. This team will have demonstrated that the 9-7 record that oddsmakers gave them in the preseason might have sold them short.
And, my hopes for a memorable season will be raised considerably.
BROWNS BMOC – The "Big Man on Campus" for the Browns is Ohio State alum Dawand Jones and he will be in the brightest spotlight of his young career against the Steelers.
The only negative in the Browns' opener was starting right tackle Jack Conklin going down with a season-ending knee injury.
Jones, who's one of the biggest players in NFL history at 6-foot-8, 374 pounds, did pretty well in his NFL debut filling in for Conklin. The assignment will get much tougher against the Steelers, who will be sending outside linebacker TJ Watt against Jones on many plays. Watt has dominated the Browns in his seven seasons, racking up 15 sacks and 17 tackles for loss
PARTING SHOTS - Longtime Browns radio voice Jim Donovan announced after the season-opening broadcast that he will be stepping away from his duties to take a medical leave of absence. He's focusing on his continued treatment for leukemia.
Donovan, who's one of the best play by play announcers Cleveland has ever had, is also a first-class person.
"I promise I'll be a listener and I'll be back as soon as I can," Donovan said.
Chris Rose, the Browns preseason announcer for telecasts, will take over radio calls during Donovan's absence. Last May Donovan announced that his leukemia had relapsed.
Best wishes to Jimmy, who has been a Cleveland institution since joining WKYC-channel 3 in 1985.
—The Wooster volleyball team is off to a 10-0 start, including 7-0 in the Ohio Cardinal Conference. The Generals are ranked No. 3 in the first Div. I Ohio High School Volleyball Coaches Association state poll.
Coach Jen Snowbarger's team is led by her daughter, sophomore All-Ohioan Sara Snowbarger, who is well on her way to becoming a big-time college recruit.
—Triway kicker Drew Bishko came up huge for his team with a school-record 45-yard field goal against Fairless on the final play of regulation Sept. 8, which sent the game into overtime. Triway has had some pretty good kickers so it's a record to cherish for Bishko and maybe one he can still improve upon.
Unfortunately for the Titans, they wound up losing 31-24.
—Norwayne is 4-0 and junior Dylan Smith already has a whopping eight interceptions to tie the school record and lead the state, including three he's returned for a touchdown.
According to the OHSAA recordbook, Versailles' Jim Groff has the state record with 20 picks in 1965. Waynedale's Seth Mastrine set the area record with 14 interceptions in 1995.
—Former Triway All-Ohio quarterback Parker Carmichael will be coaching against Alabama legend Nick Saban on Saturday.
Ok, Saban will probably have about 99 percent more effect on the game's outcome when the Crimson Tide host the University of South Florida, which has Carmichael as a graduate assistant working with tight ends, on Sept. 16.
Still, it's a pretty neat job and assignment for Carmichael to be on the USF staff. I certainly wish Carmichael well on this step of his coaching journey and in the future.
The 2015 Triway graduate and area's all-time passing leader with 12,005 yards and 126 TD tosses was an assistant coach for the last three seasons for Div. II Tiffin.
Aaron Dorksen can be emailed at AaronDorksen24@gmail.com.