Cautiously optimistic about the Browns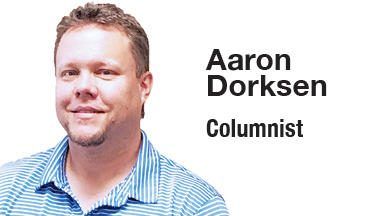 A few thoughts from the week in sports …
The Cleveland Browns will be a better football team in 2023 than they were last year.
I'm extremely confident in making that prediction. I would guess most Browns fans who follow the team closely will agree.
However, that's not exactly a Nostradamus-like statement considering the Browns finished with a sub-par 7-10 record in 2022.
The real question is how much better will Cleveland be? I've read and heard projections from as low as 6-11 to as high as 11-6 and winning the AFC Central. The FanDuel over/under is 9.5 victories.
I'll get my prediction out of the way early: the Browns' 2023 win-loss record will be 9-8.
Cleveland has turned over a whopping 45% of its roster from a year ago. With 24 of the 53 players on the roster new, that's nearly half the team.
When Browns fans tune in to watch the Bengals at Browns season opener (Sept. 10 at 1 p.m., ESPN), there will be a lot of new names to learn if you didn't pay much attention to the preseason games.
The returning players have the potential to be very good.
If you go by the Madden 24 video game rankings, which even the players themselves follow closely, here are the highest rated Browns: defensive end Myles Garrett (98 out of 100), running back Nick Chubb (97), guard Joel Bitonio (92), wide receiver Amari Cooper (91) and cornerback Denzel Ward (89). Other top players include guard Wyatt Teller (86), along with tight end David Njoku and DE Za'Darius Smith (both received 85s).
If you've read this far, chances are you're wondering where Deshaun Watson is on that list. The Browns' quarterback received a lowly 78 ranking — 16th best on the team.
The Browns were without Watson for the first 11 games last season due to his suspension, and he was unimpressive upon his return. After missing the entire 2021 season due to his off-field troubles, Watson was expected to have some rust last year. There will be no reason for excuses in 2023.
In today's NFL the quarterback position is more important than ever, and the Browns will go as Watson goes.
Cleveland also will need plenty of luck playing in the loaded AFC North. Look for lots of games to come down to the final minutes. With that said, I'm glad the Browns cut ties with erratic kicker Cade York in favor of Dustin Hopkins.
More predictions
Sports predictions have been fun for me to put in writing over the years, and sometimes they come true. Other times I hope people forget how stupid I was.
Here are my throw them at the wall, maybe some will stick NFL predictions for the 2023 NFL season:
—MVPs: Patrick Mahomes (Chiefs) AFC, Jalen Hurts (Eagles) NFC.
—Offensive Player of the Year: Nick Chubb (Browns-RB) AFC, Christian McCaffrey (49ers-RB) NFC.
—Defensive Player of the Year: T.J. Watt (Steelers) AFC, Micah Parsons (Cowboys) NFC.
—Offensive Rookie of the Year: Anthony Richardson (Colts-QB) AFC, Jaxon Smith-Njigba (Seahawks-WR) NFC.
—Defensive Rookie of the Year: Will Anderson Jr. (Texans-DE) AFC, Jalen Carter (Eagles-DT) NFC.
—Browns: As mentioned above, I'm projecting a 9-8 record. I'd like to pick the Browns higher, but history since 1999 doesn't suggest success, and in a rough division, even getting above .500 would be a tall task.
—AFC North: 1. Bengals, 2. Ravens, 3. Browns, 4. Steelers.
—Super Bowl 58 (Feb. 11, 2024, put it in your planner early): Bills over Eagles.
High school football enters league play
Area teams will begin league play this week, with the exception of Wooster, which got a jumpstart in a week three loss against New Philadelphia, 22-13, in Ohio Cardinal Conference action.
None of the three leagues that make up the bulk of Wayne-Holmes schools were overly impressive as a whole in the first three weeks.
Wayne County Athletic League teams were a combined 12-11 in nonleague games, the OCC went 10-14 and the Principals Athletic Conference finished 11-13.
Week four games that I'm most looking forward to are West Holmes at Mansfield Senior in a matchup of OCC favorites and Hillsdale at Norwayne in a battle of WCAL 3-0s.
—The Knights had their school-record 23-game winning streak snapped last week at Licking Valley, 40-35, but according to Ohio Fantastic 50, they have scored 30 or more points in a state-long 16 straight games.
—The most pleasant surprise has been Rittman, which is 3-0 for the first time since 2015. The Indians will host a pair of 0-3 teams the next two weeks to open WCAL play: Northwestern and Waynedale.
Coach Tyler Dennis and his team have put in lots of work at Rittman, which last had a winning record in 2005 (7-4), and it's starting to pay off.
—It was good to see Wooster's Hayden Meese return from a week one injury in the loss at New Philly. After catching nine passes for 194 yards and three TDs in the opening win at Orrville, Meese had a monster game on defense with 22 tackles (11 solos, 11 assists) in his return.
Parting shots
Congrats to Ed Teague, a Wooster High alum, on being selected as part of the Wittenberg Hall of Honor 2023 class.
Teague was a key player on the Tigers' undefeated 1973 football team, which won the Amos Alonzo Stagg Bowl in the first Division III NCAA championship game. He followed that with an outstanding senior season, which saw him earn first-team All-Ohio Athletic Conference, the team's Golden Helmet Award and first-team All-America from Lutheran Brotherhood.
Also a lacrosse standout, Teague now lives in Redmond, Washington. His brother Al Teague has remained a Wayne County resident and was a longtime coach and oversees the Brian Tarpley Excellence in Athletics Award at WHS.
—Ohio State's offense was underwhelming in a 23-3 opening win at Indiana. Here's hoping coach Ryan Day finds a way to open things up more and take advantage of the Buckeyes' outstanding wide receivers.
—The highlight of college football's opening week by far was Colorado's 45-42 win over then No. 17 TCU, which played in last year's national title game.
Coach Deion Sanders' postgame press conference was nearly as entertaining as the Buffaloes' on-field play, which saw his son Shedeur Sanders pass for a school-record 510 yards and two-way standout Travis Hunter top 100 yards receiving and also grab an interception.
Deion Sanders always backed up his big talking ways as a player nicknamed "Prime Time." It will be a lot of fun to see if his team can do the same as the season goes along.
Aaron Dorksen can be emailed at aarondorksen24@gmail.com.