Rivals get their kicks in opening encounter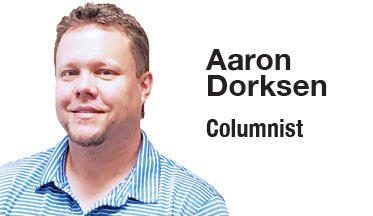 A few thoughts from the week in sports …
Orrville High School has had an incredible run of producing Division I college football players over the decades, and junior place-kicker Kaleb Wayt could be next in line.
Wayt showcased his nationally ranked kicking skills in the area's biggest rivalry, displaying a booming right leg in the Red Riders' 33-31 loss against visiting Wooster on Aug. 18.
Wayt blasted a 47-yard field goal with room to spare and put several kickoffs into the end zone for touchbacks. During warm-ups at the halftime break, Wayt put a 57-yard field goal through the uprights.
The all-time area record for longest field goal is a 53-yarder in 1993 from Orrville's Dan Stultz, who went on to kick for Ohio State.
Wayt and Wooster senior Avi Arora, who booted a game-winning 19-yard field goal with no time left, showed good sportsmanship by congratulating each other after the game.
A Wooster assistant coach walked by Wayt and told him, "Great job. I look forward to watching you kick in college one day."
Wayt is the top-ranked junior kicker in Ohio, according to highly esteemed Kohl's Kicking, and ranked 20th in the nation's Class of 2025.
"Kaleb has worked really hard at his craft," Orrville coach Matt Zuercher said. "I know he was a little disappointed with last season, and he has worked really hard to prepare to have success this year.
"He took a leadership role in making sure his unit, with the long-snapper Shane Troyer and holder Cam Kraft, spent a lot of time working this offseason. We've seen the payoff of that hard work."
The 6-foot 155-pounder certainly looks like a next-level kicker, with leg speed and a follow-through that's impressive even to a novice.
Kohl's only evaluates kickers who the coaches have personally seen at one of their camps. The scouting service reported it sees more athletes than anyone in the U.S. at its 135 events.
Wayt was given a 4 1/2 stars out of five ranking after attending the 2023 Kohl's National Scholarship Camp in Tennessee.
"(Wayt) has made tremendous gains with his overall leg speed since his last event," Kohl's said. "He has excellent leg strength for a younger athlete and will be fun to watch develop the next two years."
"Kicking is something I really enjoy and want to do at the next level," said Wayt, who was 3 for 6 on field goal attempts last season. "It's just fun for me to come out and kick on my own — just me and the ball — and something that I look forward to doing."
Wayt is a huge weapon for field goals, PAT kicks and kickoffs, Zuercher said.
With such a strong leg, I asked Zuercher, "Why doesn't Wayt also punt?" The coach had a good answer.
"As far as the punting, he is pretty good at it," Zuercher said. "With his value as a kicker and all his energy he puts into soccer, we don't want to risk him getting hurt.
"(Punting) has very different mechanics. I would hate to lose him as a kicker or mess up his soccer. He has dealt with some minor strains and soreness, and we don't want to abuse him."
Kudos to Zuercher for putting the best interests of his student-athlete first.
Wayt also was a pitcher on the varsity baseball team and member of the PAC champion soccer team. He spent the past summer competing nationally at several major kicking camps throughout the country.
"Kaleb's goal is to have an opportunity to kick at the Div. I level, and he's putting himself in a great place to make that happen," Zuercher said.
Manny still being Manny
It was fun to see Manny Ramirez return to Cleveland to be inducted into the Guardians/Indians Hall of Fame on Aug. 19.
Ramirez, now 51, had eight amazing years as a member of the Indians and had the sweetest right-handed swing I've ever seen. He also was one of the game's biggest characters, giving way to people often using the expression "Manny being Manny."
I was fortunate enough to be around Ramirez as a Cleveland Indians media relations intern in 1994 and as a reporter in the late-1990s. I watched Ramirez pretend he didn't speak good English when reporters came around but then carry on a perfectly fine conversation.
Of course, there also was the time Ramirez asked a clubhouse attendant to wash his car and get money out of his glove box. There was more than $10,000 in cash.
There were base-running blunders and rough plays in right field, but man oh Manny could he hit.
Ramirez had a career batting average of .312 and blasted 555 home runs, which ranks 15th all-time. He helped Cleveland get to two World Series where the Tribe came up short and won two titles with Boston, but because of steroid use, he hasn't been voted into Cooperstown.
From reading media accounts of Manny's pre-HOF ceremony interview, it sounded like he is in a very good place — and still pretty corny.
"It's an honor to come back to the house that I built, the Jake," Ramírez said during a news conference at Progressive Field, known as Jacobs Field when he played in Cleveland.
OK Manny, you were really good, but you're not Babe Ruth. You didn't "build" the Jake. There were lots of other great players in your era, like Jim Thome, Albert Belle, Carlos Baerga, Kenny Lofton, Sandy Alomar, Charles Nagy, et cetera.
The 1990s Indians are my favorite era of Cleveland baseball by far, and Ramirez was a big part of it.
Parting shots
It was a disastrous weekend for our Cleveland baseball team. Instead of gaining ground on the first-place Twins, the Guards lost three of four to the Tigers. With the way things are going, Detroit will overtake Cleveland for second place in the weak AL Central. The Guards are just 14-21 since the All-Star break.
—I was in the stands at Progressive Field on Aug. 20 when the Guardians honored Tigers legend Miguel Cabrera, who was making his final appearance in Cleveland.
Cabrera will be a first ballot Hall of Famer, having racked up more than 500 home runs and 3,100 hits in his 21-year career. The Guardians gifted "Miggy" a guitar on the field before the game. He's one of the biggest Tribe killers ever, always seeming to bash Cleveland pitching.
Cabrera helped the Marlins win a World Series title in his very first season but never won another Fall Classic.
One of the strangest things about pro sports is how sometimes players reach the pinnacle of team success early on but never experience it again.
Cabrera's career is reminiscent of NFL Hall of Famer Dan Marino, who got to the Super Bowl early in his career for the Dolphins but never got back.
—Week one of the high school football season saw several top-notch players have to leave games with injuries. Here's hoping those players can bounce back quickly and stay healthy.
Aaron Dorksen can be emailed at aarondorksen24@gmail.com.