Sports streaks can take on a life of their own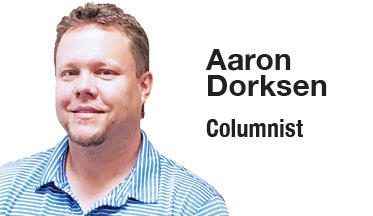 A few thoughts from the week in sports …
Sports fans have loved following a winning streak for about as long as people have recorded scores and stats.
Whether it's a team winning streak, baseball hitting streak or consecutive games streak of reaching some statistic, the longer it goes, the more attention it gets.
How long will it last? Has it ever been done before? A streak can take on a life of its own.
That's why lots of people still talk about the undefeated 1972 Miami Dolphins, Bob Knight's unbeaten 1976 Indiana Hoosiers, Joe DiMaggio's 56-game hitting streak in 1941 and Cal Ripken's 2,632 consecutive games played for the Baltimore Orioles. More recently, the Cleveland Indians' 22-game winning streak in 2017 is something fans will long remember.
On a local level, the West Holmes football team is on a regular-season winning streak that puts it among the greatest runs in Wayne-Holmes history.
The Knights rallied from a 10-point deficit early in the fourth quarter to pull out a heart-stopping 35-31 triumph over Orrville on Aug. 25 and push their winning streak to 23 straight games.
West Holmes is 2-0 entering its week three game at Licking Valley (0-2). The Knights broke the school record of 22 straight regular-season wins set by the 1981-83 WHHS teams.
Looking at the bigger picture, West Holmes has a chance to break the all-time Wayne-Holmes County record for longest regular-season winning streak. Doylestown won 24 straight games from 1954-57.
The 23 straight wins are tied with Orrville (1987-89) and Waynedale (1997-99). The Red Riders and Golden Bears both lost in week 10 before putting together back-to-back 10-0 seasons and then lost week four games.
Knights coach Zach Gardner admitted when I talked to him on Tuesday that the Knights "felt the pressure of (the streak)" midway through the Orrville game.
However, West Holmes got the stops it needed on defense, and junior quarterback Morgan Smith threw for a 90-yard touchdown to Logan Zollars and then Smith ran for a 36-yard TD with 4:41 left to play.
"You want to have a problem like that," Gardner said of the streak and the pressure that comes with it. "You want to be in big games and positions like that as a program.
"I'm immensely proud of what these teams have been able to accomplish. It's taken a lot of very hard work from a lot of players and coaches. We're also fortunate to have parents who are very supportive and allow us to coach their kids hard and appropriately and a supportive school administration and community. We've seen the results when all these factors are working together."
Gardner commended his team for setting the school record after Friday's game.
"Obviously, we took a moment to talk about it with our kids," Gardner said. "They're aware of it.
"With Kyle (Maltarich) out with an injury, nine of 11 kids who we were playing on offense were underclassmen. They were feeling the pressure but found a way to get it done."
If the Knights can get past Licking Valley, they'll tie Doylestown's Wayne-Holmes record and have a chance to break it in a matchup of the Ohio Cardinal Conference favorites against Mansfield Senior at Arlin Field on Sept . 8.
It should be noted Doylestown also had a 29-game unbeaten streak from 1947-50 when a tie was mixed into a pair of long winning stretches.
Inside the streak
West Holmes' 23 straight regular-season wins have mostly come in lopsided fashion. The Knights have won by an average margin of 28.6 points, and 17 of the 23 wins have been by 21 or more points. More than half the wins (13) have been by 34 or more points.
Besides the close call against Orrville, only two opponents have kept the margin under 10 points. The Knights won 20-17 at Senior and rallied past visiting Wooster 41-37 during the 2021 season.
—West Holmes has had a bevy of All-Ohio players on both sides of the ball during the winning streak.
I've been especially impressed with the way the Knights continue to get solid play at quarterback after the torch has been passed. West Holmes has featured four different starting quarterbacks during the streak.
Peyton McKinney got it started by leading West Holmes past Ashland 35-14 in the regular-season finale of the COVID-shortened 2020 season. The Knights then rattled off Division III playoff wins over Madison, Cloverleaf and Padua before losing to Tiffin Columbian and finished 7-3.
Noah Clark was a senior quarterback for a 10-0 regular season in 2021. The Knights then won Div. III playoff games over Sylvania Southview, Tiffin Columbian, Rocky River and Holy Name before falling to eventual state champ Chardon.
Mason Wolfe, who performed well in the Rocky River game filling in for an injured Clark as a junior, took over as the signal-caller in 2022. He followed up Clark's All-Ohio season with an all-state performance of his own. The Knights had the highest scoring offense in the state during the regular season and won Div. IV postseason games against Shelby and St. Mary's Memorial before falling to Van Wert and finished 12-1.
If West Holmes can post a third straight 10-0 regular season, it would be the most impressive season of the streak.
West Holmes had Ohio State recruit Sam Williams-Dixon transfer to Pickerington North in the offseason and graduated All-Ohio linebacker Elisha Baldridge. Then senior Kyle Maltarich went down with a knee injury in the opener against Triway, and Morgan Smith was untested at quarterback at the varsity level.
Smith certainly showed he's a big-time playmaker after rushing for a team-high 126 yards and two TDs on 19 carries while also throwing for 347 yards and three scores against Orrville.
Gardner called Smith the Knights' best running quarterback since Bridger Cline in 2018. Smith also is part of coach Scott Vaughn's wrestling team, and the toughness needed to excel on the mat has clearly carried over to the gridiron.
"I'm proud of the way we've developed Morgan, starting in our seventh and eighth grade program," Gardner said. "Then we developed him appropriately on the freshman team and JV team last year.
"We try to instill in our players to develop the right way and when it's your time to be ready. You never know when it will be your time."
Parting shots
Congratulations to Waynedale volleyball coach Jen Lauber, who won her 700th career match this week. Lauber has had an amazing 32-year career since starting out as a rookie coach at Smithville way back in 1987. She's also coached at Tusky Valley, Mansfield Madison and Ontario and ranks fifth in Ohio career wins, according to the OHSAA unofficial records list.
—The Cleveland Browns cut kicker Cade York and replaced him with Dustin Hopkins, who got beat out for the Chargers' job by Cameron Dicker.
York has an incredible leg but missed way too many kicks. Best wishes to York, except for if he winds up playing against the Browns. It would be typically bad luck for Cleveland sports teams if York figures things out and boots a game-winner against the Browns.
Aaron Dorksen can be emailed at AaronDorksen24@gmail.com.