Rough-legged hawk was a fun find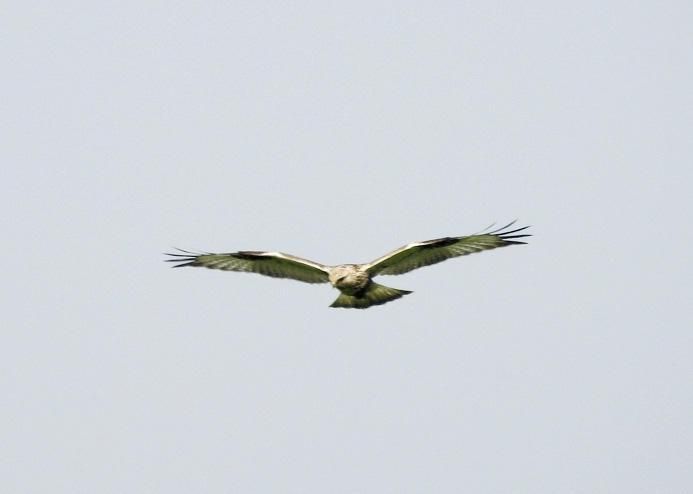 There were an amazing number of days in the 50s and 60s in March this year. This continues the trend of warming that has meant plants blooming earlier and birds arriving ahead of schedule.
Studies have shown many species of birds have gradually been changing their migration patterns, with some northern birds not traveling as far south for winter as they traditionally did. What seem to be small changes are actually much greater than would have been predicted only a decade or two earlier.
As my friends and I searched for birds in March, we had little hopes of finding snow buntings and other winter birds because we had no snow and few cold days. Instead, we birded in shirt-sleeved shirts on a 70-degree day. Waterfowl seemed hard to find compared to other years. We finally decided many birds have been heading on north, pushed by days of warm temperatures and south winds. Our local Fidler Pond in Goshen has had very few ducks this spring, unlike other years.
My birding friend, Gary Keister, and I traveled to the Rome City wetlands twice in recent weeks. The first time we found small numbers of a good variety of ducks, as well as the usual 100 mute swans. About 1,000 sandhill cranes arrived just before dark. On the second visit, we were glad to see 88 American white pelicans had arrived. Pelicans have been spending several weeks at this wetlands in recent years. Not far away, a brant was reported in a wet field with Canada geese. We looked for several hours but couldn't refind this rarity.
Ospreys have now returned to most of their expected nesting sites. We found a pair at Potato Creek State Park several weeks ago. Bald eagles also are on their nests in a number of area locations. It's great to see eagles and ospreys doing so well. There are at least two pairs of ospreys nesting in downtown Elkhart, not far from Goshen. From our home, we can almost see the eagle nest at the Goshen dam pond.
The best birds our spring birding team has found in recent days were a white-winged scoter and three long-tailed ducks. The scoter was interesting because it was located among a huge flotilla of 2,000 diving ducks at a traditional farm pond south of Goshen. Picking out the plain-looking female scoter wasn't easy. At one point the ducks all took flight, perhaps spooked by a hawk or by birders who had just located the scoter. When the ducks returned, the scoter landed at almost the same spot where it had been earlier.
This winter has been a good one for finding rough-legged hawks. I saw at least one on most birding outings in January and February. However, once our spring contest started in March, we couldn't find one anywhere. We looked at several locations where they had been hanging around earlier.
Finally, last week one of our birding friends told us he had seen one at the intersection of county roads 11 and 46 west of town. Gary and I headed out there and drove the roads, finally seeing a hawk at the top of a tree, but it turned out to be a red-tailed hawk. We were about to give up but made one more pass through the area, and there, right at the intersection, was the beautiful rough-legged hawk. It then hovered nicely for photos, not more than 100 yards from the intersection. Times like that are what makes birding so much fun.
Good birding.
Bruce Glick can be emailed at bglick2@gmail.com.