Upcoming 4-H deadlines and events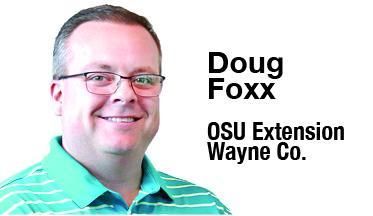 As we turn hopefully from spring showers to warmer summer weather, we are excited to share several upcoming 4-H deadlines, events and camps that are planned for this year.
Animal ID
A major deadline for all 4-H youth taking animals to the fair is our June 1 animal ID deadline. All animals coming to the fair and potential backup animals must have their identification information including photos and any other required forms input into the 4-H Online Animals section by June 1. The only exceptions are market rabbits and market poultry, which are due Aug. 1.
Livestock clinics
Next up is our summer series of livestock clinics being held at the Wayne County Fairgrounds for youth to learn more about showmanship, grooming, animal care, handling, safety, ethics and more. Dates, times and locations for each of our upcoming 4-H livestock clinics are listed below. All clinics will be held at the Wayne County Fairgrounds.
—Dog projects: general informational clinic May 25 at 7 p.m. at Goat/Sheep Arena (do not bring your dog).
—Goat clinic: June 7 at 6 p.m. at Coliseum.
—Rabbit clinic: June 7 at 7 p.m. at Goat/Sheep Arena.
—Dog obedience clinic: June 7 at 7 p.m. at Snyder Commercial Building.
—Dog showmanship clinic: June 16 at 7 p.m. at Snyder Commercial Building.
—Poultry clinic: June 21 at 7 p.m. at Goat/Sheep Arena.
—Dog rally clinic: June 22 at 7 p.m. at Snyder Commercial Building.
—Sheep clinic: June 25 at 9 a.m. at Goat/Sheep Arena.
—Swine clinic: June 25 at 11 a.m. at Goat/Sheep Arena.
Summer camping opportunities
This summer Wayne County 4-H will offer two summer camp opportunities: Cloverbud Day Camp and Junior Camp. Cloverbud Day Camp is currently sold out, but we are accepting names of youth for the wait list in case spots open up. Junior Camp is selling out quickly, but there are still some spots available on the girls side of camp. This year the camp counselors have selected "Hawaiian Cowboys" as the theme for Junior Camp.
Cloverbud Day Camp, June 8-10
Youth that are in kindergarten or higher and age 5-8 as of Jan. 1 are eligible to register. Cloverbud Day Camp will be held from 9 a.m. to noon each day at the Fisher Auditorium on the OSU Wooster campus. This year's camp will feature many fun, hands-on learning and recreational activities. Go to go.osu.edu/wayne4hcbcamp22 to be added to the wait list.
Junior Camp, June 30 to July 3
Youth that are in the third grade or higher and age 8-13 as of Jan. 1 can attend our three-night, four-day residential camp at 4-H Camp Ohio in Louisville. There are dozens of fun activities including rock climbing, canoeing, kayaking, zip lining, climbing the adventure tower, 9-square in the air, gaga pit, stream studies, nature exploration, swimming, water games, scuba diving, archery, riflery, campfires, line dancing and much more. Registration is now available online at go.osu.edu/4hjrcamp2022.
An activity available at Junior Camp is flying squirrel. This is a high-flying adventure activity. Youth are safely and securely strapped into harnesses by certified instructors. Once harnessed up, one youth will be positioned to run forward in one direction and at the same time through a series of pulleys and cables that are connected to another group of about eight youth who will run in the opposite direction. The force of the other eight youth running in the opposite direction will propel the first youth straight up in the air about 20-30 feet, where they will be suspended and "flying" for a few minutes until the team of eight youth they are connected to safely lower them back to the ground.
Why should youth and teens attend camp?
Summer camps have been credited with being full of transformational experiences for young people as they offer safe environments for youth to become more independent, confident and engaged citizens. Camps challenge youth and teens to step out of their ordinary routines and comfort zones and participate in new activities often not available in their own back yards. For more information and/or to register for a camp, contact me at the Wayne County Extension.
Doug Foxx is an OSU Extension 4-H youth development educator and may be called at 330-264-8722.