The old-school orange ditch lily is still my favorite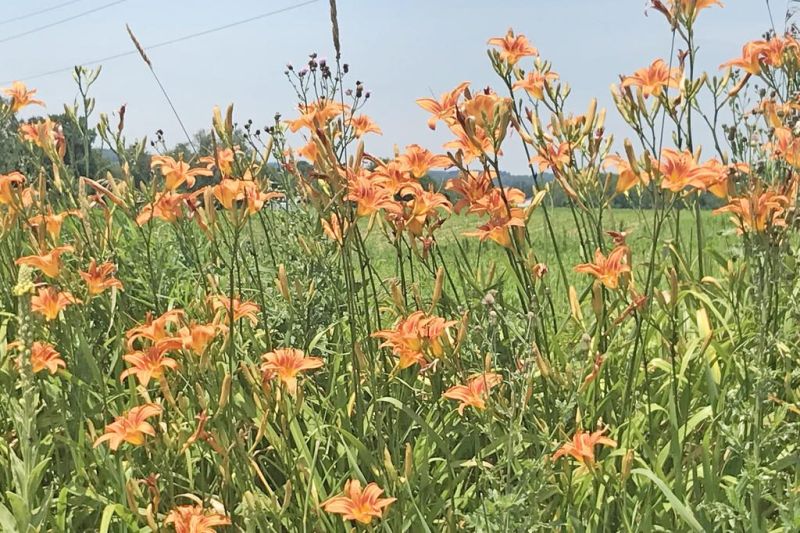 July is here and so are garage sales, community festivals and daylilies. There's something especially affirming about those orange daylily blossoms nodding randomly from country roadsides that tells me we are solidly into summer.
The day lilies I'm referring to, are the tawny daylily (Hemerocallis fulva), or ditch lily. They often appear randomly in ditches, usually along county or township roads. I love the unexpected flash of orange color that the tawnies add to a country drive.
Their showy orange blooms last just one day, close for good in the evening but are followed immediately by another bloom opening on the stem. Because the plants grow in clumps with many stems and many blooms on each stem, the show continues for several weeks. The orange daylily is sometime called the "original" daylily, but it really is a hybrid.
The Ohio Perennial and Biennial Weed Guide mentions a bit of legend regarding the tawny daylily, which was brought here from Asia several hundred years ago. The story goes that it may have been brought to North America by romantic sea captains returning from the Orient who thoughtfully brought the flowers as gifts for their wives.
This year it seems that I am seeing fewer of these orange beauties than in prior summers. More aggressive roadside spraying and mowing has possibly stifled the wild daylily population. Have you seen fewer growing in your area?
Daylilies are not really true lilies. The Wandering Botanist Blog notes that a lily grows from a bulb, while a daylily grows from roots. True lilies also flower for more than a day, although, some newer daylily cultivars have blooms that last for several days. Daylilies also have stalks without leaves, but most true lilies have leaves on the stalk with the flower.
Since daylilies are easy to grow and resist drought, cold and all manner of plant afflictions including rabbits, they have been extensively hybridized. Some estimate that there are 80,000 daylily cultivars worldwide in any color you want. Locally, the showy, bright yellow Stella D'Oro cultivar seems to be everywhere this year. But for me, the old-school orange ditch lily is still my favorite.
CAUTION: Some species of daylilies are toxic to cats. The Pet Poison Helpline states that, "Even small ingestions (such as less than 1-2 petals or leaves) or the pollen or water from the vase may result in severe, acute kidney failure".
A summer to-do list
Don't let summer slip away without doing these three things. They are inexpensive or free and create wonderful memories.
1. Enjoy a picnic – No need for fancy food or elegant picnic baskets. Pack some of your favorite portable food and drinks in a bag and head out. Most area parks have picnic tables, or just put a blanket on the ground. Impromptu backyard picnics are even easier and provide a great change of pace and place.
In a hurry? Try a fast food picnic. My wife and I occasionally order subs and then enjoy them in a beautiful place like the Secrest Arboretum.
2. Take a hike – In our four-county area we are blessed with hiking possibilities that range from level, paved trails to challenging trail systems that traverse gorges and cross streams. Go to a park that is new to you or return to one that you have not visited in many years.
The length of the hike doesn't matter; it's the shared experience that crystallizes memories and reconnects us to nature and each other. Take a few photos but mainly try to keep the phones out of sight and out of hand. Focusing on the natural and tangible, rather than the digital and pixilated, is good for the mind, body and soul.
3. Visit The Wilderness Center – This outstanding nature center near Wilmot has trails of varying length, a lake, small pond, as well as an astronomy building, children's natural playscape and a beautiful interpretive center with exhibits and a nature store. They even have covered pavilions for your picnic.
This professionally staffed nature center is located only about 30-40 minutes from most anywhere in our readership area. Check out the Center's website to see the amazing list of summer offerings that are available for every age group. It's a one-stop shop for creating summer memories.
Contact Herb Broda at 4nature.notebook@gmail.com