Farm tour spans generations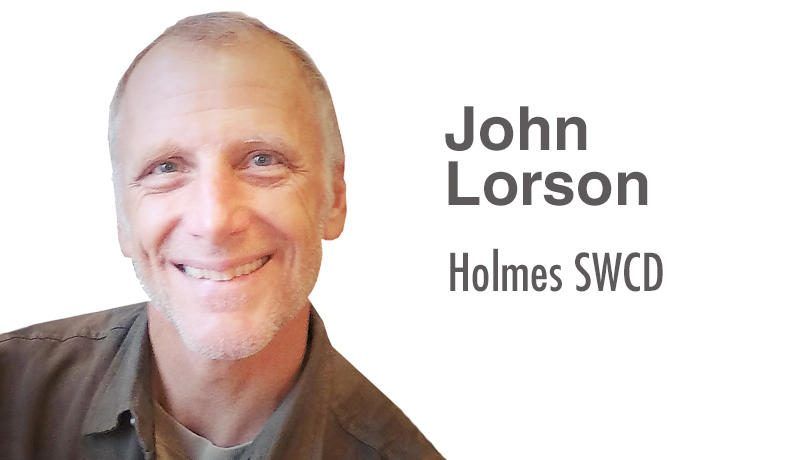 With the 53rd annual Tom Graham Fifth Grade Conservation Farm Tour in the books, the best work week of my year has passed. I'm already looking forward to 2019. My colleagues and I at Holmes Soil and Water can now take a moment to catch our breath and make note of lessons taught and lessons learned.  
You can't spend time surrounded by several hundred fifth-graders, not to mention the 50-60 high school-aged FFA kids who helped us out, without learning a thing or two for yourself.
The goal of the tour, of course, is for us to impart a bit of learning that can't be easily taught in the classroom. Lessons on soil science, water quality, forestry and wildlife might translate adequately into a text book, but there's nothing like standing in the mud and watching an earthworm wriggle in your palm to bring home the idea there is life under nearly every step a person takes. One lesson that could never ring as clearly in a schoolhouse as it does in the barnyard is the fact that "feeding the world" is a vast, complicated and risky business, one that's done by people who absolutely love what they do. If they didn't, there would be no farms for fifth-graders to tour.
Holmes County has been blessed with a lot of things that make farming possible: a fair climate, good soils and reasonable topography. None of those blessings would mean a thing without the willingness of families — many dating back several generations — to stake everything on the idea that the hard work of farming is the means to a good and fulfilling way of life.  
In the families that welcome us onto their land each year, kids can witness shining examples of what it's like to be dedicated to something much bigger than oneself.
A favorite lesson for me — one that repeats itself year after year — is one of community. The Fifth Grade Farm Tour is a big endeavor, one that takes cooperation and coordination of dozens of volunteers, but first and most important are the families that host the tour. My wife and I have a hard enough time getting just one floor of our house tidied up for guests for me to even fully imagine what it takes to get one's entire farmstead ready for the onslaught of a half-dozen busloads of school kids.
Yet our host families — this year Tom and Sarah Miller of One-O-One Ranch near Walnut Creek and Bill, Bev and Kurt Wachtel of Spring Walk Farm near Nashville — gear up for the event like they're about to welcome a gigantic reunion of beloved kin.
Volunteers help with everything from digging soil exploration pits with a backhoe, to slogging around in those same pits while pointing out the difference between silt and loam, to teaching kids the proper way to approach a farm animal. Church groups, neighbors and the host families themselves kick in for lunch. The Holmes County Dairy Producers furnish the milk. Presenters say "I'll be there" year after year when they get the call. The list of volunteers goes on and on.
There's a lot to learn in a single day on the farm, and a surprising number of folks are willing to step right up and help with those lessons. For many it's a bit of a homecoming and oftentimes a way of giving back directly to an event that had an impact on them as a kid. I can't tell you how many times I've heard an adult in this county share a memory of their own adventure on the tour as a fifth-grader.
If you are between the age of 11 and 63 and grew up attending school in Holmes County, chances are good you've shared in the wonder that is the Tom Graham Fifth Grade Farm Tour, and I'll bet you learned a little something from it.