SWCD looking back for 2019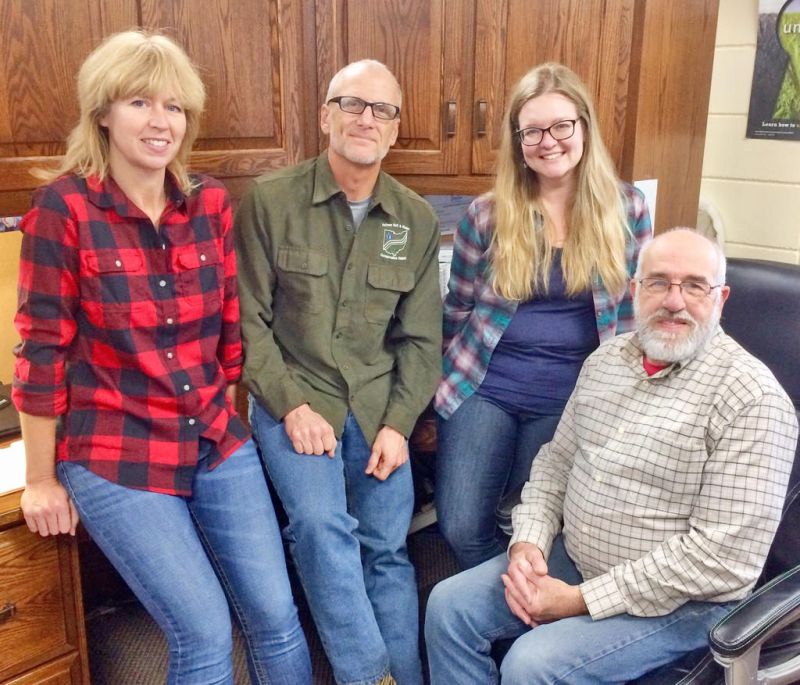 We may be at the start of a new year, but we at Holmes SWCD want to take a minute to reflect and remind readers of some of the projects we launched in 2018 and are continuing into the future.
One of the biggest steps we took last year was applying for and receiving one of six Ohio Department of Agriculture grants to fund a watershed coordinator for the next three years. I am serving in that capacity, covering the Killbuck Watershed within Holmes County.
Receiving this grant out of a good-sized pool of applicants was exciting, of course, but as a staff we were really energized by the process of identifying the needs of our county and working on identifying partners and practices for solutions.
We wound up focusing on three areas of watershed improvement goals: nutrient management, streambank stabilization and protection, and stormwater management.
Though I am taking the lead as the "official" watershed coordinator, our staff is taking a team approach to the projects we undertake to fulfill our objectives.
Water quality technician Joe Christner is working to set up at least 20 farmers with record-keeping systems utilizing the OnMRK app to keep track of fertilizer and manure applications.
Additionally we are working with the same group of farmers to implement the On-Field Ohio program developed through the Ohio State University. This is a new tool that creates for farmers a long-term average estimate of field-scale erosion and phosphorus runoff risk.
At the end of our three-year term, we will have over 3,000 acres with management plans and tools to help farmers make decisions about their nutrient use, which not only helps their efficiency, but also will hopefully lead to fewer excess nutrients entering our streams and lakes.
Our stormwater management objective is being headed up by district technician John Lorson. With a background in engineering and stormwater control, he'll be working to bring awareness and solutions for county residents, landowners and township officials.
We are developing workshops and education campaigns for landowners and industry professionals as well as village, township and county personnel with a particular focus on erosion prevention during both private construction and public works projects.
John will be available for consultation during the planning, construction and construction close-out phases to advise on best management practices.
The maintenance of new and existing stormwater detention structures is an issue of increasing concern. We will build a database of stormwater control structures throughout the county in an effort to ensure they continue to operate as designed and prevent excess runoff and sedimentation in our streams and waterways.
Our third goal is led by yours truly with the assistance of many engineers, pasture specialists and outside funding sources. We are unfortunately aware of the many problems landowners in Holmes County have with the streams on their property, and we will help in identifying and mitigating some of these areas.
Our goals are to target areas where livestock contributes to streambank erosion as well as areas that are in need of restoration and stabilization due to the change in stream flow.
We have recruited a handful of partners to work with to make these projects a reality. Engineering design will come from our counterparts within NRCS and ODA, who will be offering guidance and training to our staff in the process so that we will have the know-how into the future of how to tackle pasture and stream-related problems.
The Muskingum Watershed Conservancy District has various funds they encourage SWCDs to apply for on behalf of landowners, and we are thrilled we may be able to offer financial assistance as well as technical guidance to implement stream protection across the county.
Beyond the scope of our goals for the watershed coordinator team, we want to keep our attention and efforts on well-established programs that Holmes SWCD has developed over the years, which are some of the tried and true foundations of conservation including our soil and manure testing program, the cover crop cost-share program, tree sales, and education.
Of course sometimes our established projects take new twists such as presenting our education programs to more students at parochial schools, adding silt fence to complement our geotextile sales or writing regular columns for readers who aren't on Facebook, all of which we began last year in an effort to find new ways of implementing conservation for Holmes County.
In 2019 and beyond, we hope to be able to build up opportunities where we can without losing focus on what leads to healthy streams, life-giving soil, and the beauty of trees, wildlife and clear skies in our beloved home.