Wearing sandals in cold weather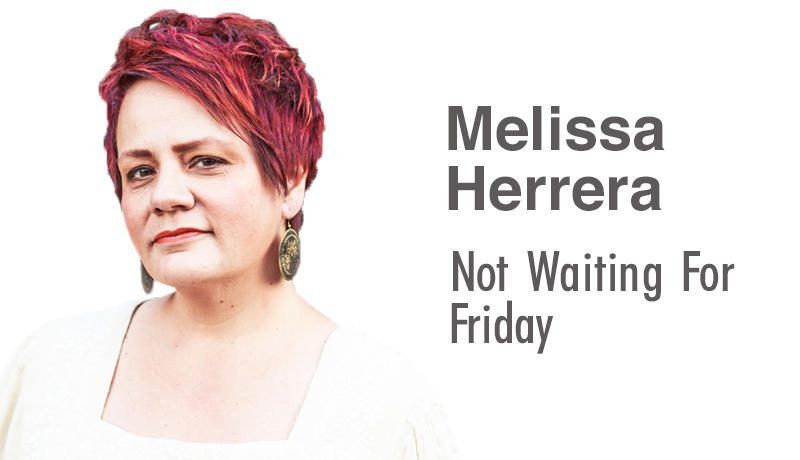 My furnace is humming gently, and this cold snap has gotten the best of me. I know we always say, "If you don't like the weather in Ohio … wait," but once I begin mowing my lawn and wearing sandals, there's no going back. Besides, I got a pedicure, and my toenails are sporting the color Cajun Shrimp. The toes are out.
It was spitting ice yesterday when I went up to the store in my Birkenstocks. I passed several others with sandals, their faces determined, and we simply nodded because we know we will outlast whatever this 30 degree weather wants to prove. When I got home, I stood at the kitchen window and watched the lines in my freshly mown lawn blur under the cold rain and ice.
I've been garage-saling a fair bit these past weeks, but I haven't yet been to a greenhouse. I cleaned out my pots from last year's annuals two months ago when it was the winter that never was. I despise the root balls that remain in the pot when you cut off the stalks in fall. They're so hard to dig out when you leave them over winter. But I do it every year because I'm tired of taking care of the potted containers and want to be done.
Mom always said you "need to change your potting soil every year," and her words come to me every spring when I'm struggling with that root ball system. Mom, I don't feel like buying a new bag of potting soil! But I can picture her with that huge, clear bag she'd buy from Raber's Greenhouse, small trowel in hand, planting luscious plants into the containers that dotted her landscape.
Her plants thrived under her thumb, so I'll begrudgingly shell out the dollars and buy a new bag of potting soil.
I've been selling off bits and bobs of things sitting around the property. A friend bought a large length of our decrepit fencing that once traced the lines of our property. We took it down several years ago and put up new. It held in the kids when they were little, their screams and games safely inside where we could see them.
She is going to use the old fencing for a project at her house, cutting them down in height and creating a small decorative fence. I love to think the energy they held from our property will carry on at hers, bringing them happiness. I think about that with every little thing I buy at a sale.
When George came home the other week, he was full of energy too. He burned the pieces of fencing that were falling apart, a huge fire rising in the backyard. He keeps two long, sturdy metal pieces (I don't know what they are) in the back to poke any fire he starts. The shadow of him standing there by the flames reminded me of him as a younger man with little kids darting around him. It was a silhouette that made my heart squeeze.
My house is quiet this morning, but very soon it will be filled with the welcome noise of toddlers. My son, partner and family are arriving today from Texas, having made the decision to move back to the area. When we dropped them in Fort Worth almost four years ago, I never once thought I'd have any of my children live near me again. Now he's back with his partner and two grandkids in tow. And my heart squeezes once again.
I've prepared the upstairs for their temporary stay with us — clean sheets, SpongeBob pillowcase, toys tucked in corners to find. We will welcome them and the chaos they bring with open arms. Change of routine is good, especially when our year has held heartache and healing.
I thrifted several books and puzzles from a garage sale that my grandsons may like. My kids loved them, the words drawn out for them by me in dramatic flair as the last page hovered — the one they always anticipated anxiously.
Maybe I'll drag my willow rocking chair out of the writing room to read books in, or maybe I'll leave it there, making it grandma's special room for reading. It was their dad's room when he was little, on up to when he left for the big apple for college. Now it's my room — one I'd like to share.
Melissa Herrera is a columnist, published author and drinker of too many coffees based in Holmes County. You can find her book, "TOÑO LIVES," at www.tinyurl.com/Tonolives or buy one from her in person (because all authors have boxes of their own novel). For inquiries or to purchase, email her at junkbabe68@gmail.com.