Baseball finally normal for Scots, Craddock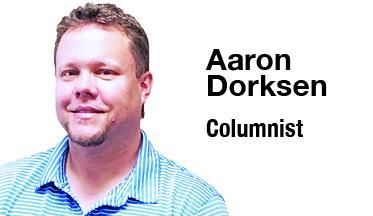 A few thoughts from the week in sports …
Baseball is back to normal at The College of Wooster this spring, and third-year head coach Barry Craddock values the game more than ever.
That's saying a lot because the 1990 Rittman graduate and 1994 COW alum has loved baseball for as long as he can remember.
Sometimes you don't know what you've got until it's gone — or drastically changed as was the case the last two seasons.
After Craddock got his dream job as the Fighting Scots' head coach in 2020, eight games into his first year at the helm, the COVID-19 pandemic ended the season.
Last year the Scots wound up with a 25-13 record, but only two fans per player were allowed to attend games. The North Coast Athletic Conference took two teams instead of the usual four, and Wooster dropped a best-of-three series against Denison.
"The two years that were greatly affected by the COVID pandemic increased my appreciation for the opportunities that we do have," the 50-year-old Craddock said during an interview at Art Murray Field on Monday. "I'm old though, and I've been around and it's still a challenge.
"I think for our younger generation, they're resilient and get back to normal more quickly."
If you're a college baseball coach or player, May is the time of year you live for, and the Scots have lots of reasons to be optimistic heading into their biggest games of 2022.
"We're still in the hunt for a conference tournament championship and automatic qualification into the NCAA Tournament," Craddock said. "Our strength of schedule and winning percentage in the region is such that if we stub our toe this weekend, we still have a chance to get an at-large bid."
Wooster (27-12, 12-6 NCAC) earned the No. 3 seed in the NCAC Tournament and will face No. 2 Wittenberg (27-10, 14-4) at Chillicothe's VA Stadium at 8 p.m. on May 12. Regular-season champion Denison (29-8, 16-2) will take on No. 4 seed DePauw (21-15, 12-6) in the opener at 3 that day in a double-elimination format tournament, with the final games slated for May 14 or 15 depending on the graduation days for the teams left in it.
This Fighting Scots team has lacked consistency at times but shares many traits with great teams of the past coached by since-retired Tim Pettorini including many that included Craddock as a pitcher or assistant coach.
"We have an older team, and we're really strong in the middle of the field," Craddock said. "This time of year when we're playing all good teams from here on out, our experience is going to benefit us. I think that we respond more strongly when the challenge is stern."
Senior shortstop Tyler Chumita is enjoying one of the best seasons in school history. He's batting .395 with 10 doubles, three triples, six home runs and 74 RBI in just 39 games.
Chumita stands a great chance at breaking one of the most storied records in program history: 77 RBI in 50 games by Rick Sforzo in 1986.
"Best player in the conference, easily," Craddock said when asked what Chumita means to the Scots. "He's on the cusp of breaking our single-season RBI record, which has stood for almost 40 years and was set by a three-time All-American. If you do that, I think you're the Player of the Year.
"Tyler always seems to come through when we need him the most. He plays the most demanding position outside of catcher and is involved in so many of our plays at shortstop. If he doesn't win the NCAC Player of the Year, it'll be a shame."
The best baseball teams are strong up the middle, and that's where the Scots shine. In addition to Chumita, they have senior center fielder Ben Gbur (.360, 23 SB, team-highs 17 2B, 9 HR, 65 R), sophomore pitcher-second baseman Eli Westrick (.398) and senior catcher Michael Thomas (.286, 5 HR, 37 R).
Senior right fielder Ben Hines has been outstanding as well, batting .357 with 13 extra-base hits and a team-high 26 stolen bases. Junior first baseman Dane Camphausen is hitting .300 with eight home runs and 44 RBI.
A team will only go as far as its pitching, and the Scots feel good about their staff.
Senior Mitchell Reardon (4-5, 56.2 IP, 48 Ks, 4.29 ERA) has logged the most innings of work and is the staff's No. 1 starter.
Westrick is the No. 2 starter and owns a 5-1 mark with a 3.68 ERA and 40 strikeouts in 51 1/3 innings.
Corey Knauf, Dylan Carr, Christian Johnson (3-0, 4 saves) and Ethan Samangy also have logged 20-plus innings of work.
"Nobody gets to this point in the season by luck," Craddock said. "All the NCAC teams that are left are strong in their own ways. We are not going to take anybody for granted. We're ready to go."
Parting shots
Chris Lapish's last day as the Waynedale athletic director will be June 1. He's headed to Tuslaw. He'll replace the Mustangs' retiring Dave Burkett.
Lapish was at Waynedale for 11 years and was the AD for eight years. He did an outstanding job there.
New Golden Bears football coach Zach Golec, who Lapish hired, also will assume the AD duties.
Best wishes to Lapish, who's a former Bowling Green State University classmate of mine.
—I'm pretty happy with the Browns' recent draft. Purdue wide receiver David Bell (third round) and kicker Cade York (fourth round) should really help the offense, and they got better on defense. I was nervous every time the Browns had to kick a PAT or field goal in 2021, and it's good to see special teams be a priority.
Of course, this draft and future ones will be judged by what quarterback Deshuan Watson does in Cleveland because of how much they invested in him in draft pick trades and money.
—It's hard to believe Baker Mayfield is still technically a member of the Browns. Even if some teams believe he can help them, I don't think other owners are happy with the contract the Browns gave Watson. They're not in any hurry to take Mayfield off the Browns' hands.
Aaron Dorksen can be emailed at aarondorksen24@gmail.com.