Classroom empty, but a presence remains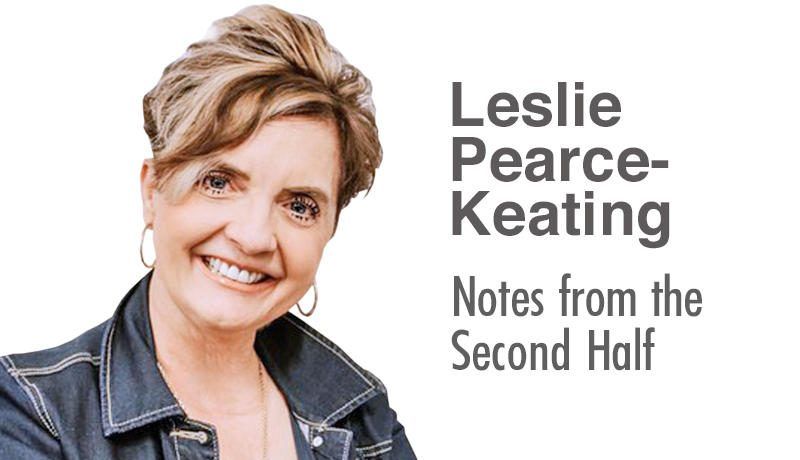 In the photo we are sitting on the edge of the red tulip flowerbeds at OSU ATI. I am wearing a dark denim jacket, my hair a bit wind-blown in the spring breeze. Sitting beside me is none other than Finnigan, the almost-13-year-old, 56-pound Standard Poodle with a gray and white coat, sporting a yellow bandana.
To say he is beautiful is the understatement of the year. Despite my best efforts, I look a bit sad in the photo. After all, I knew my boy wouldn't live much longer, and I just didn't know how I would survive without him.
Considering Finn was a rescue I adopted at 5 who had a lot of health problems, he certainly didn't shirk his commitments to his job as my companion. I got the crazy idea one day to present him to my bosses at the university. Finn had passed his Canine Good Citizen and Therapy International Test by then, only days before he was diagnosed with follicular cancer. After a long healing process, he began the job of accompanying me to teach at OSU.
Finn's job description was as follows: He stood by the door greeting each student as they entered the classroom. He walked back and forth between their desks, surveying each and every one of them. He knew who was under the weather, who had a deep sadness in their life, whose blood sugars were off, even who was about to be sick. I know this because he never left the kids who were somehow in trouble. During office hours and in the hallways, he also was on duty.
Last spring I saw the writing on the wall. Finn was old and experiencing severe arthritis pain. He was seeing a chiropractic vet for weekly adjustments and laser treatments on his spine. He coughed a lot and survived on many pills, but he still insisted on going to classes with me. He ran to class like a puppy, did his job but often flopped onto his bed as I lectured, simply exhausted.
One of my talented student photographers took our pictures in May. Finn's devotion in those photos is crystal clear. He and I made a pact that first day we met when I gave him his name. "You stick with me, Finnigan, and I promise I will never forsake you." His brown eyes met my blue eyes, and I knew we'd struck a deal.
I got him fattened up. I helped him through Lyme disease and cancer. Bloat followed a few years later, but we made it through that too. In fact, he got me through far more than I got him through.
Coming back from Christmas was tough without Finn. It was the first semester I started without him for nearly nine years, even though he didn't work last fall. He died in September, but he did accompany me to campus for office hours. Christmas wasn't easy either. I kept picturing him by the tree where I snapped his photo each year. I cried a bit when I unwrapped his stocking too. I could somehow feel his presence but never like at the college, where his bowl and toy box still wait under my desk, where his photos and diploma are on display too.
I always suspected some part of Finnigan remained there. Finn adored going to work with me, which he did for many years. Every morning he would bound out of bed, eat his breakfast, potty, then go to stand by my briefcase at the door as if to say, "Are you ready?" He stood stock still as I dressed him in a variety of little boy T-shirts, OSU sweaters with a bandana to match, which the students adored. He seemed proud of that attire.
So the first week back to work in January, I often pictured Finn in my office. That all-too-familiar lump formed in my throat when classes began. So on the first day, I went to room 225 in Skou Hall for class. I was setting up the computer when I caught a glimpse of something familiar beside the computer cabinet. And there it was: a carpet I once carried from classroom to classroom for Finnigan to lay on. It is a yellow and green striped throw rug that is still soft and plush.
I lifted the rug to my nose, trying to find his scent, then set it on my chair and just swallowed. I felt his presence so strongly, as if he were saying, "I am still with you, Mom. I am still here."
And I know it probably sounds crazy, but I knew it was true. Finn was checking in. I just knew it. I lifted my head and began to teach.
Leslie Pearce-Keating can be emailed at leslieannpearce@gmail.com.