Seeding, bank fencing can make huge difference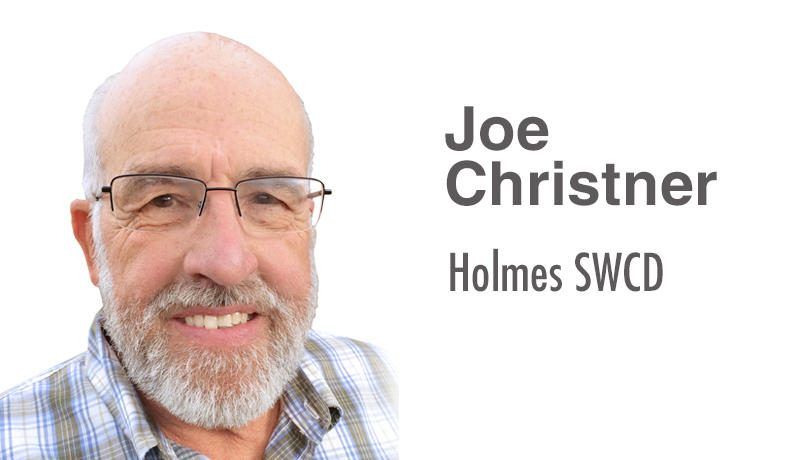 One of the things the staff and board of supervisors at Holmes County Soil and Water do during this time of year is develop a plan of work based on local conservation priorities. This includes identifying and promoting conservation practices and programs that improve water quality and reduce soil erosion in Holmes County.
The Muskingum Watershed Conservancy District Critical Area Seeding incentive and Stream Bank Fencing Initiative are two of those programs that have potential to improve water quality and reduce soil erosion in Holmes County.
The Muskingum Watershed Conservation District has partnered with Holmes SWCD and the Ohio Department of Agriculture to provide financial incentive for crop and livestock producers to implement these practices.
Critical area seeding involves planting areas at high risk of erosion into permanent vegetation for three years. This practice may be used for problem erosion areas in smaller fields that include soybeans and/or corn silage in the rotation. It's a great solution for countering rill and small gully erosion occurring in crop fields where a grass waterway is not practical. (Grass waterways are sometimes impractical in small fields or drainage areas.)
MWCD recognizes there may be a cost if these areas are not planted to cash crops. This program offers a cash incentive to seed high-risk erosion areas into permanent vegetation.
To qualify for the program, the project must meet the following:
—The seeding area must have a minimum width of 20 feet and must be wide enough to treat the critical area.
—Soybeans or corn silage must be in the current crop rotation.
—The seeding area must remain undisturbed for three years from the date of planting.
—Seeding dates, mixtures and rates must follow NRCS standards.
—Approved applicants will submit receipts for seeding expenses to receive a one-time cost-share payment. The cost share rate is $500 per acre, not to exceed 1 acre per participant.
Stream Bank Fencing is the other practice in the MWCD Program to improve water quality. The Stream Bank Fencing Initiative provides cost-share funds to livestock producers willing to exclude their livestock from streams, creeks and rivers.
Most farmers in Holmes County have a ditch, stream or creek bank to maintain. Many of these are in pastured areas. Stream banks may develop problems even without the presence of livestock, but some management can reduce or eliminate the risk.
One of the most destructive impacts from pasture grazing is livestock trampling stream banks. The impacts of livestock grazing stream banks include manure and urine deposited directly into or near surface waters where leaching and runoff can transport nutrients and pathogens into the water. Unmanaged grazing may accelerate erosion and sedimentation into surface water, change stream flow and destroy aquatic habitats.
Fencing along streams stops livestock from trampling banks, destroying vegetation and stirring up sediment in the stream bed. Better water quality results from reducing the amount of nutrients, manure and sediment entering the stream. Buffer zones of grass 15-25 feet wide also provide cover and habitat for birds and small animals.
Fencing is the first step, but planning for livestock water also is needed. Collecting and conveying water from springs, seeps and wet spots to a stock tank serves two-fold. A clean source of water is available for drinking while muddy areas are given the opportunity to dry up. It may be necessary to build fenced stream crossings for livestock movement.
The MWCD cost-share funds can be used to install conservation practices such as fencing, off- stream watering systems and stream crossings. Cost-share funds will cover 75% of total installation costs up to a maximum of $10,000 per project. Participation in the program will require a buffer area alongside the water body from which the livestock are being excluded. The minimum width is 15 feet, and the buffer area must remain in place for 10 years. Applications for both practices are being accepted now.
Call Holmes SWCD and help us and the Muskingum Watershed Conservancy District improve water quality and reduce erosion in Holmes County and the Muskingum Watershed. Call us at 330-674-2811.