I drove Alligator Alley and survived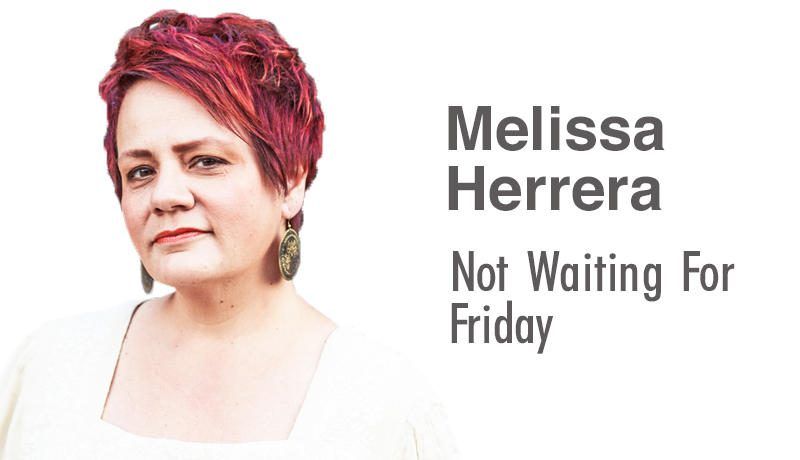 Last evening I ate a bowl of spaghetti with the best meatballs. My grandson Nico balanced a small bowl on his lap as well. Baby Avery watched us with intent eyes. George finally met his newest grandson that has his eyes as we reached Fort Worth, Texas last Sunday evening. For a few days, we are inside the baby bubble of our son Hunter and his partner Dona's house.
Last week after driving to Fort Lauderdale into the gloomy forecast of hurricane warnings, which missed extreme South Florida, we set up camp in a cute Airbnb and hung out with Belle and Tyler for a few days.
She cooked us breakfast the first morning, soy chorizo tacos and fried potatoes like I make them — another morsel of growing up in Holmes County that lingers on their tastebuds. Fried potatoes are best done in a cast iron skillet.
We went thrifting at our favorite joint called Oddballs Thrift, ate good Mexican food at Rocco's Tacos and sipped one too many exquisite cocktails in an outdoor bistro by the beach. We visited our favorite Peruvian ceviche place and finished it off with steaming hot picarones (sweet potato doughnuts) drenched in syrup.
Our last morning we drank delicious coffees and ate breakfast sandwiches at The Alchemist. Good connection and talk was threaded throughout our stay. A hug and a goodbye and we were off to our next destination.
But first to get out of Florida.
I decided we would drive the hour to Miami and take U.S. 41 through the Everglades. Neither one of us had ever been. We stopped at a Cuban bakery Belle said we must try before leaving Miami, and there we picked up some ham and cheese croquetas along with some sweet pastries for the road. We made our way through the famous Calle Ocho — which is U.S. 41 — and old Miami greeted us with its famous pastel brilliance.
And as we entered the Everglades and drove the several-hour trip to the gulf side of the state, a peace took over the car. It was a gorgeous drive. We ended up in Sarasota for the night, where I finally was able to eat at Philippi Creek Oyster Bar after a near 18-year absence.
As we drove out of Florida the next day — the panhandle stretches forever — we passed through Alabama and Mississippi and stayed in a little motel in Gulfport. I left my driver's license at this motel, and so far they are refusing to send it back to me, even though we aren't going home that way. I persist.
But Texas — we are here and holding little bodies close for the precious, short days. When we leave, we will head south to San Antonio, where we met so long ago, nearly 35 years now. Maybe we will find a spark of what drew us together and rekindle it, blowing hot breath on it, stoking it. Relationships need care to survive.
This weekend we will arrive back home to our waiting cat, but not just yet.
George has taken to calling his Jeep Renegade "La Bestia" (the beast), and it has more than 1,800 miles to go until it can take a rest. It's cradled us warmly as we've driven the east coast all the way to Miami, across the Everglades, almost the entire gulf coast and into Fort Worth. So far that's 2,529 miles. When we get home, we will have driven nearly 4,300 miles. That's a lot of miles to get it right.
Melissa Herrera is a columnist, published author and drinker of too many coffees based in Holmes County. You can find her book, "TOÑO LIVES," at www.tinyurl.com/Tonolives or buy one from her in person (because all authors have boxes of their own novel). For inquiries or to purchase, email her at junkbabe68@gmail.com.