My last lost interview: Let's talk to Gary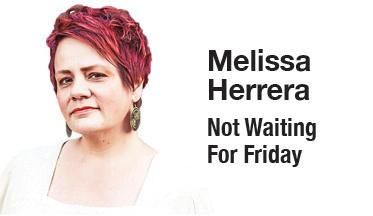 I think it's so important to introduce people to other people. Sometimes you see a face in passing every day and wonder about them and what makes them tick. Today I'm pulling out another interview I did a little over a year ago, and I'm pretty sure I saved the best for last.
If you remember my tribute article on Carol Alberts after she passed away last winter, a dear neighbor in the Berlin neighborhood I grew up in, this interview is with her son Gary Alberts. Sarcastic, witty and a long-suffering Browns fan, Gary will have you chuckling before you realize you are.
Gary is self-employed and lives in Sugarcreek with his wife, and though he's interested in politics, he candidly said he's getting sick of them. (I don't blame you.)
His hobbies are golf and hunting, and he said he can't think of any vices. That last part was sent with a wink. Let's get to know Gary:
What is your favorite or least favorite thing about living in rural Ohio?
My favorite thing is knowing so many people personally. If you live in the city, you might not know who lives two houses down from you. The only waves you get in the city are usually with just one finger.
If the Cleveland Browns made you the head coach, what would you change?
Right now, probably my address and phone number.
Tell us a good memory of growing up in Berlin.
In 1967 I got new neighbors, and the first thing I noticed was most of the kids were girls. That was a good thing for a 12-year-old. I wonder whatever happened to them. LOL. (I'm adding in here that those new neighbors were my family — and in 1968 me.)
You have one hour to be president of the United States. What do you do?
I would do away with all the money added to bills that have nothing to do with the proposed bill. If it's stimulus, it's stimulus only. If it's immigration, it's immigration only. Enough of paying people to vote on your bill.
Tell us about the first job you ever had.
I delivered cheese one summer, and the blocks of Swiss cheese were almost as big as me. That didn't last. At about the same time, I got a job in a print shop. I enjoyed that. I still proofread everything, even your articles.
What is the best golf course in Ohio and why?
I would say Firestone because the pros play there, so it is manicured like no other. I haven't played there in years, but it's the best in my opinion.
If money wasn't an object, what business would you start and why?
I'm not sure I'd start a business; I think I would open a rec center that would be free to all kids to use anytime. But if I had to start a business, my wife always wanted to own a breakfast/diner type place. I'd start that for her, but I would be golfing, not cooking breakfast.
What was the best meal your mom ever cooked?
Rivel soup! That was always a treat. Maybe it seems a little weird that chunks of dough in a milk broth would be my favorite, but it was.
Melissa Herrera is a columnist, published author and drinker of too many coffees based in Holmes County. You can find her book, "TOÑO LIVES," at www.tinyurl.com/Tonolives or buy one from her in person (because all authors have boxes of their own novel). For inquiries or to purchase, email her at junk babe68@gmail.com.