Newborns remind me of beginnings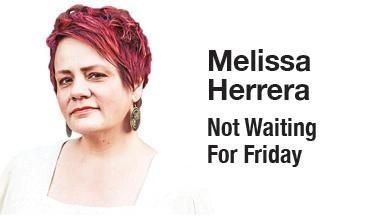 I was sifting through loose photos yesterday to track down hospital photos of my babies. I wanted to find them and see if there was any resemblance to the smallest member of our family, a new grandson — Avery Joaquin — born to our son and his partner. Six pounds and 1 ounce of goodness. His big brother gently cradled the baby's head upon meeting him and gave him a kiss. My grandma's heart melted clean onto the floor.
I couldn't find their hospital photos and where could I have stashed them? I don't think it matters because everyone comes out looking just like they're supposed to. Every tiny ear and nose takes its own shape on each little scrunched-up face and rearranges itself over the years.
We search for ourselves in our offspring, then theirs, to vainly see if any part of us will move into the future. None of us are above that human feature, but we forget more than just what we look like will carry on — things like how we treated others, our writings, what we instilled in our children. In the distant future, there may be a doppelganger born somewhere in our lineage we will never get to see, but maybe they'll take up a pen like me or be an amazing changer of interior spaces like my husband. It's such a human longing that it's painful to write.
I have an old candy tin where I keep small, loose tokens from the past, like the hoped-for discovery of hospital photos, tiny dark hairs slicked up with pink bows, and my nostalgia bloomed like the butterflies that cover the outside of it. Inside I located a plastic heart key chain I put my first car keys on, a ticket stub from an '80s Michael Jackson concert and little love notes from George.
But what stops me each time are the drawings and words from my kids on faded papers: stick figures with long hair and huge eyes, flowers and curlicues, a family holding hands side by side, a happy birthday card to me that says, "Today you're 29 and I'm 7." Tears usually fall unbidden, and I sit with them and think about why they make me cry.
It's the warm breath of their cries when their need for you is overwhelming them and you. It's the sloppy kisses and sticky hands and the way you cannot breathe for lack of space and how the breath leaves you when they're gone. It's the school shopping trips where your budget might break you and the standoff in the shoe aisle is one only you can win. It's the silent, efficient shopping runs you make now where you listen to every song you want in the car yet miss the pounding rap songs of the early aughts. It's the small head curled into your shoulder that sinks deeper and deeper until their even breathing fills the room. And it's the teenager that comes home late, and when they're sleeping, you creep into their room to watch them breathe.
The extending of a family is not limited to a newborn babe. It's the opening of arms to a son-in-law that learns and laughs in your kitchen, a daughter-in-law that shares your love of vintage wares and another son-in-law who shares a love of all things movies. It's the choosing of a partner everyone thinks is wrong for you but you. It's welcoming those you didn't expect.
And newborn babies, they remind you of all this. Despite the big plans we have, the traveling to come and the shedding of unwanted layers that come with age, newborns bring you back to the root of it all. Cheers to me on becoming a grandma of two.