Some thoughts on the Guardians, Browns, Cavs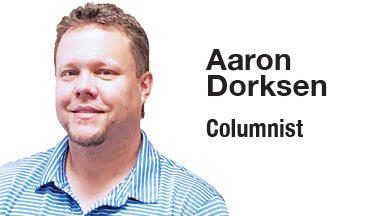 A few thoughts from the week in sports …
The Cleveland Guardians reached the 100-game mark for the season when they hosted the Kansas City Royals on July 24 to open a three-game series.
In a microcosm of the season, Cleveland dropped a 5-3 game to the last-place Royals. The Guardians' record dropped to 49-51, putting them four games behind the Twins in the AL Central.
Cleveland let the momentum of an exciting weekend in which it took two out of three games from the Phillies blow away in the breeze over Lake Erie.
That's the story of the 2023 Guardians, good enough to keep fans believing but bad enough to let numerous close games slip away.
The Guardians would earn a C grade up to this point, but fortunately, they're in MLB's weakest division.
Those who follow baseball closely always pay special attention when the Aug. 1 trade deadline approaches, but Cleveland's top bargaining chip, pitcher Shane Bieber, is on the disabled list until Sept. 10.
Perhaps the Guards can package some of their many Minor League prospects to get a serviceable big league hitter or pitcher. Cleveland's 40-man roster is clogged with prospects who are stuck behind players like shortstop Amed Rosario and light-hitting centerfielder Myles Straw.
Here are some more Talkin' Tribe thoughts:
Biggest needs
With Bieber and Triston McKenzie going on the DL, Cleveland's starting pitching took a major hit. Fortunately, rookies Gavin Williams and Tanner Bibee have come of age quickly.
Cleveland actually has a more pressing need for a big bat in the lineup and an upgrade at shortstop. Amed Rosario is minus 15 in runs prevented this season, worst in franchise history, although he's upped his batting average to .265.
The Guardians' biggest problem has been relief pitching. They're near the top for most blown saves (21) with All-Star Emmanuel Clause not as sharp this year and middle relievers Trevor Stephan and James Karinchak (now in Triple-A) imploding multiple times.
Honor roll
Although Cleveland is on the train to mediocrity, give A grades to Jose Ramirez and Josh Naylor. Ramirez is batting .288 with 15 homers and 56 RBI while Naylor is ripping the ball at a .306 clip with 15 dingers and 76 RBI.
I was getting a little worried about Steven Kwan, but since the All-Star break, he's hitting .367 and is batting .271 overall.
A look ahead
If Bieber is traded, the 2024 Guards' starting rotation could look like this: Gavin Williams, Tanner Bibee, Aaron Civale, Cal Quantrill and Logan Allen. With McKenzie going on the DL twice this season and his extremely thin frame, I'm worried about his future. Xzavion Curry also could wind up in the rotation.
Talkin' Browns
The Cleveland Browns really focused on team chemistry and bonding when they opened an eight-day training camp in White Sulphur Springs, West Virginia on July 22.
The Browns were able to add an extra week of practice after being selected to play in the Hall of Fame Game in Canton against the Jets on Aug. 3 at 8 p.m. to kick off the preseason.
This is the time of year when everything looks good on paper and overly optimistic Browns fans talk about making the playoffs. I like what the team did to fill defensive needs in the offseason, but the key will obviously be how well quarterback Deshaun Watson plays.
I'm OK with the Browns announcing they'll wear white alternate helmets in three games. Why not? They look cool, and maybe it will help change their luck.
Cleveland last wore white helmets in 1946 but will wear white with an orange and brown stripe down the middle on the road in week two against the Steelers for Monday Night Football, at home in week six against the 49ers and week 17 against the Jets on Thursday Night Football.
Talkin' Cavs
It's not often the Cavaliers draw headlines during the summer, but it was nice to see them win the Las Vegas Summer League championship with an 88-78 victory over the Rockets. Youngsters Isaiah Mobley, Sam Merrill and Emoni Bates all played well. Mobley, older brother of Cavs standout Evan Mobley, was the championship game MVP after scoring 28 points and grabbing 11 rebounds.
In case you missed it, the Cavs traded Cedi Osman and Lamar Stevens to the Spurs as part of a three-way trade that enabled them to acquire guard Max Strus from the Heat in early July.
Strus brings much-needed outside shooting to Cleveland and averaged a career-high 11.5 point a game and started all 23 postseason games as the Heat reached the NBA Finals.
Parting shots
Congrats to Barry Craddock on being named Wilmington College baseball head coach. Craddock had been the head coach at his alma mater, The College of Wooster, the last four years after being a longtime assistant there. The Rittman High School graduate also coached at Denison.
—It's been a great summer for 2021 Wooster H.S. graduate and current Ohio State Buckeyes infielder Tyler Pettorini.
Pettorini won the Futures Collegiate Baseball League of New England Home Run Derby in Vermont on July 24.
Representing the New Britain Bees, Pettorini clubbed 40 total homers in the event. Pettorini had rounds of 15, 16 and then nine to defeat Shane McNamara of the Nashua Silver Knights in the final.
Playing in the elite college wood bat league, Pettorini earned a spot in the All-Star Game after leading his Bees team with a .328 batting average (40-122), helped by six doubles, three triples and four homers. He's third in the league with 31 RBI.
The All-Star Game was played July 25 in front of a sellout crowd of 4,415 fans. Pettorini started at second base and batted second for the Mountain team, which beat the Lake team 3-1.
Earlier that day Pettorini had an outstanding workout in front of about a dozen MLB scouts.
Sixteen players from the Futures League have reached the Big Leagues since its creation in 2011.
Tyler's grandparents, Tim Sr. and Rhoda Pettorini, traveled to Vermont to watch the action and be with Tyler.
—Tim Pettorini was recently voted into the American College Baseball Coaches Association Hall of Fame. Congrats to Coach P on a very well-deserved honor. Pettorini's COW teams went 1,243-461-6 for a .729 winning percentage during his 38 years. He ranked fifth all-time in NCAA Division III wins upon his retirement.
—It's the calm before the storm for high school sports. Official practices will begin July 31. It's hard to believe, but the first football games will be Friday, Aug. 18. I look forward to helping The Bargain Hunter/Wooster Weekly News prepare high school previews in the upcoming weeks.
Aaron Dorksen can be emailed at AaronDorksen24@gmail.com. Follow him on Twitter at @AaronDorksen.