Chico carried load, provided reminder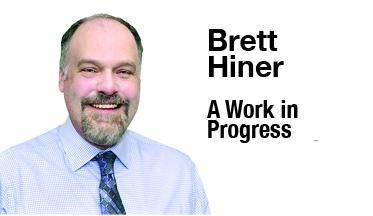 Chico drew the short straw. I felt badly for him, really, because I think, upon looking at me, he knew the misery that lay before him. His sauntering over to me was slow and cautious and played out as I expected — or maybe how my paranoid mind perceived the events: He looked at me, then at the two 90-pound teenagers standing on each side, then at the ranch's wrangler, as if asking, "Are you sure I can't give one of them a ride?" then back to me. With a defeated look on his face worthy of a baseball fan after the opposing team hits a walk-off, he ambled over accepting we were in this together.
On a recent service/retreat to the Ghost Ranch in New Mexico with the youth of First Presbyterian Church, I had the pleasure of a sunset horseback trail ride through the red earth of the Southwest. It is a landscape I have seen in many movies but never in person, on a mode of transportation never experienced.
There was something primal about experiencing my first horseback ride on land enveloped by dry earth and brick-colored mountains and clouds gently brightened by the setting sun that seemed to sit a little lighter in the darkening sky. It is a contrast of colors that understandably served as the inspiration for so many of Georgia O'Keeffe's western landscape paintings. It is a setting, whether a believer in something or not, where one could not help but feel connected and spiritual.
Despite the earthly beauty that included the laughter of teenagers and my fellow adult chaperones, I spent most of my time thinking of Chico, my horse, and his perspective as I sat atop him like Butch Cassidy heading back to Hole-in-the-Wall. He could not have been pleased to have me saddled onto his back, yet he followed every command I asked of him and, thankfully, never tossed me off — something I was convinced would come at some point.
Chico's perspective could not have been a pleasant one, but for almost an hour and a half, he sure did provide me with a blessed view — where the colors and images and senses are still emblazoned into my memory bank.
Chico gave me a new lesson on how to maintain one's perspective, which is something that is often difficult to do.
In summer 2007 I worked as an usher for the Cleveland Indians. This was the team led by Hafner and Sizemore in the batter's box and had Sabathia pitching to Martinez, all on a team that ended the season with the best record in baseball.
When ushers arrive at the ballpark, they enter through a staff door and head immediately down to a table just outside of the visiting team's clubhouse. On the table we would find the location assignment for the evening's game. Sometimes that location would be the lower seated bleachers, which I think allows for one of the best perspectives to watch a ballgame because the view allows a fan to take it all in.
Sometimes, however, an usher ends up at the top of an escalator in the bowels of the stadium, surrounded by cement walls, nowhere near a television or intercom pumping Tom Hamilton's calls through a loudspeaker. Rather, the job in these locations is to ensure drunk spectators do not take a tumble down, or up, the escalator. In other words this is the worst location to work.
It is the spot I drew the evening Kenny Lofton returned to the Tribe for the third time and went 3-for-4, kickstarting a stretch run that would end in the ALCS against the Red Sox. The Jake was rocking that night, yet all I could perceive were the cheers of the sold-out crowd, knowing I was missing a piece of Cleveland baseball history.
I have no clue as to why this memory came back to me as I sat atop Chico. Maybe because he led me to think about perspective, and clearly, that Jacobs Field memory still nags at me a little bit. But that is the lesson Chico taught me: that maintaining perspective is tricky because it is something we have to consciously do. We often take for granted how we see the world, and sometimes, we simply have to change the view.
After the ride I spent the remaining days at Ghost Ranch looking at things a little differently: the youthful exuberance and/or reflective nature of the kids in our group, the kind and giving chaperones who were a part of this First Presbyterian experience, the trails we hiked, and the employees working at the ranch who, with each sunrise, get the privilege of seeing a different colored landscape every morning.
I have no idea for how long I can or will maintain this outlook. It is easy to reflect while sitting atop a mesa, overlooking one of the quietest places I have ever experienced. It is a whole other thing to do so when pulled back into the demanding realities of work and home and Wi-Fi access.
Yet I am hopeful because I now have the Chico experience, which has provided me with one of the biggest takeaways from my week: that the next time I sense myself staring at a metaphorical cement wall, I will think of Chico's perspective and the hug I gave him after the ride's conclusion. He did not complain once — a gentle, unspoken reminder someone's or something's straw is always shorter.
Brett Hiner is a teacher of English/language arts at Wooster High School, where he also serves as the yearbook advisor and Drama Club advisor/director. If he's not at work or doing something work related, he is typically annoying his children and/or wife. He can be emailed at workinprogressWWN@gmail.com.